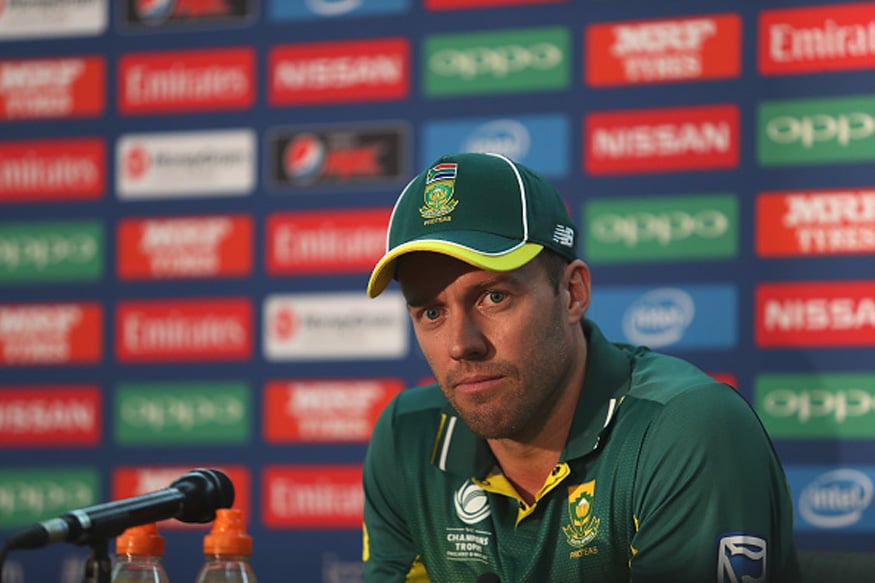 Birmingham: Following an eight-wicket demolition at the hands of India in the virtual quarter-final clash in the Champions Trophy 2017, South African skipper AB De Villiers remained defiant and said that he still wants to captain the national side despite crashing out of the group stage of yet another ICC tournament.
Batting first, the Proteas choked once again in a do or die clash and collapsed to a paltry 191 runs which was chased down easily by India with 12 overs to spare. In the post-match press conference, De Villiers said that despite this latest defeat in a big tournament like this, he still feels that he can take the team forward.
"I believe that I am good captain and I can take this team forward. I believed the same thing in this tournament and the last one. I love doing it (captaining the side)," said De Villiers.
"Not a lot of people believe that but I think it is not that far away(winning an ICC tournament). It is very difficult to sell it on this kind of performance but that is what I believe in. We are very close as a unit and there is more than enough talent in the squad. We just got to make it work when in matters the most."
De Villiers also said that he will definitely feature in the next ICC Cricket World Cup in 2019, despite this latest humbling defeat.
Also Read: India Enter Semis As South Africa Choke Again
"I am not thinking about the next one now. We are not thinking about the next tournament which is probably the world cup in 2019. We had covered all the bases before this tournament and we worked very hard in the nets. We back each other and we trust each other and for some reason things like these just happen. Absolutely, I will play in the next world cup," said De Villiers.
"That question (radical changes in the team) can only be answered by people who are in charge of making the radical decisions. That is not my decision. So we will have to wait and see. I don't think we are a bad cricket team."
The South African skipper also hailed the Indian pace duo — Jasprit Bumrah and Bhuvneshwar Kumar — who bowled really well in the early parts of the innings and kept the run-rate as low as possible.
"We would have loved to have more runs in the first 10 overs but they bowled extremely well and hardly missed the mark. There were no soft boundary options for us in the first 10 overs. We picked up the rate-rate in the middle overs, until my run-out. A perfect score would have been somewhere in the region of 300. I felt really good today and it was disappointing," said De Villiers.
ABD was also at loss of words when he was asked about the run-outs that changed the complexion of the match. De Villiers and David Miller were run-out in quick succession which left the team reeling in the middle overs. Imran Tahir was also run-out right at the end.
"I felt the team was pretty composed there and I don't think we lost the match because of lack of composure. Error in judgement and few errors cost us dear today. We desperately needed a partnership in the middle overs and that is where we lost our way. Run outs happen but three in one innings is definitely not the way how we bat. So, it was unfortunate that we could not get the partnership going and it has got nothing to do with composure," De Villiers said.
"Very difficult to explain that (run-outs) as I don't know how that happened. Two guys who are building a partnership out there and are trying to trust each other but sometimes that doesn't happen and they come up short. It is one of those things that happen," he said.