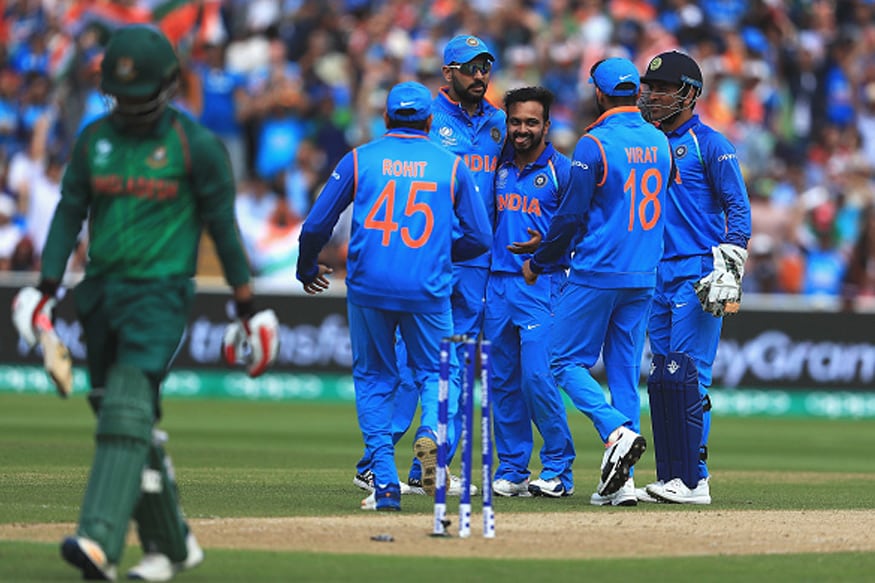 Team India comprehensively thrashed Bangladesh to setup a showdown against Pakistan in the final of ICC Champions Trophy. It was a dominant performance from Kohli and Co. as India chased down 265 with 9 wickets to spare. The bowlers too shined as they restricted Bangladesh on a flat batting surface.
Here is Cricketnext's report card as we analyse the performance of every player from Thursday's game.
Rohit Sharma: Rating 10: Verdict: Excellent
Rohit Sharma has had a consistently good tournament, and yesterday he got his first ton in Champions Trophy , remaining unbeaten on 123. It was a flawless knock from Rohit, not giving any chances to the oppositon and also taking the game away from them with his aggressive approach. He had a 87-run parnership with Shikhar Dhawan and then an unbeaten 178-run partnership with captain Virat Kohli. Often accused of being lazy, Rohit showed his elegance and gave the opposition absolutely no chance, tackling everything Bangladesh had thrown at him with relative ease. Bangladeshi pacers tried targeting him with the short ball, but he tackled that easily, pulling and hooking with ease. He was particularly brutal on Rubel Hossain, Shakib-Al-Hasan and the main threat - Mustafizur Rahman, smashing them for 25 off 19, 29 off 25 and 24 off 20 balls respectively.
Shikhar Dhawan: Rating 9: Verdict: Very Good
Shikhar Dhawan might not have made a big score, but he got the team off to a flying start yet again. He scored 46 off just 34 balls, taking apart Bangladesh's main bowling threat and his Sunrisers' team mate Mustafizur Rahman. Taskin Ahmed too felt the force of Dhawan's bat, as he was smashed for 19 runs from just 7 balls by the left-hander. Dhawan's aggressive start helped India up the run rate right from the beginning, and also helped Rohit Sharma to settle down at the other end. Virat Kohli, in his post match conference, credited Dhawan for getting India off to a flyer and taking away the pressure from the middle order.
Virat Kohli: Rating 10: Verdict: Excellent
Virat Kohli again showed why he is considered the king when it comes to chasing totals as he remained unbeaten on 96, unlucky to miss out on yet another ton. Kohli started the innings slowly but then picked up pace, with and ended with a strike rate of 123.07, which showed how he has mastered the art of chasing scores. Some of his cover drives were right from the coaching manual, executed perfectly to the inch. He was brilliant as a captain also, changing and bringing the bowlers in perfectly, and also setting aggressive fields to ensure Bangladesh batsmen don't get any loose runs.
Yuvraj Singh: Rating NA: Verdict: NA
Yuvraj Singh was presented a special memento by Sourav Ganguly at the beginning of the game - which was his 300th ODI, but he didn't get a chance to show his skills as India chased down the target with 9 wickets to spare. He will now be eagerly waiting for the final against Pakistan, as he showed good form against them in the group stage fixture.
MS Dhoni: Rating 8: Verdict: Very Good
MS Dhoni doesn't need to bat to have an impact on the team's performance and this was proven in the match on Thursday. He was his usual effective behind the stumps, except a 5-run penalty which was conceded because the ball hit his glove which was lying on the ground. But he was influential in getting Kohli to give the ball to Kedar Jadhav, who broke Tamim and Mahmudullah's 123-run partnership, and also compensated for Hardik Pandya who was having an off day with the ball. This showed that Dhoni still has a lot to contribute to the Indian team, and it would be rather foolhardy to replace him at the moment.
Kedar Jadhav: Rating 9: Verdict: Excellent
Kedar Jadhav turned out to be the man with the golden arm for India, as he got two important wickets and conceded just 22 runs from six overs. He came into bowl when Tamim Iqbal and Mushfiqur Rahim - the two mainstays of Bangladeshi batting were looking dangerous and had stitched together a 123-run partnership. Main spinner Ravichandran Ashwin had proved to be ineffective, and Hardik Pandya was leaking runs. First, he got Tamim to break the partnership, then he also dismissed Mushfiqur to put India on top. This shows that Jadhav's role in the team is more than just a batsman, and also shows why Kohli has persisted with him despite his services with the bat not being required for the team.
Hardik Pandya: Rating 4: Verdict: Poor
Hardik Pandya was rather ordinary with the ball, having a completely off day. First, it was a no ball for having only four fielders inside the circle, but it was the second no ball in the over which proved to be rather expensive, as he got Tamim Iqbal to play on, but he had overstepped the bowling mark himself. He was a bit unlucky as Ashwin dropped a catch which should have been taken, but going ahead, Pandya will have to work really hard on his bowling if he has to seal the all rounders spot in the team. His batting is perfect for the team, as he can come and hit big shots when required, but his bowling can sometimes be rather ordinary which is something he will have to work hard to improve.
Ravichandran Ashwin: Rating 3: Verdict: Very Poor
Ashwin has been preferred in the starting XI in place of India's best limited overs bowler in the last year - Umesh Yadav. He hasn't repaid the faith shown in him by the team, as he failed to get any wickets and was a bit expensive in his 10 overs. Ashwin wasn't assisted by the pitch which had absolutely no spin, and the overhead conditions were also cloudy which didn't help him. But he is known to effectively use the angles to create something for himself, which he couldn't do on Thursday. The dropped catch in the field didn't help either, and it won't be surprising if we see Umesh return to the team in the next game.
Ravindra Jadeja: Rating 7: Verdict: Good
Jadeja created a record yesterday, becoming the first bowler to bowl all 10 overs in one spell at the Champions Trophy. Jadeja also showed why he is Kohli's preferred spinner in limited over cricket, ashe created pressure with dot balls, and didn't give away any easy boundaries. He also got the dangerous wicket of Shakib-Al-Hasan, all because of the pressure created. Jadeja bowls tight line and length, and often goes through the overs quickly, giving the opposition hardly any time to react. He is also perfect for the captain as he goes through his overs rather quickly, meaning the over rate also doesn't suffer.
Bhuvaneshwar Kumar: Rating 8: Verdict: Good
Bhuvaneshwar Kumar was again brilliant with the ball, as he got two early wickets for India. First he got the better off Soumya Sarkar in the very first over, and then he dismissed Sabbir Rahman who was looking a bit dangerous, getting those streaky boundaries at regular intervals. He bowled 37 dot balls, which helped create a lot of pressure on the batsmen. He was effective in the death also, not giving away many runs. In fact, he was a bit unlucky as the likes of Mortaza and Mahmudullah got a few top edges which went for boundaries, and inflated Bhuvi's figures.
Jasprit Bumrah: Rating 9: Verdict: Very Good
Bumrah showed why he is considered among the top bowlers in the world now, as he got in another top performance, conceding just 39 runs in 10 overs and taking two wickets. Bangladeshis tries to go after him in the death overs and paid the price, as they just struggled to get him away. He bowled 41 dot balls, the highest among all bowlers. The key to his good performance, which he later admitted, was the fact that he got the ball to reverse swing.