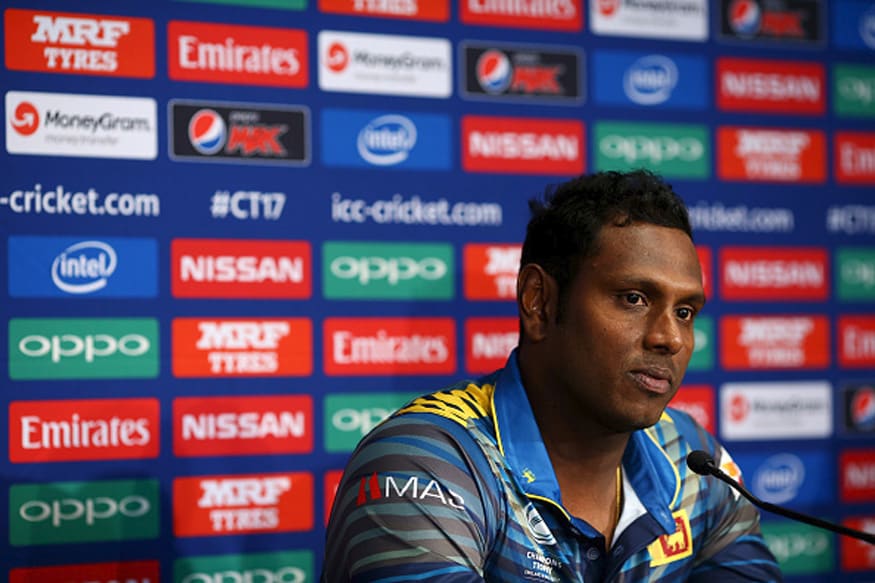 London: Sri Lanka captain Angelo Mathews has conceded that it will be very hard to beat defending champions India in the Champions Trophy group league game at the Oval on Thursday.
"As you know, India is a force in world cricket no matter where they play, whether its at home or away. They have played fantastic cricket especially in the last couple of years. It's very hard to beat them unless we are on top of our game. We will all have to pull our socks up and give a great performance," Mathews said.
Also Read: We're Playing Good Cricket But Cannot Become Arrogant, Says Virat Kohli
The all-rounder said that his team is happy with the tag of underdog but also stated that rubbing shoulders against the best will help the youngsters learn a lot.
"We are happy to walk in as the underdogs. I mean, no one really expects us to win the Championship which takes away a lot of pressure out of the guys," Mathews said. I mean, you have got to deal with the pressures. We always have pressures when we play as players. You have just got to deal with it and be as a team.
"I mean, yes, we have had so many greats and they have retired (referring to Kumar Sangakkara, Mahela Jayawardene, TM Dilshan). We are slowly rebuilding, but surely, we will come up with a good performance," the skipper said.
Currently, the Sri Lanka team is going through a transition period, however, Matthews doesn't believe that there is a vast gulf in class between them and other top teams.
"No, I dont think so. Yes, India have done extremely well in the past couple years. If you look at our team, we've beaten the Australians, which was the number 1 team a few months back. We beat Australia in Australia. We beat South Africa in South Africa," said Matthews.
Also Read: Mathews Won't Bowl, Kapugedara Doubtful for India Clash
"So I don't think there's a massive difference. It's just that there will be phases when you struggle. There will be phases when you play well. So you can't really single out the best team."
On the eve of the clash, Sri Lanka team Manager Asanka Gurusinha revealed that Chamara Kapugedara remains doubtful for the clash due to an injury.
"He just got injured at training, so we sent him for an MRI scan. We are waiting for the doctor's report. If need be, we might have to bring in a replacement, which is Danushka," he said.
Meanwhile, Matthews himself is returning from an injury and he won't be bowling against India. The all-rounder conceded that it will disturb the balance of the team little bit.
"It does upset the balance a little bit. If I could bowl my 10 overs, unfortunately, I mean, I am okay to play as a batsman but not as a bowler. So we have to think about it — we have to come up with some other plans to try and cope with the Indian batting line-up. But yes, this is what we've got, and we'll definitely use the resources that we've got at the moment." Matthews concluded.