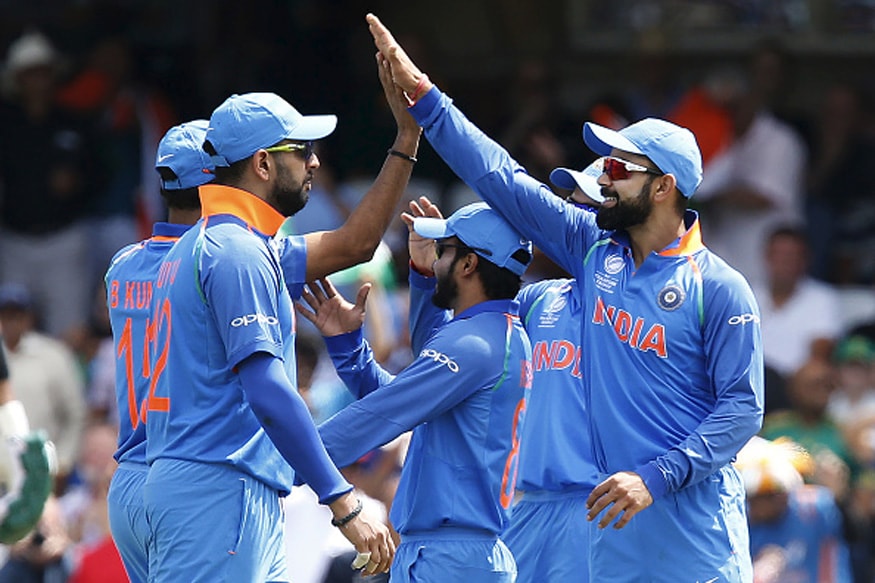 London: Exactly 17 years and 359 days ago, about 120 miles away from the Kennington Oval at Edgbaston in Birmingham, South Africa witnessed the darkest chapter of their, still very young, cricketing history in the post-apartheid era. A diabolical piece of running between the wickets cost them a place in the final of the 1999 ICC World Cup.
From that day onward, the Proteas have found themselves in several quagmires, over and over again, in global tournaments. But their desire to come up with an inspirational performance in a do or die match on Sunday was squashed mercilessly as India beat them comprehensively by 8 wickets to dump the top-ranked ODI team in the world out of the ongoing ICC Champions Trophy. And South Africa have only themselves to blame for another graceless display in a big match as three run-outs, including that of captain and key-man AB de Villiers, ensured they never stood a chance of challenging the Indians.
The victory means India are in all likelihood going to face Bangladesh in a mouthwatering semi-final at Birmingham on Thursday. And the primary reason for that victory was South Africa's suicidal running between the wickets.
Champions Trophy 2017, India vs South Africa: As It Happened
Virat Kohli's decision to field first on a flat Oval track on a bright and sunny London day was a result of the nature of the match and perhaps a lingering memory of their defeat at the hands of Sri Lanka on Thursday. The Indian captain has reiterated several times the ease of chasing a target rather than having to set one and when he called it right at the toss, Kohli was sure he wanted to chase in the virtual quarter-final.
And that became evident in the way he helped his team chase down a rather small target of 192 runs. South Africa were given an early hope by Rohit Sharma, who decided to let go of his defensive ways early in the innings and attacked a shortish delivery bowled by Morne Morkel, only to edge it straight to Quinton de Kock's gloves in the sixth over.
Shikhar Dhawan and Virat Kohli gave due respect to the main strike bowling duo of Kagiso Rabada and Morne Morkel, before opening up against Chris Morris and Andile Phehlukwayo.
Dhawan started the charge in the 10th over by hitting Morkel for two back to back boundaries on the off side. Kohli backed him by targetting Phehlukwayo and Morris.
There was a chance in the 16th over as Phehlukwayo managed to induce an edge out of Kohli, but Hashim Amla's diving effort went in vain as the ball popped out of his stretched right arm.
After that it was just about how soon India could topple South Africa's below par total. Both Dhawan and Kohli mixed caution with aggression and went about pursuing the target with ruthless professionalism, helping each other to half-centuries.
Dhawan brought his 19th ODI fifty up in the 24th over with a boundary off Chris Morris, while Virat Kohli completed his 41st ODI fifty in the 28th over. Dhawan departed for 78 in the 31st over, misreading an Imran Tahir googly, but by then the result of the match was a mere formality.
The target was achieved on the last delivery of the 38th over itself to bring an end to a rather one-sided affair. Yuvraj Singh smashing Duminy for a maximum to stay unbeaten on 23. Indian captain playing yet another match-winning knock to stay unbeaten on 76.
Earlier, South Africa started their innings on a cautious note in the face of some disciplined bowling by the Indian seam bowling duo of Bhuvneshwar Kumar and Jasprit Bumrah. Openers Quinton de Kock and Hashim Amla did produce a few big shots once in a while but they struggled to break the shackles.
With only 35 runs coming off the first 10 overs, the Proteas needed a push on and it was Amla who decided to break free. But his urgency to get quick runs led him to play a false shot off Ravichandran Ashwin.
The off-spinner, playing his first match of the tournament, bowled one wide off the off-stump and Amla was slightly late in playing the cut shot and ended up edging one to Dhoni. Amla went for 35 off 54 deliveries and that brought Faf du Plessis to the middle.
Du Plessis' arrival revitalised the innings for a while as he, along with de Kock, started rotating the strike better. The left-handed de Kock continued his good run against India by bringing up a half-century, but was soon castled by Ravindra Jadeja as South Africa were reduced to 116/2.
That brought AB de Villiers to the middle and he along with childhood mate Du Plessis, started pushing the run-rate up by playing some adventurous strokes. But it all came crashing down on the second delivery of the 29th over as the duo attempted a quick single. Hardik Pandya's throw was accurate and right above the stumps and Dhoni did the rest. de Villiers' desperate dive wasn't enough to save him as he had to walk back for 16.
This was followed by another suicidal attempt to take a single. Faf du Plessis edged one off Ashwin to short third man and then hesitated in response to David Miller's call for a quick single. The yes and no led to both batsmen looking to get back to the crease on the batsman's end. Bumrah's weak throw was collected by Kohli who had enough time to remove the bails at the non-striker's end.
This comical piece of running between the wickets brought an end to Miller's brief stay on the pitch.
Du Plessis looked to re-build again in the company of JP Duminy but a slower delivery from Hardik Panya left South Africa's number 3 batsman beaten completely. An inside edge went on to hit the stumps and du Plessis was castled for 36 as South Africa slumped to 157/5 in 33.3 overs.
Jasprit Bumrah and Bhuvneshwar Kumar were brought back into the attack by Virat Kohli in an effort to hasten South Africa's demise and his plan worked perfectly. Bumrah removed Chris Morris (4) and Andile Phehlukwayo (4) cheaply, while Bhuvneshwar got rid of Kagiso Rabada (5) and Morne Morkel (0) off consecutive deliveries to bring the South African innings on the brink of an early end.
The last nail in the coffin came courtesy of a run out. JP Duminy's indecision to whether go for a double and retain strike turned out to be a costly one as last man Imran Tahir was caught out of his crease. South Africa's misery was over in 44.3 overs and they managed to put up a paltry 191 on the board.