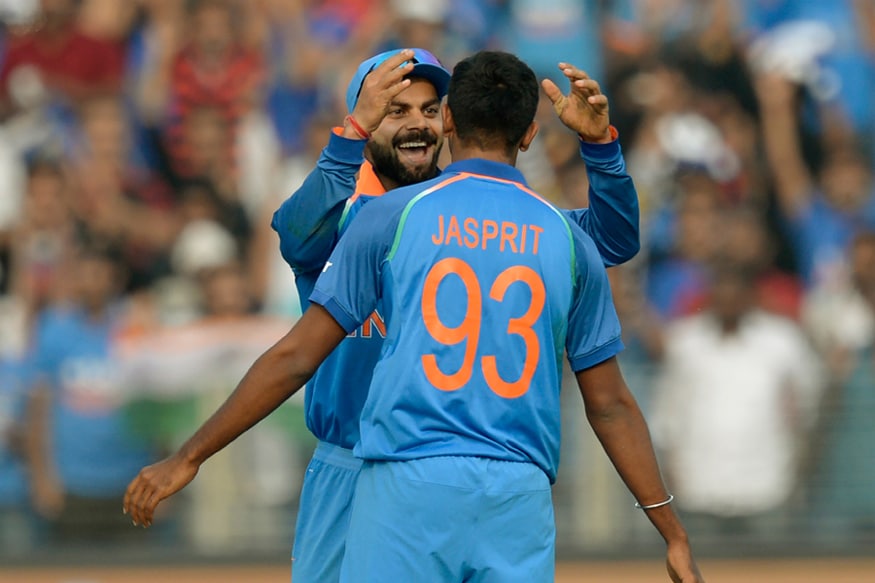 New Delhi: Star pacer Jasprit Bumrah was once again at his sublime best as he bowled a magnificent spell early on that helped India restrict South Africa to just 191 runs at the Oval on Sunday.
The Men In Blue crushed South Africa by eight wickets to storm into the final and it was made possible only because of a scintillating bowling and fielding display. During the post match presentation, Bumrah said that he was taken by surprise by the nature of the wickets in England and therefore, he took time to adapt.
"It's my first visit to England, and the wickets have been different to what I expected," Bumrah told ICC after the win.
Also Read: Graeme Smith Lashes Out at South Africa After India Defeat
"But it's been a good challenge for me, a good challenge to contain batsmen. To bowl in tough conditions gives you a lot of confidence. It's been a different experience for me. Usually in England the ball swings, but over here the wickets are very hard and good to bat on. So we're very happy that it was a good bowling effort for us."
In the first two matches in the tournament, Bumrah went wicket-less, but against South Africa the pacer finished with figures of 2/28 in 8 overs. Also, Bhuvneshwar Kumar and Bumrah bowled 5 overs each early on and after 10 overs, the South African score read 35/0.
The Indian pacer said he stuck to his basics against the Proteas and that worked wonders for him.
"The basic plan was that since the ball was not swinging too much, we were just trying to bowl good, hard lengths. We were trying to contain the batsmen, that was our basic plan. It made an impact because everybody chipped in and everyone was containing batsmen. They wanted to hit, but couldn't," said Bumrah.
Also Read: India vs Bangladesh: Bashar Hopeful of a Good Show
Earlier, during the post-match press conference, Kohli revealed what he said to Jasprit Bumrah before the start of the innings that really spurred him on.
"He's (Bumrah) an attacking bowler, and all I said was, you know, express yourself, go for wickets. If you want to york people in the knee, well, do it. If you want to bounce people, do it. This is your opportunity. The new ball does quite a bit, and you can get us a couple of breakthroughs," Kohli said.
"His intention was to pick up wickets and that's where we were able to create pressure from both ends. I mean, Bumrah as you know, is always very consistent, but I think the way Bumrah bowled, as well, really tightened things from both ends. And then 30-odd runs in ten overs was an outstanding start for us, and then we could build on from there and get those important breakthroughs," the Indian skipper added.