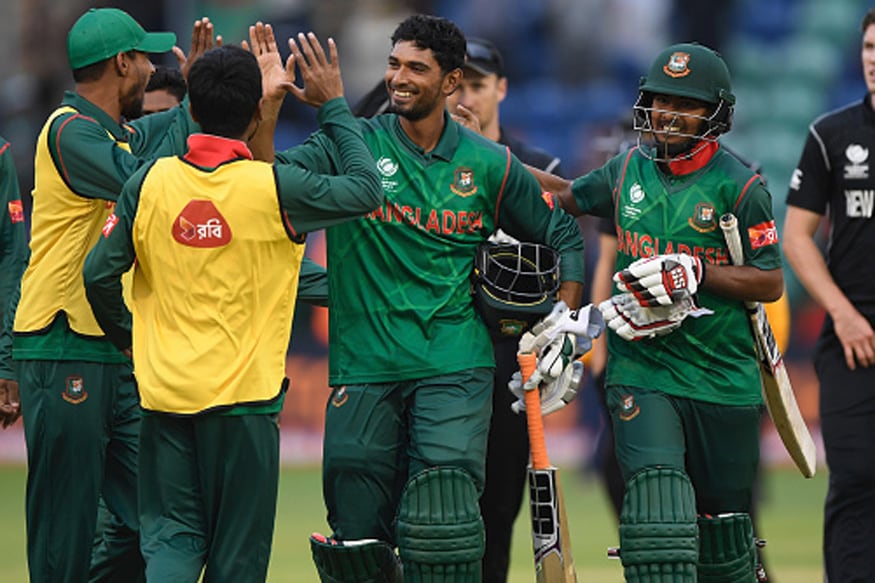 Hand on heart did you think Bangladesh would beat New Zealand after being reduced to 33-4 in the early stages of the run chase on Friday? If you say yes, you are under threat of my screaming ``Liar, Liar"!
To predict a Bangladesh win at that stage was to mock not just cricket logic, but also common sense. True, upsets and turnaround results add to the charm and glory of sport, but even by that yardstick this was win among the `rarest of rare'.
In some way, the hardship quotient for Bangladesh reminded me of what India faced beating Zimbabwe in the 1983 World Cup, except that they were batting second. In 1983 India, batting first, had recovered from 17-5 to 262, riding on Kapil Dev's epic 175.
Set to score 266, Bangladesh's top order was back lopped off within 12 overs. It appeared then that the match might be well over in 25. Instead it went the distance, resulting in an incredible run chase to bring them back from the dead.
In the process, this also produced one of the finest partnerships in the history of ODI cricket. Centurions Shakib-ul-Hasan and Mahmadullah rotated the strike, played the big strokes when needed and handled the pressure brilliantly. This was astonishing batting leading to an astonishing result in what has developed into an astonishing tournament.
Till a few days back, the big talking point was how rain was ruining the Champions Trophy. Now, it's about exciting cricket and topsy-turvy results. The last four matches have added unexpected twists and flips to the championship.
Apart from Bangladesh's sensation win – which remains the best match of the tournament yet for me - Pakistan, thrashed by India, beat Australia albeit in a rain-affected match, Sri Lanka brought down high flying India with an immaculate batting performance and England got the better of World Cup champions Australia.
Suddenly, three unfancied teams found themselves just a step away from a place in the semi-final. Of these, Bangladesh have made the cut after England beat Australia on Saturday. Pakistan and Sri Lanka are now locked in a head-on clash on Monday; as are India and South Africa, two pre-tournament favourites, on Sunday.
It will be a remarkable development if both India and Pakistan qualify, and will send cricket fever soaring in the sub-continent once again. But neither Sri Lanka nor South Africa are pushovers.
Obviously, vagaries of the English weather and some luck have played some part in how this situation has transpired. Australia, for instance, were perfectly placed to beat Bangladesh till the weather turned cruel and lost a crucial point.
What seems more pertinent to me is that this reflects how the gap between teams has narrowed in limited overs cricket. Unlike in the longest format where the top five sides seem way ahead of the bottom four, this is clearly not the case in ODIs and T20s.
So India can beat Pakistan easily, but lose just as easily to Sri Lanka the next day. And Pakistan, ranked no.8 by ICC, can rise swiftly from the debris to topple the no.1 ranked South Africa in their next match.
The most dramatic improvement, of course, has been by England. Humbled by Bangladesh in the 2015 50-over World Cup, the English cricket establishment went in for a revamp – in terms of priority, mindset and players – to pursue excellence in limited overs cricket. In this Champions Trophy, they have shown how successful the transition has been.
To extend the argument beyond just this tournament, Afghanistan have shown they've improved by leaps and bounds. On Friday, they decimated the West Indies in an ODI in the Caribbean, a quite remarkable achievement for an associate member.
True, the West Indies are struggling badly these days. They even failed to qualify for the Champions Trophy, which would have been unthinkable even three years ago. And yet, let's not forget, they are T20 World Cup champions!
I've always maintained that the shorter the game, the more level the playing field and this works to the advantage of the lesser fancied teams. Four and five day matches make a heavier demand on technique and temperament. This exposes players lacking class and deep experience in the longer format.
Two other factors that have made a difference are T20 cricket -- which demands intrepidity, energy and innovativeness -- and also the fact that T20 leagues allow players from `lesser' teams to rub shoulders with the best players.
Because of this exposure, they learn that much quicker. This has resulted in closing the gap between teams and also making ODI and T20 cricket that much more exciting if unpredictable. In turn, this puts greater onus on fancied teams to be at their best. Or suffer, as Australia and New Zealand have in this Champions Trophy.
Come to think of it, only one from South Africa and India – I & 3 in ICC ODI ranking – will make it to the semi-finals after Sunday's game, while a place for either Sri Lanka (ranked 7) or Pakistan (8) is certain!