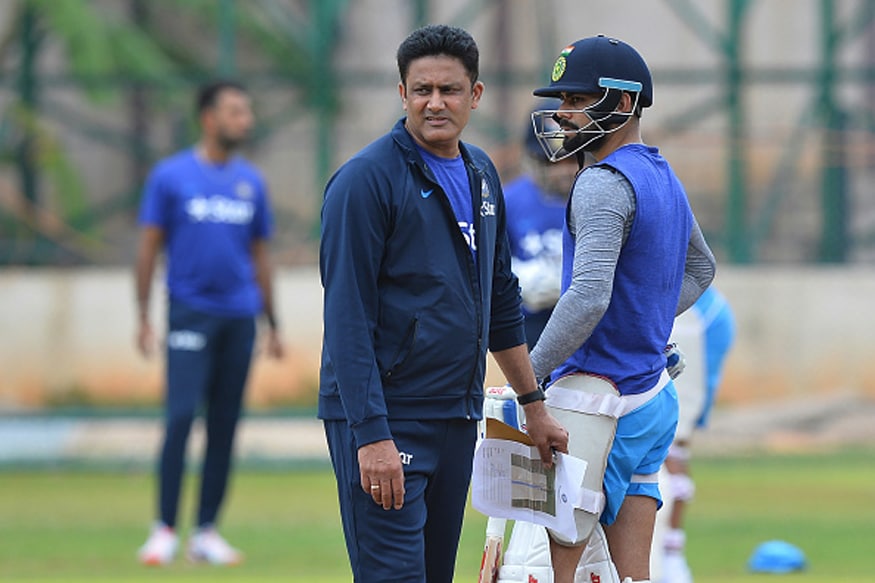 New Delhi: Team India chief coach Anil Kumble has had a successful one-year stint and his contract comes up for review after the Champions Trophy, as reported by Cricketnext on Wednesday, but the Board of Control for Cricket in India (BCCI) has made it clear that even a win for the defending champions in the mega event doesn't guarantee Kumble an extension.

While things look rosy at the surface level with Team India winning almost every series under Kumble's guidance, there is growing dissatisfaction among the BCCI top brass about the coach's attitude.

Speaking to Cricketnext, a senior BCCI official said that Kumble's attitude and conduct will also be taken into account when the board sits down to decide on the former India skipper's future as national team coach.


"Kumble's chances of getting an extension even if India go on to successfully defend the Champions Trophy remains 50-50. Don't think it will alone have a bearing on the board's decision on the chief coach. He has time and again broken the protocol and his attitude hasn't impressed the BCCI," the official said.


Asked if one could see Kumble being replaced even if Virat Kohli and boys go on to lift the cup, the official said: "So, are you trying to tell me that the coach alone is responsible for a team doing well? If that is the case, then why look for talented players? We can just look for talented coaches. A coach is just as good as the team. Having said that, we aren't trying to discount a coach's role. All we wish to convey is that Kohli and the boys have an important role to play if India are to win the tournament."

Also Read: BCCI Retains Indian Batting Coach Sanjay Bangar For Champions Trophy

The BCCI's main issue with the former leg-spinner is his repeated attempts to jump the gun and contact the Committee of Administrators appointed by the Supreme Court to look into the daily functioning of the board.

"It is fine to speak to the COA on and off. But you cannot keep trying to bypass the BCCI and contact them for things which are under the board's domain," he said.

But the official also made it clear that the decision to remove or retain Kumble would be taken in consultation with the COA.


"A final call will be taken after consulting the COA as we want them to be in the loop. But yes, as things stand now, we will assess his performance both on and off the field," he said.


The BCCI has been upset with Kumble after he had approached the Committee of Administrators over the delay in the announcement of India's squad for the Champions Trophy.

As reported by Cricketnext on Wednesday, Team India's batting coach Sanjay Bangar and fielding coach R Sridhar's contract will also be discussed after the ICC Champions Trophy.

"The support staff of the Indian team, which includes chief coach Anil Kumble along with batting coach Sanjay Bangar and fielding coach R Sridhar will be in charge of the team till the Champions Trophy. The contracts will be discussed and reviewed after the mega event in England. Any decision on whether they stay or not will be taken only after the tournament," BCCI secretary Amitabh Choudhury had said.

First Published: May 11, 2017, 12:34 PM IST