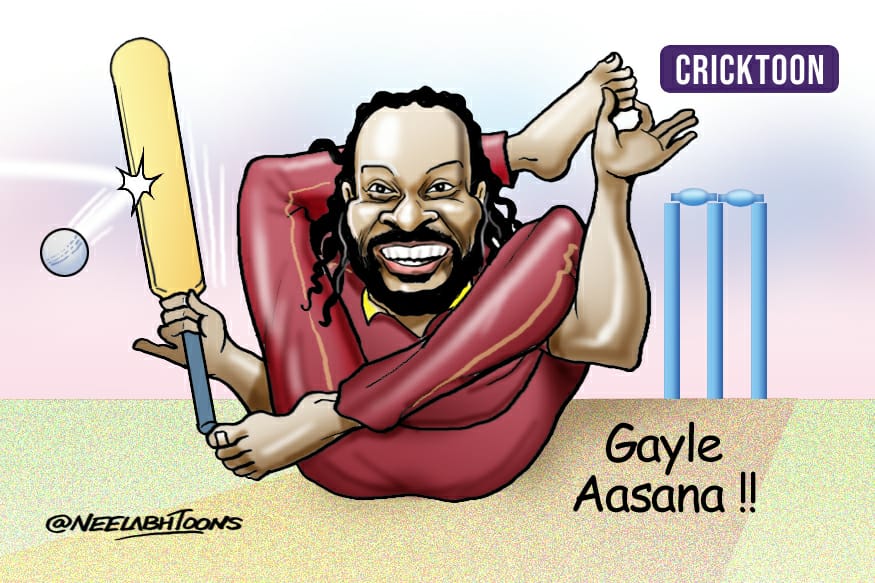 Chris Gayle did it again. He did not retire, again. Although he disappointed the speculators who had widely published his retirement copies, he certainly did not disappoint with his performance with the bat - a signature Chris Gayle innings – a destructive 72 in just 41 deliveries including 8 fours and 5 sixes in the third and final ODI against India at Port of Spain.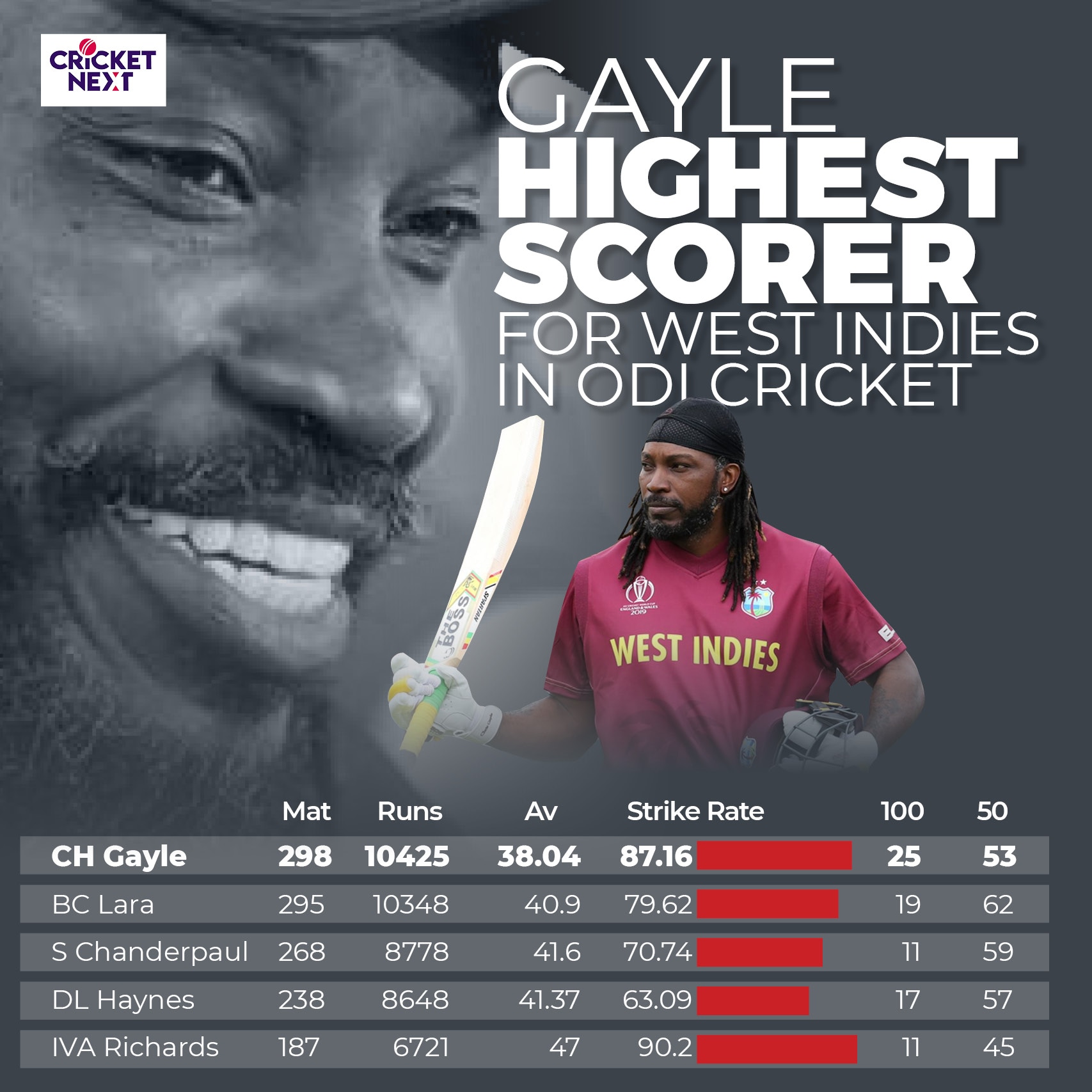 Gayle currently stands as the highest scorer for West Indies in ODI cricket with an aggregate of 10480 runs in 301 matches (294 innings) at an average of 37.83 and at a strike rate of 87.19 in a career which has spanned for almost 20 years! He belongs to an exclusive 14-member 10000-plus club in ODIs. Brian Lara is the only other West Indian in this club.
His 25 hundreds are the highest for West Indies and the joint seventh-highest in the history of the format.
Gayle is a big six-hitter. His 331 sixes are the second-highest in the format (min. 100 sixes in career) after Shahid Afridi (351). In terms of sixes per innings, Gayle is second-highest (1.126 sixes every innings) only after Kieron Pollard (1.158 sixes every innings).
Gayle has been more than useful with his off-spinners too. He has picked 167 wickets – the fifth-highest for a West Indian in ODI cricket - at an average of 35.48 and strike rate of 44.4 at a very restrictive economy rate of 4.78 – this makes him a genuine batting all-rounder.
What is remarkable is that Gayle's bowling strike rate for the West Indies (44.1) is better than greats like Courtney Walsh and Malcolm Marshall!
NOT MR CONSISTENT BUT AN IMPACT PLAYER
Gayle has never had the consistency as some of his contemporaries in the format but when on song they are few who can match his destructive stroke play and annihilation.
Gayle had a slow start to his ODI career which only really took off from 2002. Only Mohammad Yousuf scored more runs and Ricky Ponting more hundreds in the two year period 2002-03 – Gayle aggregated 2078 runs in 43 innings at an average of 50.68 including 6 hundreds.
West Indies had a decent run in ODI cricket in this period winning 22 off the 44 matches they played. Their win-loss ratio was better than England, Sri Lanka and New Zealand in this time-frame. 2006 to 2009 was the only period where Gayle was consistent with the bat in his 20-year career. 2006 was the only year (apart from 2002) in which the left-hander scored more than 1000 runs.
In this four year time-frame, Gayle was amongst the ten highest run scorers in the world and registered the third-highest number of hundreds (8) after Ricky Ponting and Sanath Jayasuriya who had 10 each.
Gayle's ODI career went downhill post 2009 and he was never quite at his dominating best thereafter.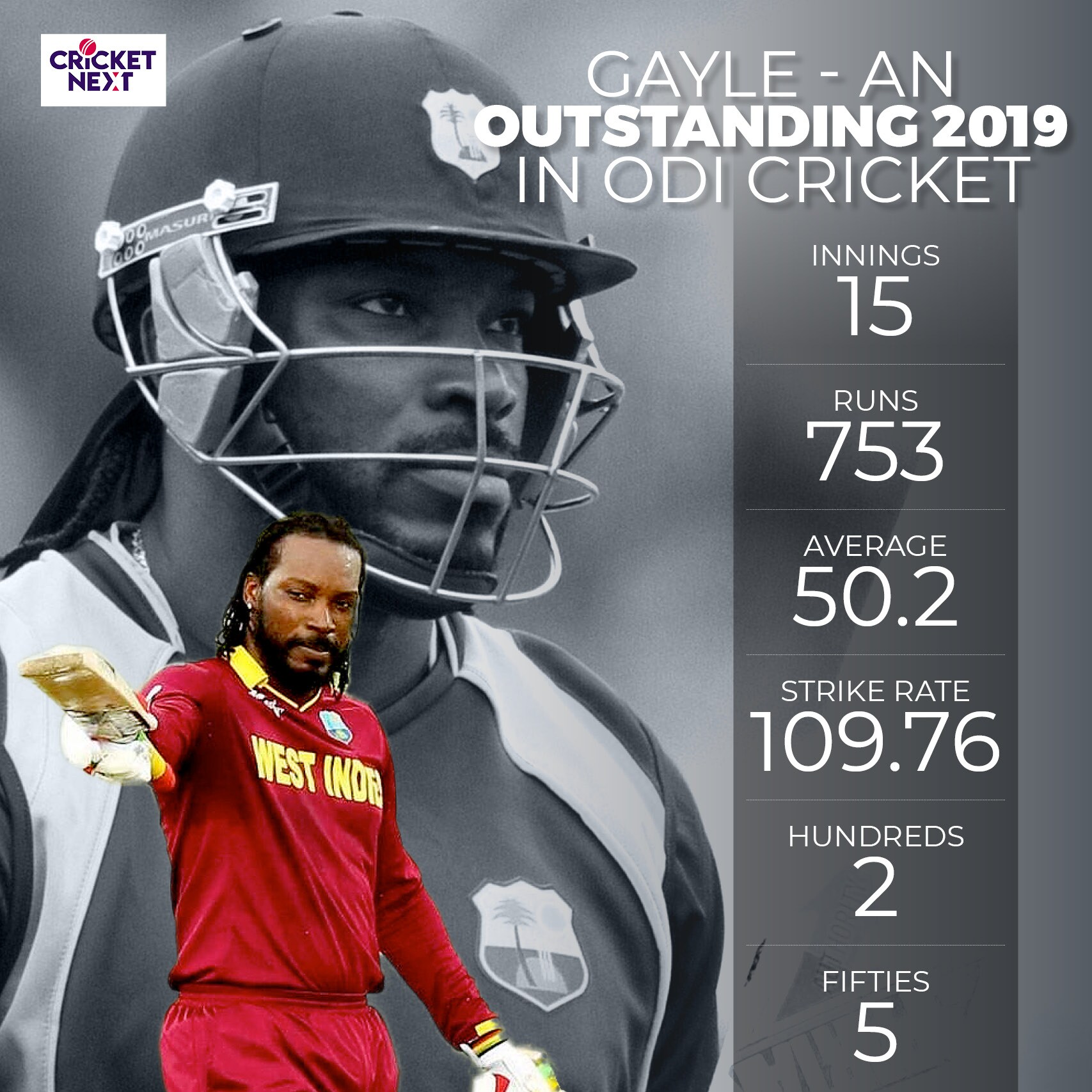 Till 2019! Gayle has had one of his finest years in ODI cricket in 2019. He has scored 753 runs in just 15 innings at an average of 50.20 and strike rate of 109.76, including 2 hundreds and 5 fifties.
Jason Roy and Eoin Morgan are the only other batsmen who for a minimum of 500 runs, in 2019, average above 50 and have a rate of scoring in excess of 100. In his 20 years in the format, Gayle has averaged twice in the 40s and three times in the 50s.
Remarkably, in terms of product of his average and strike rate, 2019 has been his best year in ODI cricket. Gayle is an impact player for the West Indies as his record in victorious matches for his team indicates – Gayle's average goes up to 51.1 (by more than 13 runs per dismissal) in winning matches – that is a significant increase from his career ODI average.
He has been mostly part of a weak and struggling West Indian unit – yet 14 of his 25 hundreds have resulted in a win for the West Indies. Gayle also has a big-match temperament as can be seen from his performances in the world tournaments.
A CHAMPION OF THE CHAMPIONS TROPHY
Gayle has aggregated 791 runs in 17 Champions Trophy matches at an average of 52.73 and strike rate of 88.77. He had a great tournament in 2006 in India when he hammered three tons including perhaps his finest hundred in the format.
Chasing South Africa's 258 on a difficult and slow Jaipur wicket in the semi-finals, Gayle played a tremendous innings scoring an unbeaten 133 off 135 balls including 17 fours and 3 sixes. West Indies won by 6 wickets and 6 overs to spare.
Gayle has had a decent World Cup record too scoring 1186 runs in 34 innings at 35.93 including two hundreds.
His double hundred against Zimbabwe in Canberra in 2015 was his standout performance in World Cup cricket – one of only eight double hundreds in ODI cricket.
A GREAT OPENER AND RECORD IN INDIA
Gayle has scored 10179 runs in 274 innings at 39.45 as an opener. Only Tendulkar and Jayasuriya have aggregated more opening the innings than Gayle. All his 25 hundreds have come from Number 1 or 2.
Equally important as his volume of runs is the manner and rate at which Gayle scores them. In as many as 47 of his 40-plus innings as an opener, he has scored at a strike rate of above 100 – providing the impetus the West Indies needed at the start or accelerating later. In 9 of these his strike rate has been in excess of 150!
Interestingly, Gayle has a great record in India – he has amassed 1117 runs in 23 innings at an average of 53.19 and strike rate of 94.02, including 6 hundreds and 3 fifties. It is the ninth-highest average for a non-Asian batsmen (min. 500 runs) in India.
A FINE RECORD IN TESTS AND T20IS TOO
Gayle has also scored 7214 runs in 103 Tests at an average of 42.18 including 15 hundreds.
His record in three of the four SENA countries is excellent – he averages 49.88 with 2 hundreds in Australia, 67.5 with one hundred in New Zealand and 54.5 with 2 hundreds in South Africa.
2004 was the only year in which he scored more than 1000 runs in a calendar year in Test cricket – 1135 runs in 12 Tests at 54.04 with 4 hundreds.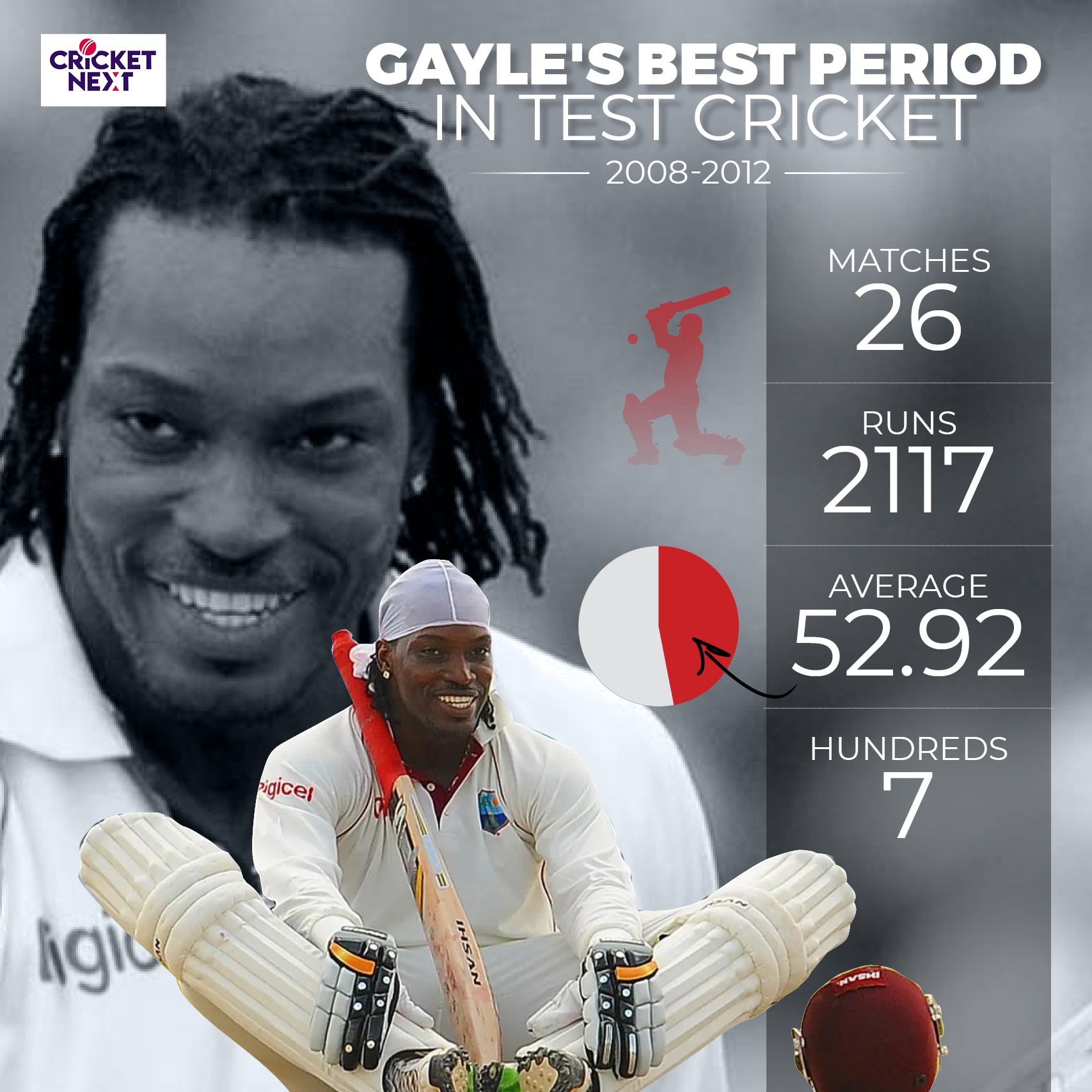 However, his best period in the format was between 2008 and 2012. He was amongst the top 10 batsmen in the world in Test cricket in this period and the second-best West Indian only after Shivnarine Chanderpaul (in terms of averages).
Gayle averaged higher than the likes of Tendulkar, Alastair Cook, Virender Sehwag, Rahul Dravid and Mahela Jayawardene amongst others in this period. He averaged above 50 in 2008, 2010 and 2012 and 49.26 in 2009. He averaged above 50 with a strike rate of above 70 in three calendar years – 2004, 2010 and 2012 – this made him doubly dangerous as he got big runs at a quick rate opening the innings for the West Indies.
Gayle is amongst the 4 batsmen in Test cricket history who have scored two triple centuries – the other three being Don Bradman, Brian Lara and Virender Sehwag. Gayle is also considered as one of the all-time greats in T20I cricket with 1627 runs in 54 innings at an average of 32.54 and strike rate of 142.84, including 2 hundreds and 13 fifties.
He is the highest scorer for West Indies in T20I cricket. Gayle has the eighth-highest strike rate in T20I history amongst the 52 batsmen who have scored a minimum of 1000 runs in the format.
His greatest T20I knock came against South Africa albeit in a losing cause in Johannesburg in the first match of the inaugural World T20 in 2007. Opening the innings, Gayle smashed 117 off just 57 deliveries at a strike rate of 205.26, including 7 fours and 10 sixes.
He scored another hundred in World T20 cricket – he hammered an unbeaten 100 off just 48 deliveries against England in Mumbai in 2016 to help West Indies chase down 182 with 11 balls to spare.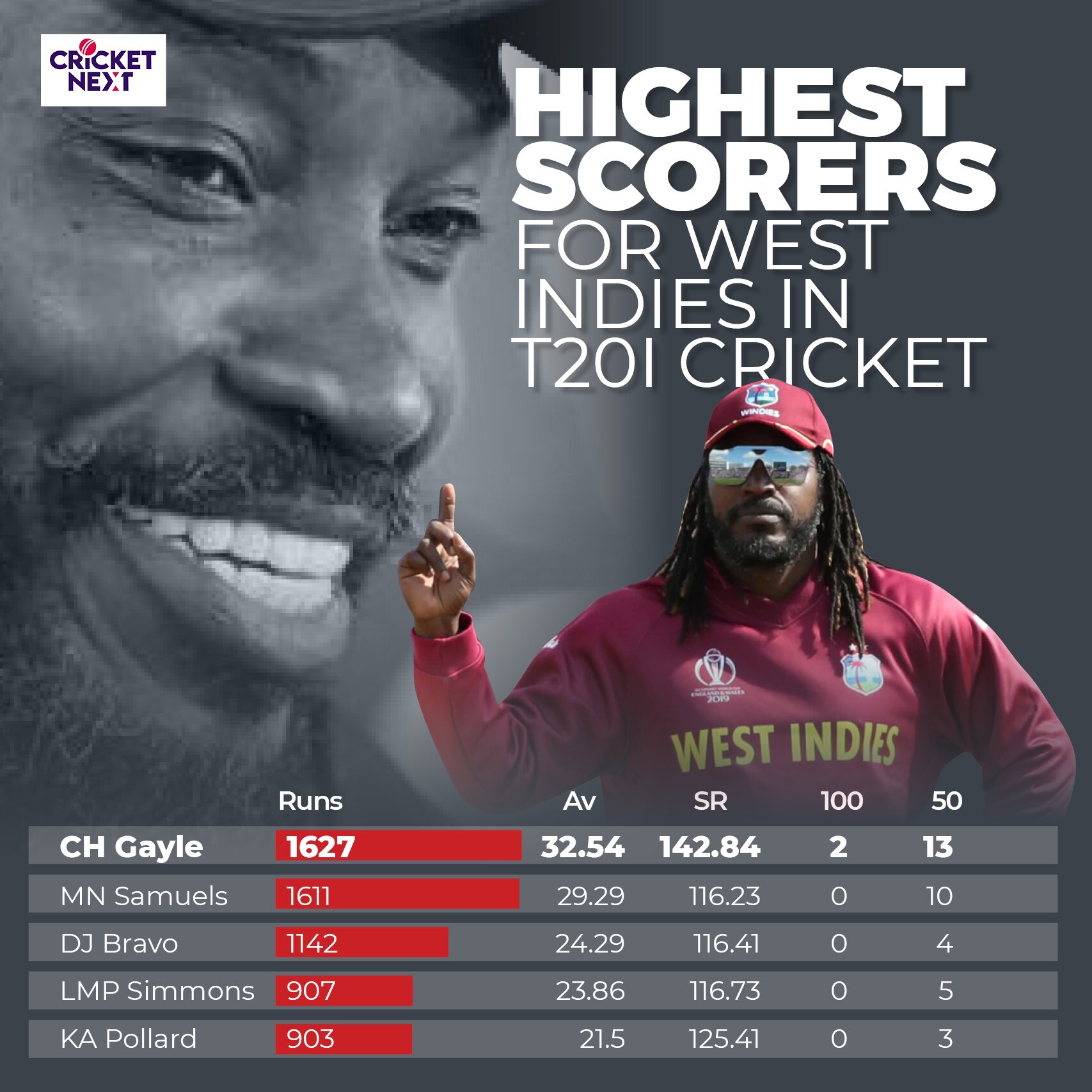 Like ODI cricket, Gayle has had a sense of the occasion in T20Is too and raises his game on the biggest stage – he has scored 920 runs in 26 innings in World T20 cricket at an average of 40 and strike rate of 146.73.
Only Mahela Jayawardene has a higher aggregate in the tournament's history. Also, Gayle has the third-highest strike rate after Afridi and Kevin Pietersen (min. runs 400) and is the only batsman to score two hundreds in World T20 cricket.
Gayle aggregates 19321 runs (including 42 hundreds) in 462 international matches – it is the 13th highest aggregate in international cricket history. True to his name he has bossed the game universally!