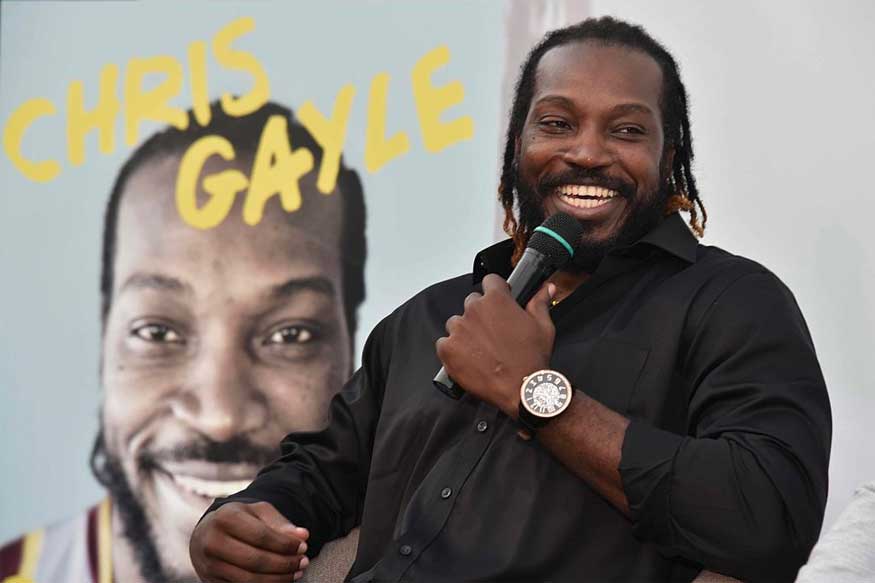 True to his flamboyant style, Chris Gayle's autobiography Six Machine - I don't like cricket, I love it is a no-holds-barred take on life. It's on how a shy, skinny kid from a tin-roofed shack in the backstreets of Kingston became one of the most well-known stars in the global cricketing arena. While in Delhi for the launch of his book, Gayle took time out for a freewheeling interaction with CricketNext.
Amit: The title of your autobiography title is Six Machine - I don't like cricket, I love it. Why Six Machine?
Gayle: It's a big machine (laughs). Six machine is basically about being so dominant on the field. I've hit over 700 sixes and this actually sums it up. People have actually liked it and they have gravitated and entertained by seeing lots of sixes. Most of the people must have said 'Six Machine', so the name actually kind of sinks in. So this is how we came across this name. It's a fantastic name and I really liked it.
Amit: Can you sum up your autobiography in two words?
Gayle: Inspire People (laughs).
Amit: Two things that you have not mentioned in the autobiography?
Gayle: I can't say it on TV (giggles). There are more than two things I haven't mentioned in the book. May be I will reveal it in the next book. May be I can be a bit more raw in that other book.
Amit: To whom will you give the first copy of your autobiography. And why?
Gayle: I will give the first copy to Cristiano Ronaldo. I read his book and had read about the struggle he has grown through. Grown up as a kid, struggled, gained lot of experience then went on excel and then became a big superstar as well. So, I can say I have also grown up in a similar fashion like him. Most of the stuff Ronaldo has done on the field. But he was not given that much credit as much as he deserved, and the same goes for me as well.
Amit: We have seen you hammering bowlers all over the park. Which bowler did you find it easy to go after?
Gayle: Shoaib Akhtar. It's so easy to demolish him (just kidding). Akhtar is too fast. Bowlers always create difficulties for batsman specially spinners when you tour the sub-continent. It's always tricky on slower wickets.
Amit: How will you describe RCB skipper Virat Kohli, in one sentence?
Gayle: He is a good player (giggles).
Amit: Who is your inspiration?
Gayle: I will say my family is my inspiration. Because of the struggle we faced and what all we have gone through is what inspired me.
Amit: What is Chris Gayle's naughtiest moment of his childhood?
Gayle: I kissed a girl.
Amit: How is fatherhood?
Gayle: It's going good. Crisalina is four months now, after these couple days I am going back home to do my daddy's duty. She is keeping mum busy, mum has to put in a lot of work so I have some catching up time and make sure she relaxes, and I do my duty.
Amit: Any song that you want to dedicate to your daughter?
Gayle: She doesn't understand songs now. Once she starts understanding I will sing my songs to her for sure.
Amit: Favourite line of yours from this autobiography?
Gayle: Do you think you know Chris Gayle? This is one of the favourite lines from the book.
Amit: Any famous incident from the book?
Gayle: (Laughs) There is not much famous incidents apart from the one that happened in Australia. It was actually blown out of proportion. But at the same time, you know, I turn the negative energy into positive energy. People try to degrade you and your achievements around the world. People tend to be sidetracked by some simple issue which is unnecessary and uncalled for. But at the same time you have to overlook it, travel, have fun and succeed out there. I will keep up with that fun.
Amit: Your favourite, and least favourite century in T2O cricket?
Gayle: I think the 175 will be my favourite one. It came against Pune Supergiants at Chinnaswamy Stadium. The least favourite one is getting out for nought against Bangladesh in 2007 ICC World Cup after scoring a hundred in the previous match. And then we were knocked out.
Amit: You have scored too many centuries in T20 format. But we miss you in whites. Is there a chance that we can see you in Tests again?
Gayle: I guess people really do want to see me in whites. I think, it will be possible. As I mentioned in my previous interviews, I still have my ongoing back issues. I am still trying to rectify it as much as possible. Now I will give a couple more months to it and then see what is best. It depends on the West Indies Cricket Board, and if they agree, then you can actually see me back in whites.
Amit: How is the transition from Gangnam Style to Champion dance?
Gayle: It's really good. Champion is really a champion now.