Chris Gayle is a great T20 batsman. His numbers, both in international and domestic T20 cricket, are outstanding. But what about his numbers in the other two formats of the game?

Gayle has an impressive Test record with 7214 runs in 103 Tests at a batting average of 42.18, including 15 hundreds.

His ODI numbers also categorize him in a rare league of batsmen – he aggregates 9727 runs in 279 innings at an average of 37.12 and strike rate of 85.82. His exploits include 23 hundreds and 49 fifties.

With the World Cup approaching, West Indies will want Gayle to find his form in ODI cricket. He could provide the impetus the West Indies team needs at the start of the innings.

Gayle is among the highest run-scorers in ODI cricket among non-Asians.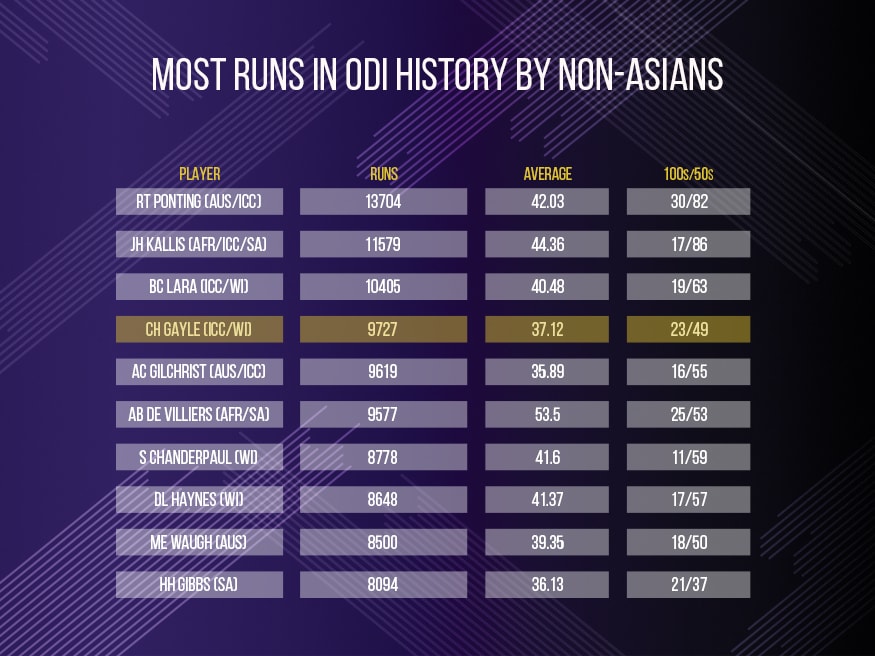 He is behind fellow West Indian, Brian Lara who has over 10,000 runs in the fifty-over format. Gayle is closing in on the 10,000-Club and will become only the 14th batsman in the history of the format to achieve the feat if and when he reaches the landmark.

Gayle has never really been great at rotating the strike, with his strength lying in clearing the ropes with insane consistency. He is the second highest six-hitter in the history of ODI cricket and given that grounds are getting smaller and pitches in England produce high-scoring contests, Gayle's presence could be invaluable.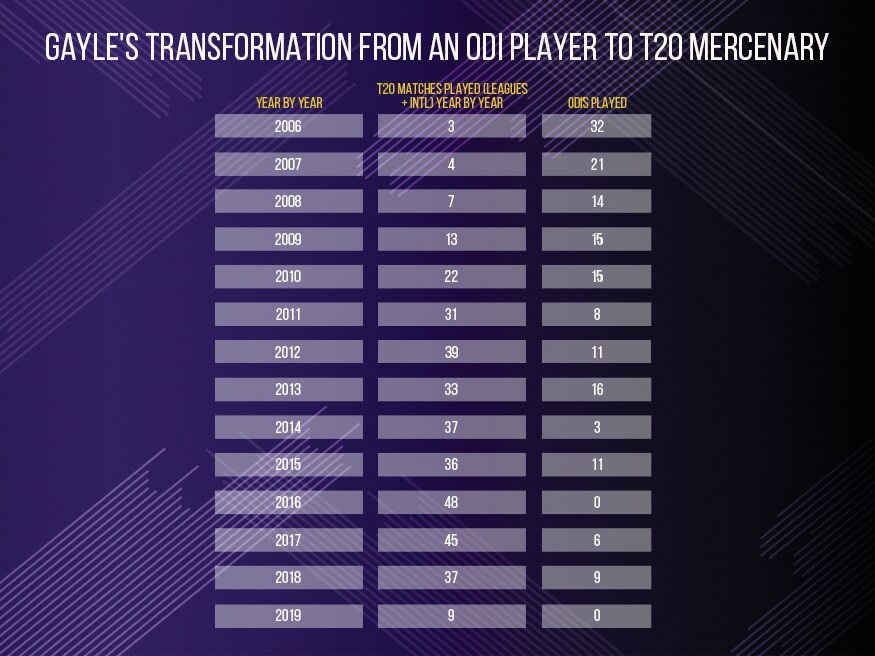 With just 25 more sixes to reach the 300 tally, eclipsed only by Shahid Afridi, Gayle may not need more than one tournament to seal the landmark.

The problem, though, is he hasn't been on great terms with the West Indian Cricket Board and thus the latest recall to the ODI setup is heartening.

The increased priority given to T20 cricket has also seen him play a reduced number of ODIs over the years.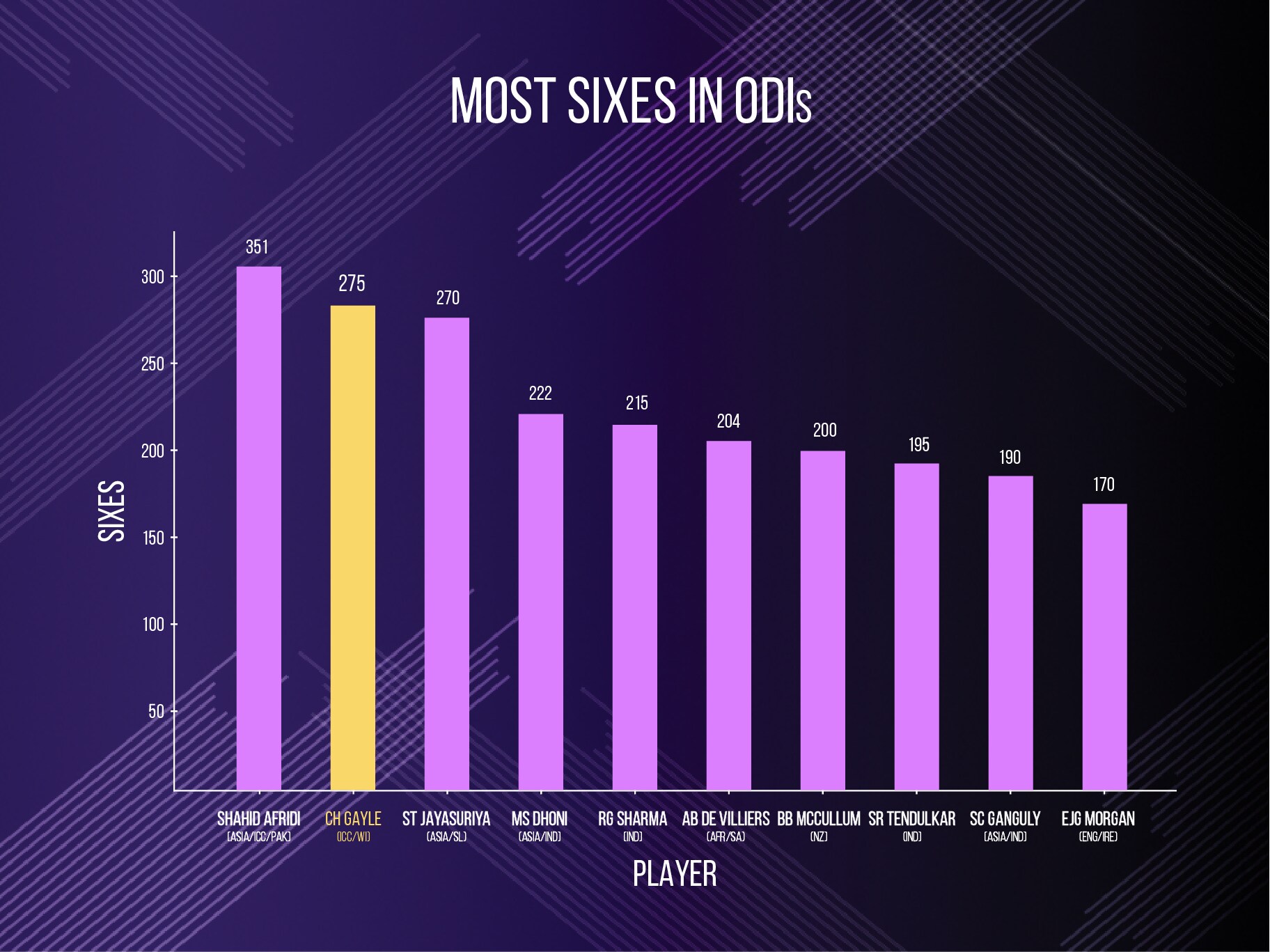 A year-wise analysis of his ODI and T20 (across leagues and International matches) career shows that his priority has clearly shifted from ODIs to the shortest format of the game. He has represented as many as 23 T20 teams in his career, playing in as many as 8 T20 leagues around the globe.

Till 2014, he had played in 152 T20 matches while playing 255 ODIs. Since then, though, he has played just 29 ODIs for the West Indies while playing 212 T20 matches across the globe. That, though, shouldn't concern the West Indies as long as he turns up at the World Cup and can deliver at the top.

In the lead up to the 2015 World Cup (from 2014 to the start of the World Cup), Gayle had played just 8 ODIs, averaging 17.25 with just a solitary half-century. However, at the World Cup, he made 340 runs at an average of 56.66, slamming a double hundred and striking at a rate of 117.24.

The build up to the 2019 World Cup should see West Indies playing Gayle a lot more with him set to appear in the England ODI series next week. At 39 years old and having announced his plans to retire from ODIs after the World Cup, Gayle would hope to make his last one memorable.

First Published: February 18, 2019, 7:48 AM IST