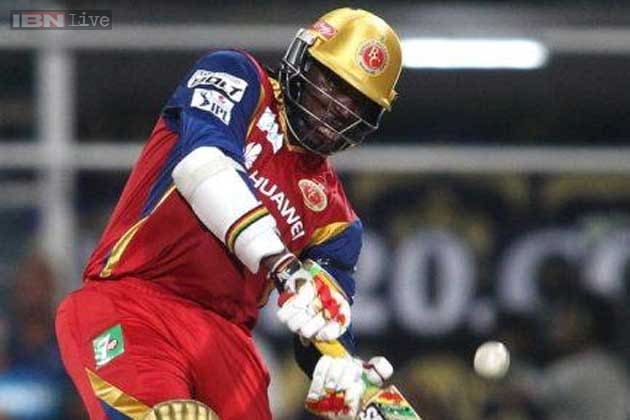 "I was surprised when Chris (Gayle) was not playing, but Virat (Kohli) is a guy who always thinks positively for the team. The other guy, (Rilee) Rossouw, has played many good knocks for South Africa. But still I would say they didn't start well in the first six overs. The credit for that goes to Ashish Nehra, he bowled in good areas."
That was Suresh Raina, speaking immediately after he had played the starring hand in Chennai Super Kings swatting Royal Challengers Bangalore aside for a 27-run victory at the M Chinnaswamy Stadium on Wednesday (April 22).
Raina had made 62 off 32, Nehra had taken 4 for 10 in four overs and Bangalore had slumped to a third straight loss to be at the bottom of Pepsi IPL 2015. But none of that was quite as puzzling as the absence of Chris Gayle from the playing XI.
There was as frisson at the toss when it was announced that Mitchell Starc would be taking his expected place in the team, but that quickly turned into half-perplexed, half-wondering murmurs when realisation dawned that the overseas player Starc had replaced was not Rossouw as most thought it would be, but Gayle.
Was he unfit? Or was he dropped?
Gayle had plodded to a 24-ball 10 against Mumbai Indians when Bangalore were chasing 210 in the previous match. Equally, he had begun with a match-winning 96 against Kolkata Knight Riders off just 56 balls and followed it up with 21 off 16 against Sunrisers Hyderabad.
On one hand, it is undeniable that Gayle is no longer the Twenty20 force of nature he was from 2011 to 2013, never mind the three performances - one great, one middling and one poor - before his Wednesday axing. Especially when a batsman like Rossouw, who had an impressive World Cup 2015 outing with 210 runs at a strike-rate of 116.67, is waiting in the wings.
On the other hand, it was unthinkable that there could be a Bangalore side without Gayle in it. This was Chris Gayle. The man who has 2,835 runs in the IPL, marrying an average that would be respectable in five-day cricket (47.25), with a strike-rate that no one could find fault with even in a 10-overs-a-side game (153.49).
Iqbal Abdulla, the 25-year-old IPL rookie, put on a game face when trying to explain Gayle's absence at the post-match press conference. Understandably, there was not much light that he could shed.
Abdulla clarified that Gayle "was not injured, and was backing himself". He also dwelt on the fact that there was a long way to go in the tournament, perhaps hinting that it might not be too long before Gayle was back to striding out in RCB colours at the top of the order.
"He's preparing well," said Abdulla. "He is a very important player for RCB and he knows that there are ten matches, he will bounce back."
Abdulla also suggested that the decision to sit out was as much Gayle's as the team management's, but unless the big Jamaican was nursing a niggle, that explanation seemed off. A man with the self-assurance that Gayle has and, moreover, his history of dominating T20 cricket, does not voluntarily sit out of a high-profile clash unless he can't take the field.
Gayle was at the team nets on match eve, and even faced up to Starc. He was knocking balls before the scheduled start of the match against Chennai in typically languid, unhurried fashion, and certainly did not seem as if he was carrying any serious injury.
Gayle was, in fact, available to play. The fact that he wasn't in the playing XI suggests he was dropped. But as a Bangalore official pointed out to Wisden India, it was more of a pragmatic testing of options by the franchise in a long tournament, rather than an axe wielded with finality.
Innuendo and confusing explanations would, of course, have been avoided if Virat Kohli, the Bangalore captain, had fronted up after the match. He has the authority and the nous to put the matter in perspective and give an unambiguous answer to the reasons Bangalore had for even contemplating going in without the man who has won them more matches than anyone else - Kohli and AB de Villliers included. But Kohli, the man who faces down the meanest, nastiest, most skillful bowlers in international cricket without batting an eyelid, chose to avoid going down that route.
Explanations might not have been forthcoming, but one thing was clear: the man who might have been the first name on the team sheet as little as three matches ago was no longer guaranteed a spot in the starting XI.
The new world order that is Twenty20 cricket spares no one, not even the man who has dominated it in unparalleled fashion. Gayle sitting on the bench probably won't become a very familiar sight yet, and sooner rather than later, he'll be back at the top of the tree for Bangalore - perhaps hungrier than ever given his benching.
A week ago, if the analyst, the expert or the lay fan were told that Bangalore wanted to test options in their playing XI - they would have assumed it meant there were eight places at the most that could potentially be juggled. Gayle, Kohli and de Villiers seemed set in stone in the line-up.
A week, it turns out, is a helluva long time in Twenty20 cricket.