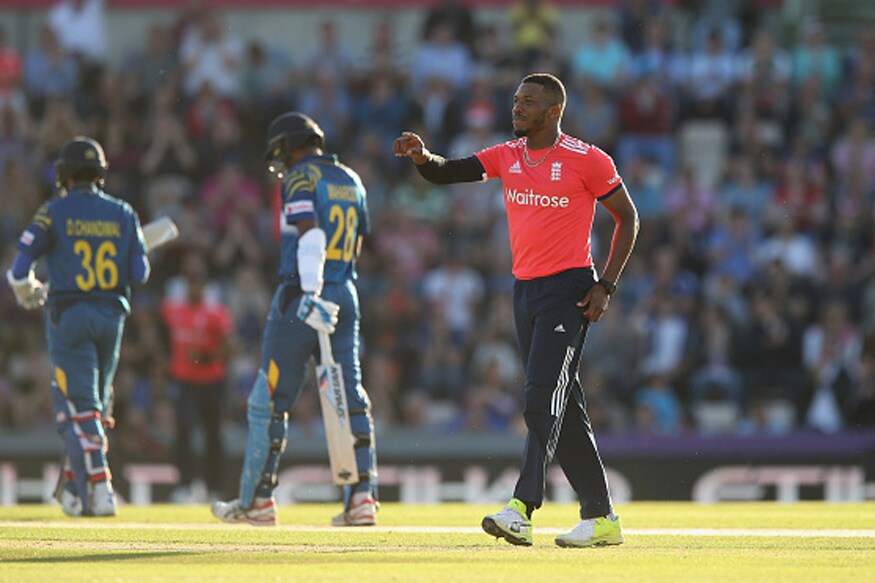 Nagpur: England's death-over specialist Chris Jordan is eager to get picked in the Indian Premier Leagues upcoming auction after having had a taste of the cash-rich event last year while playing for eventual runners-up Royal Challengers Bangalore.
"I'm going back into the auction and obviously hope to get picked up. It's a tournament I really enjoyed, it really helped develop me as a player from that mental point of view, playing in front of big crowds every other day almost and you're under a lot of pressure to deliver and perform.
"With Bangalore we made it to the final and obviously we want to go that one step further, but it's a tournament I really enjoyed, its done really well and hopefully I go back and get picked up," said the Barbados-born pacer ahead of his country's second T20 International against India.
"Ya, definitely I got (KL) Rahul out the other day and playing with him at Bangalore, bowled at him loads in the nets. He's a good mate of mine as well so he had a little laugh about it. That experience it didn't hurt me at all, but that counts for nothing because cricket plays on the day and you still have to deliver your skills on the day," he replied, when asked whether the IPL stint helped him bowl well to the Indian batsmen in the first T20 game at Kanpur that was won by England to go 1-0 up in the three-match rubber.
Jordan, who has played 8 Tests and 31 ODIs too for England before losing his place in both these formats, said the dead rubber ODI win at Kolkata followed by the T20 victory at Kanpur gave the tourists a good momentum for Sunday's game at the VCA Stadium in Jamtha.
"It was a very nice feeling actually coming back into the team, not being involved in the One-Dayers, coming from the Big Bash. Obviously we have had a tough time on the tour, losing the Test series and ODIs initially. The last ODI win and now the first in T20I has given us a little bit of momentum. Hopefully we can keep that going."
Jordan has been dropped for the next tour to the West Indies by England to play ODIs, and said he was working hard to get back into not only the 50-over side, but also the Test outfit.
"You are always disappointed when you have ambition and then not getting selected. Disappointment is an emotion that I think is warranted. I would want to get back into the ODI and the Test team as soon as possible, and am working very hard to do that. I was disappointed, but obviously we have a very good set of players, very strong depth. It will be quite tough getting back in, but I don't think it is beyond me," he said.
He said winning the T20 series in India by wrapping up the second game will be a big achievement.
"Every game is a chance to impress, a chance to stake a claim and I don't see tomorrow or Bangalore (venue of last game on February 1) being any different. We are taking it one game at a time at the minute. If we do win tomorrow, we do wrap up the series. It will be great to do that in India."
@media only screen and (max-width:740px) {
.quote-box{font-size:18px; line-height:30px; color:#505050; margin-top:30px; padding:22px 20px 20px 70px; position:relative; font-style:italic; font-weight:bold}
.special-text{font-size:24px; line-height:32px; color:#505050; margin:20px 40px 20px 20px; border-left:8px solid #ee1b24; padding:10px 10px 10px 15px; font-style:italic; font-weight:bold}
.quote-box img{width:60px; left:6px}
.quote-box .quote-nam{font-size:16px; color:#5f5f5f; padding-top:30px; text-align:right; font-weight:normal}
.quote-box .quote-nam span{font-weight:bold; color:#ee1b24}
}