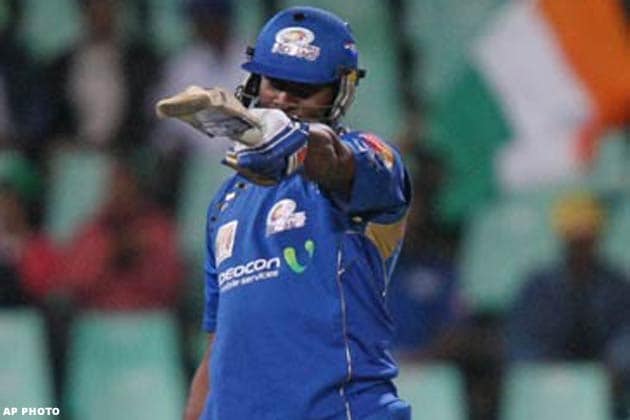 Durban: Kieron Pollard's 30-ball 72 massacre, including 9 sixes and one four, helped Mumbai register their opening points in the Champions League after beating a hapless Guyana by 31 runs on Thursday at Kingsmead.
Mumbai innings - which was helped by some shoddy ground fielding and catching by the Guyanese side - looked scratchy to begin with after Sachin won the toss and elected to bat despite overcast conditions. But once the opening partnership crossed fifty, Sachin & Co. eyed a score close to what they eventually ended with.
However, an opening stand of 82 runs between the Mumbai skipper and Shikhar Dhawan followed Sachin's (48) dismissal against the run of play, when spinner Devendra Bishoo got him stumped to claim his first wicket.
Sachin's wicket led to another two in quick succession, both to Bishoo. The tweaker first had Dhawan (39) caught at mid-wicket, followed by Saurabh Tiwary who failed to disturb the scorers.
From 82 for no loss, Mumbai Indians slipped to 99/3 at the end of 15 overs. Kieron Pollard – who was promoted to No. 3 to counter an eventuality of rain interruption – remained a spectator until then, watching wickets fall around him. However, that didn't prevent the West Indian butcher to clobber a hapless Guyanese team in what turned out to be the innings of the tournament.
What followed was an uninhibited display of aerial hitting that sent Guyana on a leather hunt and shattered Ramnaresh Sarwan's dream of restricting Mumbai to under 150.
A staggering 85 runs came off the last 30 balls of Mumbai innings, taking them to an unprecedented 184 runs at the end of 20 overs.
Bishoo remained the most impressive bowler for Guyana with his three wickets for 34 runs in four overs.
An under-pressure Guyana outfit needed an inspirational innings from their skipper Ramnaresh Sarwan. But before him, the openers needed to fire, which sadly didn't happen as S Chatergoon (1) failed once again, giving Malinga and Mumbai the first wicket.
Travis Dowlin (7) too never looked in and after a scratchy partnership of 30 runs with Sarwan, fell prey to fellow West Indian Dwayne Bravo.
From that moment on, it was always Sarwan vs Mumbai. And the Guyana skipper did give Mumbai a little scare for a while with some support from Narsing Deonarine.
But that didn't last long as Deonarine (27) fell to a fabulous forward-diving catch by Shikhar Dhawan, ending a 46-run stand and giving Bravo his second victim of the match.
Sarwan continued to be the only hope, if there was any, for Guyana. And his wicket proved to be the final nail hammered in by Harbhajan Singh, when Sarwan ended up hitting straight into Malinga's hands in quest for quick runs.
With a few easy wickets on offer in the end, Zaheer picked up one whereas Harbhajan and Bravo ended with a brace each.
But Kieron Pollard's innings turned out to be difference between the two teams in search of their first win in the tournament. The hurricane he brought onto the field left Guyana clueless and they failed to come out of it, going down tamely in the end.