The Supreme Court appointed Committee of Administrators (CoA) has cleared Rahul Dravid's appointment as Head of Cricket at the National Cricket Academy (NCA), ruling that there is "no conflict of interest" case against the former India captain. Dravid was served a notice by the BCCI Ethics Officer-cum-Ombudsman DK Jain, a former Supreme Court judge for violating Rule 38 (4) of the new BCCI constitution by taking over as the director of the National Cricket Academy (NCA) despite being an employee of India Cements, the company that owns IPL franchise Chennai Super Kings.
Dravid provided a 'leave of absence' certificate from India Cements to clear himself of a potential conflict, and after a meeting on Tuesday in Mumbai CoA member Lt. Gen. (Retd.) Ravi Thodge insisted that the BCCI felt that the former India captain was free from any conflict. Dravid though is still required to reply to the notice issued by Jain.
"There is no conflict in Rahul's case. He has got a notice. We had cleared his appointment, we had seen no conflict," Thodge said. "If the Ombudsman sees any conflict there, we will have our response going to the Ombudsman why there is no conflict, he has to consider it. It's a process and the process will continue always."
The ball is now firmly in Jain's court to take a final call on the issue. Speaking to CricketNext last week, Jain had said that as per the rules, merely being on leave without pay from a job doesn't clear an individual from a conflict of interest.
The 'Conflict of Interest' clause as well as 'One Person, One Post' ruling was added to the new BCCI Constitution which came into effect in August 2018. Rule 38 (4) of the BCCI constitution prevents individuals from holding more than one of 16 posts. These are: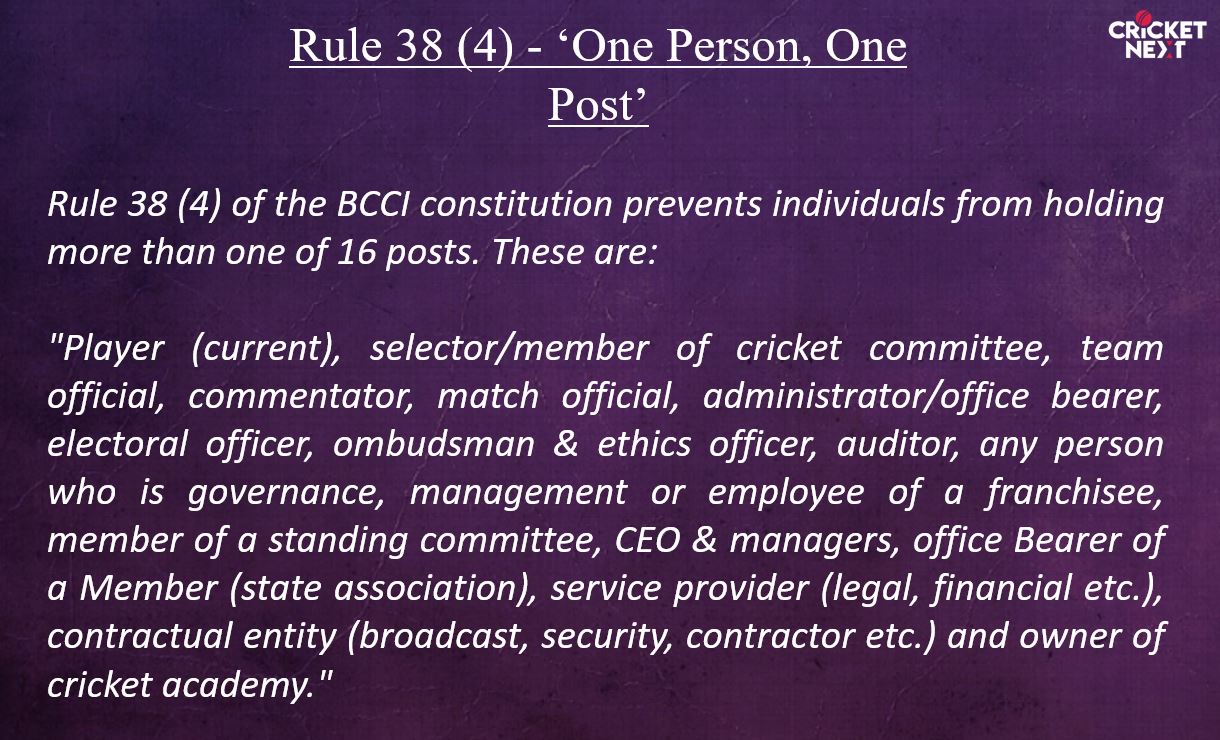 The CoA also discussed about upgrades that need to be carried out at NCA with Dravid now coming on board.
"NCA there are a few things that need to be done. There are shortage of grounds, certain people and coaches need to be employed. Once you select someone of Dravid's stature, we have to ensure that the NCA lives up to the international standard. He has given his vision and we are fully in support of his vision. We will work together," the CoA member said.
Among other matters that were discussed in the meeting, the prime one was the selection of the next Indian head coach and support staff.
"Coaching positions were discussed. Interviews will be done on Friday and shortlisting has been done. I would not like to go into the names. Head coach will be chosen by CAC and as per the BCCI constitution the support staff will be chosen by the senior selection committee. It will be a simultaneous process and will begin 16th onwards," Thodge informed.
The CoA also discussed the upcoming BCCI elections and the process in the lead up to it.
"They (state associations) are all coming on board. There will be minor delays. There is ample time. We just took a review and most of them will join by then. I don't see such a great difficulty.
"Some of them are yet to register their constitutions. It's around 24-25. The intentions are to hold the elections around that time (October 22)," Thodge said.