Coach Daniel Vettori impressed with RCB's IPL 8 campaign
A rejig in the batting order and the right team combination worked wonders for RCB following a disappointing start.
Updated: May 23, 2015, 2:12 PM IST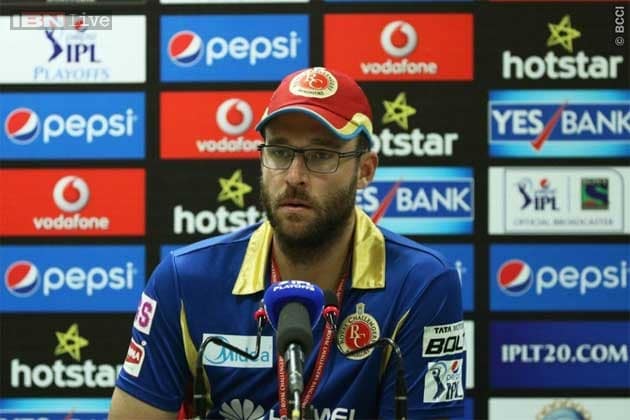 Royal Challengers Bangalore may not have quite lived up to their potential in the Pepsi Indian Premier League 2015, but there was certainly a marked improvement in their performance as they made it to the play-offs after missing out in the last three years.
This year too, they did not begin in the brightest fashion, having lost three of their first four games. But a rejig in the batting order and the right team combination worked wonders and they managed to make amends.
"Very happy with the improvement," said Daniel Vettori, their coach, after Bangalore's defeat to Chennai Super Kings in Qualifier 2 in Ranchi on Friday (May 22). "We finished seventh last year and after four games, we had won one and lost three, so the commitment to get back on a winning track came from the captain, who I think led from the front the whole way through. He was ably backed up by Chris and AB and the top order."
It was a season where Bangalore fared much better outside home. Two massive away victories, against Rajasthan Royals and Delhi Daredevils, where the bowlers came to the fore, were what helped Bangalore resurrect their campaign after the early losses.
"The bowling unit continued to impress, particularly away from Bangalore because we know that it's a difficult place to bowl," said Vettori. "So overall I'm happy, but I think you always look back on the last game we played, that's the thing that's foremost on your mind and we'd obviously be disappointed by the result here today."
Bangalore could only manage 139 for 8 and despite the nature of the surface where run-making wasn't as easy, it needed a good effort from the bowlers to defend the total. And Vettori was pleased with the manner in which they stood up, although he conceded that the total wasn't enough.
"I was pretty impressed with the way we fought, we ran into a lot of trouble with the bat early on. Then to get us through to a score of 140, which we thought was pretty competitive, and the way we bowled, we made it competitive. But in the end it was probably 10 to 15 too short."
Reflecting on Bangalore's batting, Vettori felt that the middle order, especially the youngsters, did a fine job in the limited opportunities they got. "Two of them (Virat Kohli AB de Villiers) got over 500 runs almost. There's limited opportunities when those three guys (Chris Gayle, Kohli, and de Villiers) step up so you can't expect the same amount of runs from the middle order.
"But Mandeep won us two games. Every time he was asked to perform, he did. Sarfraz, similarly, I mean he only really had two opportunities to score runs, once against Rajasthan and once today and he did that."
Dinesh Karthik turned out to be one of their biggest disappointments and despite copping plenty of criticism, Vettori felt Karthik was still a valuable asset behind the stumps and his experience made him a useful member to have in the team.
"Dinesh Karthik was amazing for us from a wicketkeeping perspective. He's probably a little disappointed with the sum of his results, but I think he's a guy we know is going to be impressive for us and we're very grateful to have him in that middle order, with that calming influence and that experience.
"I think I was very content with the make-up of our side this year. We battled for balance last year but this year, we got it right."
---
---
Team Rankings
Rank
Team
Points
Rating
1
Australia
3028
116
2
New Zealand
2406
115
3
India
3085
114
4
England
3882
105
5
Sri Lanka
2454
91
FULL Ranking
Rank
Team
Points
Rating
1
England
5405
123
2
India
5819
119
3
New Zealand
3716
116
4
Australia
3941
109
5
South Africa
3345
108
FULL Ranking
Rank
Team
Points
Rating
1
Australia
6047
275
2
England
5959
271
3
India
9319
266
4
Pakistan
6009
261
5
South Africa
4380
258
FULL Ranking
Upcoming Matches