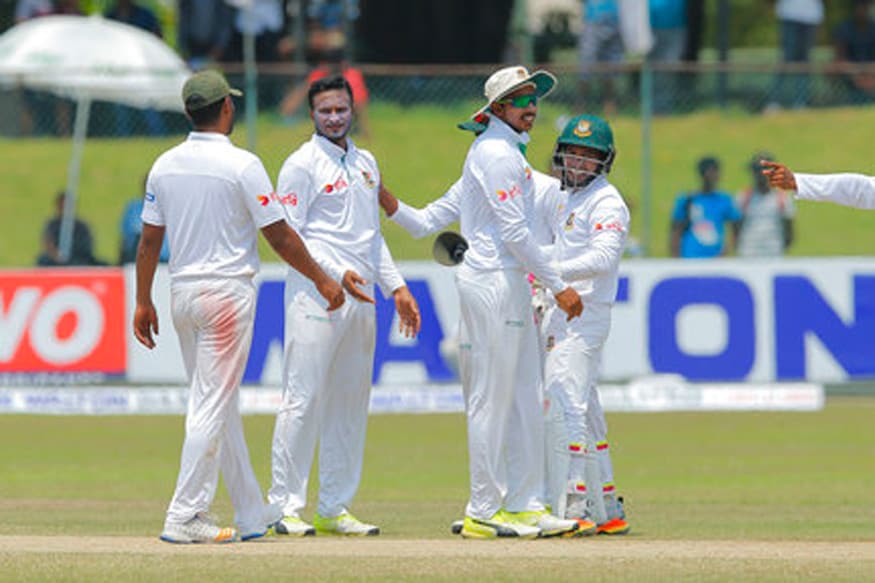 Bangladesh head coach Steve Rhodes is delighted that skipper Shakib Al Hasan, despite not being in the best frame of mind and having had limited time to prepare, turned out for the team and led by example as they took a 1-0 lead in the Test series against West Indies.
The ace all-rounder, who aggravated a long-standing injury during the Asia Cup and did not feature in the games against Zimbabwe either, wasn't sure of playing in Chittagong. But he changed his mind and led his team to victory and in the process bettered Ian Botham's record of being the fastest cricketer to score 3000 runs and take 200 wickets.
"I think the one thing to talk about the last Test which is really important for me is that I want to pay tribute to Shakib," Rhodes told the media on Sunday. "That is an amazing effort that he did (play the game). He only had two or three hits in the net, you can see he is not quite as physically as well as he could be. He was brilliant on the field as captain. And yet mentally he is not quite right. To me, it was an amazing effort. He did it for, again Bangladesh. He did it for the whole nation. He wanted to beat the Windies. He is an important part of our team because he is the captain."
Shakib's biggest contribution, apart from his captaincy, to Bangladesh's 64-run win was five important wickets and the coach believes that these factors should give him the required impetus ahead of the final Test at Dhaka beginning November 30th.
"He is a great tactician and he played his part and he will be better for running going into the next Test match. He maybe a little bit more ready. He has had a little bit of time in the middle. He has had some overs under his belt. He has got back in the spring of using his brain for captaincy. So for him to play, I think we shouldn't forget that. It was an amazing effort. Because he could've easily not played, and said look I'm not ready. But he did play and that's good to see," Rhodes said.
The head coach also defended the spinner friendly conditions in the first Test in Chittagong where 34 out of a total of 40 wickets went to spinners.
"Look, I think in the sub-continent, in places like Pakistan, in Sri Lanka, in India, in Bangladesh, you have come to expect turning wickets. So, it's no surprise. There's a Test match going on in Colombo at the moment, with Sri Lanka and England, that's a turning wicket and I think the teams that come over to the sub-continent plan for those sort of wickets," said Rhodes.
"It's just a different type of cricket. I'll take you back to the Antigua Test match where we played on very alien conditions. Green, bouncy, swinging ball, Dukes ball nipped around a lot and it was very different. But I think that's the beauty of playing all around the world. There are lots of different ways to play this wonderful game and coming to Bangladesh and playing on spinning wickets it made for some intriguing cricket," Rhodes added.