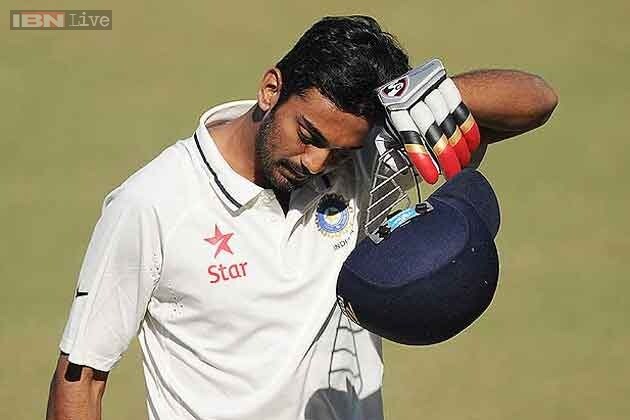 Known for his sound technique and calm demeanour on the crease reminiscent of the legendary Rahul Dravid, KL Rahul is making all the right moves for an India call-up but doesn't allow that affect his focus on scoring runs, which he displayed with a century on Thursday in the Duleep Trophy final.
The 22-year-old right-hander has often been compared to Dravid, but with feet firmly on ground, the lesser known 'Rahul' of Indian cricket says being compared to his childhood idol acts as a "morale-booster" for him while batting.
"I feel really happy when I am compared to Dravid. I used to watch his batting since I was a child," Rahul said. It's a big compliment for me. I can't express the feeling when my name appears in the same sentence as Dravid's, someone who has been so successful and is called 'The Wall' of Indian cricket. It's a morale-booster for me and increases my confidence," Rahul said.
Rahul, who plays for Karnataka in the Ranji Trophy, has 1785 runs in 26 first-class matches and says Dravid is a legend while he is still learning the art of scoring consistently.
"I just play my game. It would be great if I can score the amount of runs Dravid scored in his career," Rahul said after his century for South Zone against Central Zone on day two of the Duleep Trophy final here at the Feroz Shah Kotla ground.
"There must be something in you, that's why comparisons of such magnitude are drawn. I mean you have the technique which is similar to Dravid. [But] He is a player who has scored more than 10,000 runs in both the formats [ODIs and Tests].
With a superb century in the Duleep Trophy final, Rahul must have drawn selectors' attention but a seat on the plane to Australia could be a bit far, and Rahul hinted he isn't expecting it either.
"I just want to play my game. Let the selectors do their job. If I will be deserving, I will get selected. I just want to focus on present now. Also, I am not thinking about Australia right now," the Karnataka lad said.
On being asked the area on which he wants to work on, Rahul said he is working on his technique against bouncers and concentration to score big hundreds. "I want to improve my shot selection when it comes to playing the short-pitched deliveries. This is the area where I am working on right now. [Also] In the past, I was getting out just after scoring a century. This year, my focus is to convert my innings into big hundreds," he said.
For that, Rahul adds, he has worked on his fitness and batting during the off-season under coach Samuel Jayaraj in Bangalore.
Rahul also touched upon the influence of his IPL team-mate and South Africa's run machine AB de Villiers, whose guidance has played a role in his improvement.
"I really enjoy watching De Villiers bat. I have played with him during the IPL and was fortunate enough to interact with him. He gave me many tips. He told me how to prepare for a game and how to deal with the pressure of scoring quickly in the death overs. Such a wonderful batsman he is," a visibly impressed Rahul said.
"Whenever I made a mistake, especially at the net sessions, he always came to me and told me that 'this is the mistake you are making'. He also used to correct that mistake and tell the way I should have played a particular delivery. I am honoured that I shared the dressing room with him," he concluded.