Content in Pujara's Shadow, Sheldon Jackson Continues Run Gluttony
"I was just trusting Pujara because whatever comes from his mouth, if you listen it will benefit you as a batsman. If it benefits you, it helps the team."
Updated: January 31, 2019, 6:27 PM IST
All the talk surrounding Saurashtra's campaign in the Ranji Trophy is around Cheteshwar Pujara. How he flew straight in from Australia to the domestic circuit. How he guided Saurashtra to victory in two big chases in the knockouts. How he didn't walk after edging. How he'll face off against Umesh Yadav in the final.
Amid the focus, and not without reason, on Pujara, his partner in both the chases is silently making a mark as well. Sheldon Jackson too played two crucial knocks in the knockout matches, scoring 73* and 100 in Saurashtra's chases of 372 and 279 in the quarterfinal against Uttar Pradesh and the semifinal against Karnataka. The two have been involved in two big stands of 136 and 214 that sealed the matches, the second coming after Saurashtra were 23 for 3.
Batting with Pujara has helped Jackson, and it's not just to do with the calmness the senior batsman brings to proceedings.
"Because Pujara was batting at the other side, everyone's focus was actually to get Pujara out," Jackson explains to CricketNext. "They were puttting a lot more effort in their deliveries to get Pujara out than to get me out. Because my game being an aggressive game, they could have thought that at anytime he'll give us a chance, trying to play shots or take extra risk. I never did that. Maybe by the time they realised, it would have been a little late because we had already stitched quite a big partnership."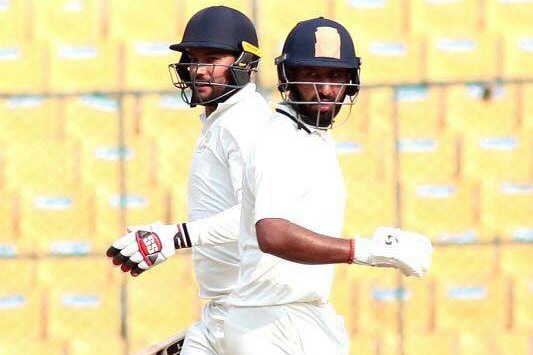 (Sheldon Jackson Facebook)
One notable aspect of the partnership, especially in the game against Karnataka, was Jackson's strike rate. He is known to be an aggressive batsman - Jackson's talent was first identified by Kolkata Knight Riders in 2009 before he made his first-class debut two years later. His average strike-rate in first-class cricket is in
the 60s, but the situation at the M Chinnaswamy stadium demanded a different approach. The pitch was wearing down, the ball was doing plenty, and the bowlers were on top.
Jackson responded with a calm, composed 100 off 217 balls, batting nearly six hours. In his own words, that was because he 'blindly trusted Pujara'.
"There were times when the spinners were coming on, I was getting impatient and I wanted to go after them," he says. "I had a doubt in my mind - should I or should I not? That time I felt it's best to first ask him (Pujara). He being the senior pro, the most experienced and the best batsman in our team, I felt I should go up and ask him first. I went up and asked him twice, and both times he said this is not the right time, just bat the way we're batting. We will get runs eventually, they will give us loose balls.
"It was the fourth day wicket and the wicket was up and down. We didn't know what would happen the next ball. I just trusted whatever he was saying, was just blindly batting balls. In that process, they were giving us boundaries, and we were rotating strike too. I was just trusting him because whatever comes from his mouth, if you listen it will benefit you as a batsman. If it benefits you, it helps the team."
While he blindly trusts Pujara, the 32-year-old Jackson himself is a senior batsman in Saurashtra and a big reason for their rise this decade. His 756 runs from nine matches in 2012-13, including back-to-back centuries in the quarterfinal and the semifinal, helped Saurashtra reach their first ever Ranji final. He then topped the team's batting charts in 2015-16 with 538 runs from 10 matches as Saurashtra reached the final again. His 59* helped Rest of India chase down a record 480-run target in the Irani Cup that year. Between the two seasons, he scored 819 runs from eight games in 2014-15.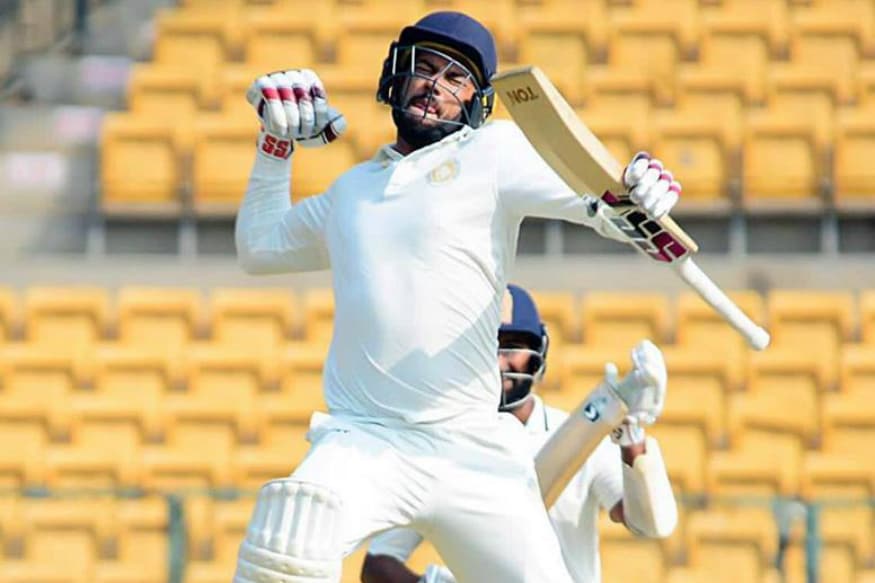 (Sheldon Jackson Facebook)
After the semifinal victory over Karnataka, Saurashtra's captain Jaydev Unadkat had put their team's rise down to the players' talent and hunger while ruing lack of pre-season game-time and infrastructure in the region. Jackson is one such player who has put behind such issues, instead opting to play in different parts of the country. Until a couple of years back, Jackson was a regular in Tamil Nadu Cricket Association's first-division league cricket.
"I'm very blessed to be playing other leagues in the country," Jackson says. "Almost every top first-class player is playing first-division league cricket in Chennai. It may be a batsman, spinner, anyone. They have a very good set up over there just below the Ranji level. The first division over there is almost first-class level. The infrastructure that every club there has is like a first-class team. At times, it could even be better.
"I played for Chemplast and MRF. The infrastructure is brilliant. Just just brilliant, and that helps. Unfortunately, in the last two seasons, I've not been playing there. But before Ranji Trophy, you play 7-8 games there which prepares you well for the coming seasons."
After the highs of the initial few years of his first-class career, Jackson had two modest seasons, returning 869 runs from 14 matches between 2016 and 2018. It was also the period when he lost his IPL contract. A couple of months back during the IPL 2019 auction, Jackson took to twitter to express his disappointment at the proceedings.
His tweets are often in the tone of a man done wrong.
After recents events , all i can say is the more you ignore me the more i will score. the more you push me down the higher i will rise. From nothing i have become something and i wont fade away so easy #keepmovingforward pic.twitter.com/1aoyTPCZLO

— Sheldon Jackson (@ShelJackson27) October 19, 2018
"I'll be very honest. At this moment I'm not thinking what's next," he says. "All I'm thinking is how I can perform and help myself and help the team. If I help myself, I will help the team. I have done well in the past at given platforms. But after that I've not got the results in my favour. If you see, I helped Rest of India win Irani Trophy chasing 480 getting a 60 not out. I did very well in the Duleep Trophy.
"I don't think there are many players who have done as well, I think I even have a record for the hitting the most number of sixes in a Duleep Trophy tournament. I've played two India A matches, I got 59 against the England main team before the one-dayers they had in India (in 2017). I have done well on given platforms. But I'm not thinking about it now. If it comes my way, I will try to perform. If not, I won't have any regrets.
"I have 14.5-15000 followers on twitter. Many times a lot of people ask me what now, what next. That's just a way to motivate myself and tell my own followers/supporters that this is not the end. If I'm not selected somewhere, it's not the end of me. My career cannot be defined by me not getting picked somewhere, because I have put my performances out there. Not once but plenty of times, so if people don't pick me, it's not in my hands. What's in my hands is I can try to perform. If I do that, I'm satisfied. But me not getting picked is not my duty, it's not my job. I just keep trying to motivate myself by saying it's not the end."
Now, Jackson has put all that behind and is allowing his bat to do all the talking. He is Saurashtra's most successful batsman this year, scoring 838 runs from 10 matches, his best season in terms of runs. It might make more people take note of Jackson again, once they look beyond Pujara.
---
---
Team Rankings
Rank
Team
Points
Rating
1
Australia
3028
116
2
New Zealand
2406
115
3
India
3085
114
4
England
4326
106
5
Sri Lanka
2454
91
FULL Ranking
Rank
Team
Points
Rating
1
England
5405
123
2
India
5819
119
3
New Zealand
3716
116
4
Australia
3941
109
5
South Africa
3345
108
FULL Ranking
Rank
Team
Points
Rating
1
Australia
6047
275
2
England
5959
271
3
India
9319
266
4
Pakistan
6009
261
5
South Africa
4380
258
FULL Ranking