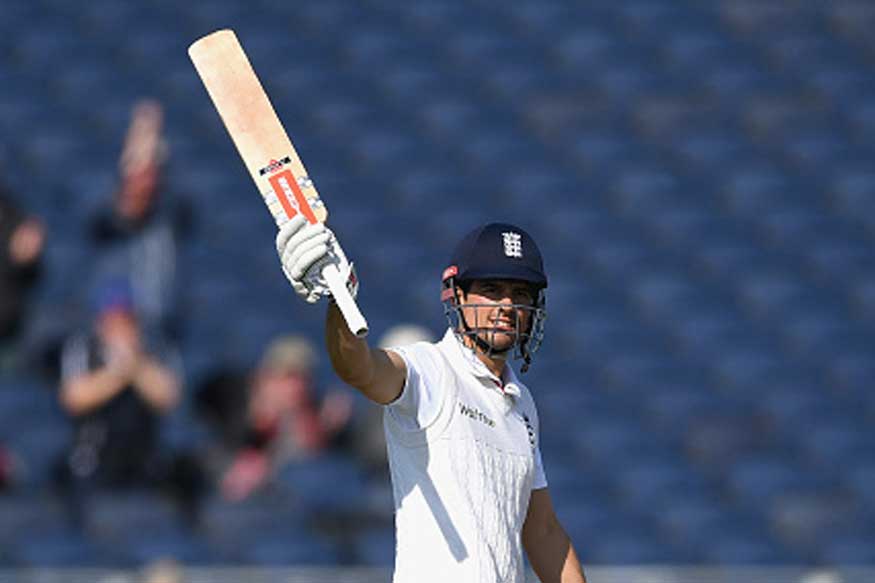 Former England captain Nasser Hussain has dubbed Alastair Cook, who announced his retirement from the game on Monday, the greatest batsman that the country has ever produced.
"Whatever happens at The Oval, he (Cook) has been England's greatest batsman ever and a truly remarkable cricketer to carry on this long," Hussain wrote in his column for Sky Sports.
"He never had a perfect technique so he has had to dig deep even more. He is constantly battling against his technique and when that new ball is darting around, he has to work hard to keep on top of his game. Batting doesn't always come naturally to him - but what has come naturally is how hard mentally he has had to work at it. With Alastair, it's also not just what you see but the stuff behind the scenes as well.
"When he is not playing Test cricket he will be at Chelmsford in the nets working with the likes of Graham Gooch and Keith Fletcher to improve his game and then go to the gym. You don't play 158 Tests in a row without being supremely fit," he added.
The sentiment was echoed by former England cricketer Michael Atherton. "With 12,000 runs and 32 hundreds, that puts him, then daylight, and then everyone else from England below," Atherton told Sky Sports News.
"He was a top-class all-round player - he averaged over 50 in Asia with nine hundreds, he could play spin and he was also a top-class player of pace bowling, square cutting and pulling. I can only ever remember him being hit on the helmet once by a fast bowler, which is a phenomenal thing facing pace day in, day out, while he is also the only man with two of the top 10 longest Test innings to be played," Atherton added.
Meanwhile, another former England captain Michael Vaughan, who labelled opener Cook the "nicest cricketer" the country has ever had after the latter announced his retirement on Monday, praised the left-handed opening batsman as mentally one of the "strongest sportsmen Britain has ever produced".
"The fact he (Cook) opened the batting in England for 12 years and handled the captaincy for four of those years shows his immense mental strength, and mentally I believe he is one of the strongest sportsmen Britain has ever produced," Vaughan wrote in his column for The Telegraph.
"He has gone on to win Test matches for England and break every record. But he has also endured more adversity than almost any other England cricketer. There was the Kevin Pietersen situation but also several times he has suffered poor runs of form and had his place in the team questioned," he added.
Vaughan also believes that Cook's ability to switch off from cricket when not part of the game due to his numerous passions like farming and fishing should serve as a lesson for all sportspeople.
"Cook has also always had a great ability to switch off away from the game. He has his farm, likes shooting and fishing and has recently become interested in fine wine. He has other distractions and is able to leave cricket behind when not playing. That is a great lesson to all sportspeople."