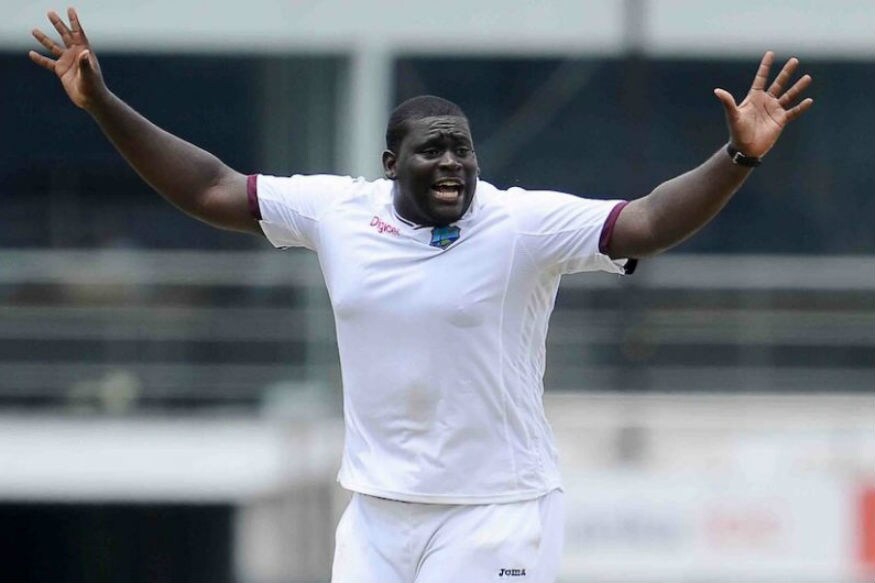 It feels like it's been ages since a spinner has dominated Test cricket in India. We are in surprising times where India's pacers have been outperforming the spinners; Umesh Yadav, Ishant Sharma and Mohammed Shami have been so consistent that they are almost not leaving anything for the Ashwins and Jadejas.
Elsewhere in the country, though, a spinner playing just his second Test ruled the roost and took his side to victory in just over two days. West Indies' Rahkeem Cornwall picked 10 wickets in the match, including a first-innings spell of 7 for 75, to help defeat Afghanistan by nine wickets.
Prior to the start of the one-off Test in Lucknow, it was Afghanistan's spinners who were expected to be a massive threat to West Indies. Lance Klusener, Afghanistan's coach, even said they've 'got three of the best spin bowlers in the world'. The pitch was helpful for spinners, and Rashid Khan was expected to dominate.
West Indies, on the other hand, have been struggling in the spin department in recent times. It was an area of concern for them in the World Cup, it has been an issue in Test cricket too. Sunil Narine hardly plays for them, Devendra Bishoo last played a year back. They've largely trusted Roston Chase, who is more of a batting all-rounder, to do the job.
Cornwall could change that. Before and when Cornwall made it to the West Indies side, all the talk about him surrounded on his physique. There were even questions on whether he could withstand international cricket, given his burly appearance.
However, Cornwall had already put aside such suggestions in first-class cricket. Prior to his Test debut against India earlier this year, the off-spinning all rounder had played 55 first-class matches and picked up 260 wickets at an average of 23.90. He was handy with the bat too, averaging more than 24 with one century and 13 fifties. Cornwall even calls himself a batting all-rounder, with wickets being 'bonus'.
Cornwall's Test debut ended on a losing cause with India dominating, but the off-spinner showed a good account of himself with the ball. His maiden Test wicket was Cheteshwar Pujara, and he went on to pick three wickets in his first innings. Cornwall was not exactly agile, but was very effective with his dip, drift and consistency.
Cornwall showed his fitness too, bowling a total of 64 overs in his first Test.
His second Test, the one at Lucknow, was all about showing his skills. West Indies had opted to field first - not many captains do that in India - and Afghanistan had got a good start reaching 84 for 1. He got into the act soon, triggering a collapse from 90 for 2 to 98 for 6, running through the middle order.
"It was a special day... not just the way I bowled but for some of the catches as well - by the captain at leg slip and Shai with two sharp one at slip. I still see myself as a batting all-rounder, so the wickets are a bonus," Cornwall would say after the day.
"I was just looking to put the ball in the right areas and do what the captain asked of me. I just tried to stay as balanced as possible, which is something I spoke a lot about with Roddy Estwick.
"It is turning a lot, but once the ball turns a little softer and older, it's not as much, so I had to use my variations. I was getting good purchase, I don't think it (the height) is an advantage. I think that it's my natural talent. I just have to keep working on my game and see how far it can take me."
Given the early evidence, it could take him far.