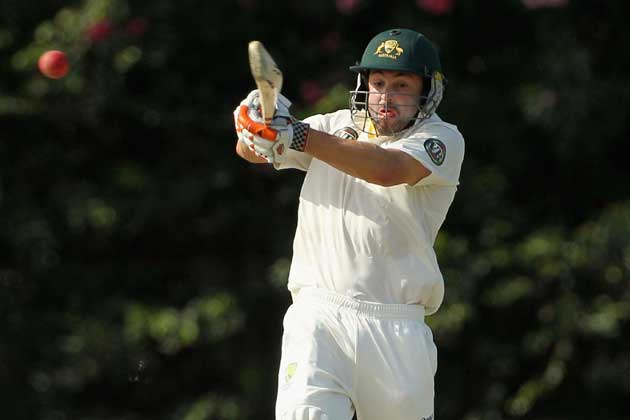 Sydney: In-form newcomer Ed Cowan said on Wednesday he will be fully prepared if Shaun Marsh fails to make Australia's first Test against India at the Melbourne Cricket Ground next week.
Cowan was one of three additions to a 13-man Australian squad announced on Wednesday for the Boxing Day blockbuster with India after batsmen Phillip Hughes and Usman Khawaja were dumped.
Marsh has only played three Tests but has back trouble from the recent South Africa tour and is fighting to take his place in the first of four Tests.
Selectors named Marsh, Cowan and Ben Hilfenhaus along with all-rounder Dan Christian in their extended squad, but there was no place for injured allrounder Shane Watson and fast bowler Ryan Harris.
Chief selector John Inverarity said the size of the squad was due to the continuing uncertainty about the fitness of Marsh. But Cowan, who has presented undeniable selection claims after his fourth century in his past four games, wants to be as well prepared as possible, should the call come to make his Test debut at the age of 29.
"You would be silly to prepare expecting not to play," Cowan said in Canberra after the Chairman's XI's drawn match with India.
"I've got no idea how Shaun's back is. I'll assume Shaun will be fit and then it's down to the balance of the side."
"I'm excited to be a part of the team and hopefully I'll get my chance on Boxing Day to continue a decent run of form."
Cowan hit 109 for the Chairman's XI against India along with two centuries in this season's domestic Sheffield Shield and one for Australia A against the touring New Zealanders. But Cowan stressed that his selection in the Test squad was not purely on the strength of this season's prolific form.
"It's two-and-a-half years of solid domestic cricket form. I've got nine first-class hundreds in the last two-and-a-half years, so it's not four hundreds in four weeks and suddenly you're in the Test team," he said. "It's two-and-a-half years of trying to dominate state cricket and I've hit some form at the right time."
"It doesn't feel like my game has changed technically in the last four weeks, but the stars have aligned a bit and I've got pretty greedy when I got in in the last four weeks."
Inverarity, who called Cowan with the news late on Tuesday, said the right-hander promised to add some steel to Australia's fragile top order.
"His inclusion is in recognition of his consistently good performances and we anticipate that he can provide steadiness at the top of the order," he said.
Hughes paid for his suspect technique outside off-stump, habitually caught in the slips for low scores in the four innings against New Zealand recently. Khawaja failed to build on starts to his innings and failed to get beyond 38 in his three knocks against the Kiwis.
Inverarity said Hughes and Khawaja both needed to produce "compelling performances" to be considered for future Test selection.
"We see both Phillip Hughes and Usman Khawaja as developing players with bright futures and remaining as players of significance," he said. "They are determined young men and I know that they will work hard to produce compelling performances and push strongly for further consideration."
Inverarity said Watson and Harris were not considered ready to face India. "Shane Watson was not considered for selection as he has not recovered sufficiently and Ryan Harris has not yet achieved the volume of bowling required to be available for consideration for Test selection," he said.