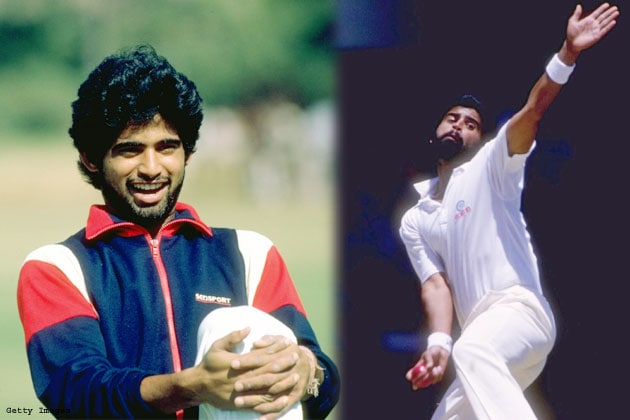 New Delhi: Twenty-five years ago to the day, on October 31, 1987, India's Chetan Sharma became the first bowler in Word Cup history to take a hat-trick. The setting was Nagpur during the 1987 Reliance World Cup, in a league match against New Zealand, and Sharma bowled Ken Rutherford, Ian Smith and Ewen Chatfield with the last three balls of his sixth over to help set up a nine-wicket win for the home team.
New Zealand were 182 for 5 after 41 overs with the reliable Rutherford at the crease and the big-hitting Smith and Martin Snedden to follow. It appeared 240-plus was on the cards. Then Kapil brought Sharma back into the attack ahead of Manoj Prabhakar, who had taken an early wicket and had five overs in hand.
Rutherford played the first three deliveries cautiously, but failed to read an off-cutter that snuck through the wide gap between bat and pad to hit middle stump. In walked Smith, with the field prepared to stop the damage. However, Smith hardly moved his feet to a delivery that moved in sharply while staying low. Off stump was flattened.
As the crowd sensed the significance of the next delivery, Sharma had a word with his captain, Kapil Dev. At the crease, Ewen Chatfield took guard. Sharma ran in and bowled a fuller delivery; Chatfield walked across his stumps and looked on as the ball snuck between his legs and disturbed the furniture. History had been created by the unassuming Sharma.
Reflecting on his milestone, the former India and Haryana pace bowler told Cricketnext that the encouragement he received from Kapil and Sunil Gavaskar was instrumental in boosting his confidence. "I never expected of such a big moment. After getting the second wicket of Smith just after I dismissed a well-settled Rutherford, I had a long chat with Kapil paaji and Sunny bhai. Gavaskar was standing to my left at mid-off and was encouraging me. I did what I was told and the magic happened," he said.
"Honestly, I would like credit Kapil paa and Sunny bhai. After two wickets, they rushed to me and told me not to think of the hat-trick. They just asked me to bowl straight. They told me just be yourself and forget everything at the moment. I followed their instructions. They both hugged me after the hat-trick. I am still thankful to them.
"Taking a hat-trick is not an easy task in cricket. It's a dream come true for every bowler. We cannot plan for it. It is all about luck and I am lucky that it happened with me," said Sharma, who also has the distinction of taking ten wickets in a Test match at Lord's. "I still get goose bumps when I recall that moment. It was such a special day for me. Taking a hat-trick against an international team is itself a great achievement. New Zealand was a strong team at that time under Jeff Crowe and their most prolific batsman Martin Crowe. I am lucky enough to achieve that milestone. At least people will remember me whenever a hat-trick occurs in a cricket match."
Gavaskar would go on to score his maiden ODI century in what turned out to be his penultimate appearance as India chased 222 in 32.1 overs which Wisden Almanack described as "batting of breathtaking brilliance".
Recalling the match-turning hat-trick, former India spinner Maninder Singh, who was a part of the 1987 World Cup team, termed Sharma's achievement as crucial to India reaching the semi-finals. "Chetan was an excellent player. He was a complete enigma with the ball. The entire country and the team cheered him for that spectacular feat. Hat-trick is not an easy task, especially against the team like New Zealand," he told Cricketnext. "He struck at the crucial moment and dented New Zealand innings. He saved the match for us."
Truly, that over in 1987 was a tremendous moment in Indian cricket history.