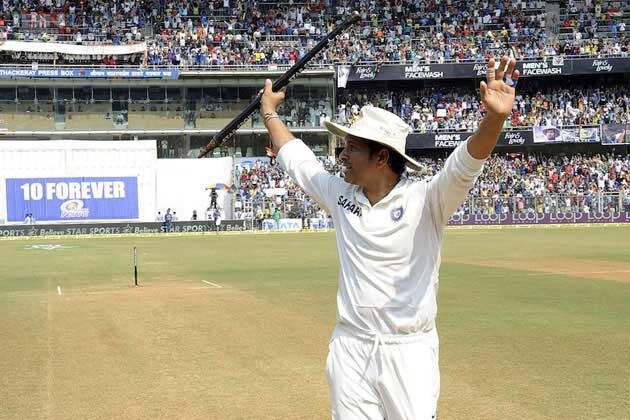 From Mike Hussey's retirement to Pakistan's first ever bilateral series win over South Africa, from impressive individual performances to a great team effort by Australia, from Sachin Tendulkar's emotional farewell to Graeme Swann's shock exit, a lot has happened in the year that has gone by. Here, we look at the crucial moments that made cricket headlines in 2013.
Mr. Cricket retires
It's hard to call it quits when you're still at the peak of your career, and Mike Hussey reacted the same way as some of his Aussie predecessors by deciding to hang his boots. Hussey, who was fondly called Mr. Cricket for the candid manner he played the game, was one of the shining lights of the Australia team that saw gloomy days before their resurgence in the return Ashes this year. Hussey represented Australia in 79 Tests, 185 ODIs and 38 T20s, scoring 6235, 5442 and 721 runs respectively. He still plays for MS Dhoni-led Chennai Super Kings in the IPL.
Pakistan's triumph in South Africa
Pakistan justified their tag of the most unpredictable side in world cricket when they registered a 2-1 ODI series win in South Africa - their first ever bilateral ODI series win over South Africa and first ever by any Asian team in the Rainbow Nation. Pakistan played 29 ODIs in 2013 - winning 13 and losing 14, while two ended as ties.
Spin King Saeed Ajmal
The wily Pakistan offspinner continued to fox the batsmen world over with his craft and guile. He emerged as the top wicket-taker in ODIs this year, picking up 56 wickets in 31 matches. The 36-year-old has a chance to add more to his tally before December 31 if he claims more scalps in the two remaining ODIs against Sri Lanka in the UAE. He is also in the top ten wicket-takers' list in Tests, picking up 37 wickets in just seven matches.
Quinton de Kock: the new kid on the block
The baby-faced De Kock had to be the Man of the Series after scoring three back-to-back centuries against the visiting Indian side in December. De Kock is just 20 and has already made rapid strides in his career. The glimpse of his talent was seen when he slammed his maiden ODI hundred against Pakistan in the UAE recently, which further established the fact that he is going to serve South Africa cricket for a long time.
Misbah-ul-Haq: the unheralded master
It is often said that he has never got enough credit for the good work he has done for Pakistan cricket. Often considered only apt for Test cricket, Misbah has silently piled on the runs in ODIs as well, making 1322 in 32 matches this year and topping the chart for most runs. He led Pakistan to their first ever bilateral ODI series win in South Africa, and interestingly, he did it without scoring a hundred through this period. After 136 ODIs, Misbah has yet to score a three-figure mark, but one should not question that until his contributions keep winning games for Pakistan.
Anderson-Broad: The two-men show
While the way England finished their year won't go down too well with their supporters, they would hardly argue that James Anderson and Stuart Broad turned out to be their star performers this year. Anderson finished with 48 wickets in 13 matches while Broad overtook his senior team-mate, scalping 59 wickets in as many matches. The duo's contribution was significant in England retaining the Ashes in the English summer.
Aaron 'Finched' highest score in T20s
Finch, the burly Aussie batsman, blasted the England bowling in a T20 game in August, smashing 156 off just 63 balls - the only century scored in T20 internationals this year. He smacked more sixes (14) than fours (11) in his mind-boggling knock. Finch, who is looking to cement his place in the ODI side, has also got a hundred in the 50-over format.
Australia regain the Ashes urn
It looked quite impossible a few months back that Australia would regain the Ashes urn from England in the near future, but sheer determination and sound planning made the impossible possible. After handing the urn to England in the summer, Australia bounced back in the return series, blanking England in the first three matches to win the series. Australia deflated England in all three departments, with every team member contributing to the team's success.
Unique landmark by Philander
South African pacer Vernon Philander has been phenomenal since he made his Test debut in November 2011. He has contributed immensely in South Africa's rise to No. 1 in Test cricket. When he got the wicket of Shikhar Dhawan in India's second innings in the Wanderers Test, he became the fastest South African to 100 Test wickets. His career figures as of now read 102 wickets in just 19 matches at a staggering average of 17.56.
Swann's shock exit
Graeme Swann, the England offspinner, shocked the cricketing world by announcing his retirement from all forms of cricket midway through the Ashes Down Under. Swann described his decision as something going on in his mind for a long time. England were 0-3 down in the series and a section of media said Swann should have made the decision after the Sydney Test. Nevertheless, Swann ended his career as one of the finest finger-spinner that the world has seen, ending with 255 wickets in 60 Tests at 29.96. He was also part of the 'golden generation' of English cricket that claimed the Ashes three times in a row.
Michael Clarke bags ICC awards
In his ten years in top cricket, Michael Clarke has hardly let his team down - both as a player and as captain. He took over the reins from Ricky Ponting of a side that was witnessing arguably the toughest transition phase in their cricket history. But unperturbed by the drubbing in India and Ashes loss in England, he turned the fortunes of his side, helping them regain the Ashes. No wonder he bagged two ICC Awards for 2013 - Cricketer of the Year and Test Cricketer of the Year, having made the most runs in a calendar year and leading his side with honour and authority.
India: Success and controversy in equal measure
A lot happened on and off the field in Indian cricket, and to go into the depth of each of those moments, CLICK HERE.