Sidhanta Patnaik, a leading cricket journalist, co-author of the book 'The Fire Burns Blue — A History of Women's cricket in India', and a major contributor at Cricketnext breathed his last on Saturday (June 1) after a long battle with cancer. He was 35.
Patnaik, or Sidhpat as popularly known within the journalist fraternity, was a pioneer in covering women's and domestic cricket. He was a voice of the underdogs and relished the opportunity to cover the game at the grassroots level.
He started his journalism journey with Wisden India in 2011 and for seven long years, brick by brick built a portfolio where he covered a wide array of games. In all, he reported in six ICC men's and women's tournaments and co-authored a book along with Karunya Keshav that chronicles the history of women's cricket in India. He was a well respected and appreciated writer not just among the journalists but a number of cricketers as well.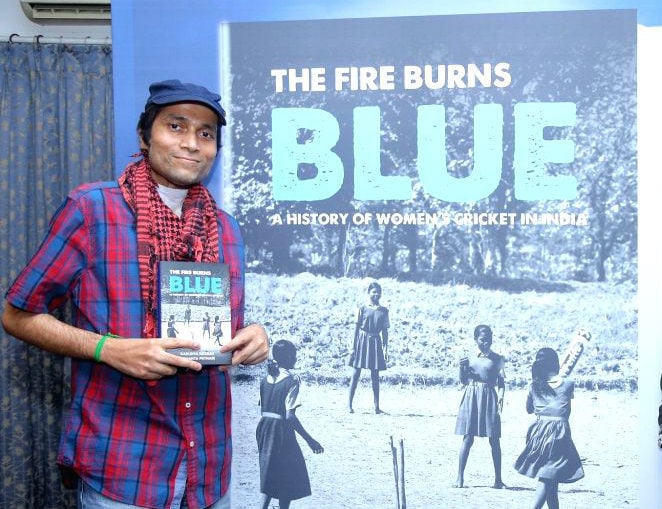 However, even as his writing career flourished, Patnaik had to face a battle that ultimately claimed his life. He was diagnosed with synovial sarcoma in 2011 and lost his voice box after undergoing surgery and radiotherapy to remove an eight inch lump from his throat. He still trained himself to use a prosthetic larynx to speak and carried on unperturbed. Not once did he let his ailment dampen his spirits or affect his work. On the contrary, it made him stronger.
He was overjoyed to see us yesterday and it was a delight speaking with him!

He was a top journalist who was passionately following and writing about women's cricket when not many were.

Thank you for all your amazing work and the legacy you've left behind Sir. Rest in Peace. https://t.co/teklD1rEPQ

— Jemimah Rodrigues (@JemiRodrigues) June 1, 2019
The cancer, however, returned in 2018 affecting his lungs and brain. He underwent rounds of chemotherapy and radiotherapy sessions and fought with all his might till the very end. Even with his health deteriorating cricket gave him solace. Despite doctors giving up on him number of times, he found the will and the motivation to come back. One of his best pieces for Cricketnext - The Rough & Tumble that Led to Hanuma Vihari Becoming India's 292nd Test cricketer - when the batsman made his Test debut was written sitting on an ICU bed.
His Twitter bio read 'A student of the game' and Patnaik truly made it his mission. He followed the game with sincerity and analysed every move to perfection. He leaves behind a legacy that would inspire many.
Patnaik is survived by his wife and four-year-old daughter.
Tributes from friends and ex-colleagues:
R Kaushik: Consumed by cricket Sidhanta had the rare gift of following everything through. He was a very willing, but hardly silent, listener, and a very able student as well as teacher who forever looked at a glass as half full rather than... Most importantly, his heart was in the right place. He leaves behind plenty of memories, but also a massive void that will be impossible to fill.
Shamya Dasgupta: Siddo. He had such a strong will to live, when – more than once – it seemed like he was on his way out. Some people just rub you the right way, right away, leave a mark. It's rare, in my experience. Who leaves behind a note for a friend before finishing up? When there's so much else to deal with. 'Good luck,' he wrote in it (he said more). His luck – and time – had run out but, I guess, he wanted the rest of us to have our share of both. He was a magnificent person, a fierce friend. Critical. Kind. And ambitious—not an attribute I identify with, something he and I had a number of arguments about. We had far too many arguments, I think; oh, he could be exasperating. He'd argue, and then leave the argument unfinished and move on. He was a man in a hurry, desperate to leave his imprint somewhere. He did it with women's cricket. He was a champion there. Otherwise too: a champion man, a champion of cricket. Of underdogs. He'll be so missed, there aren't many like him.
Shashank Kishore: For Sidhanta, nothing was impossible. He wouldn't take no for an answer. One of my favourite memories is from a May evening in 2016. I was to fly to Hyderabad for a profile story on Mithali Raj, and had booked a night flight, not the best idea as it meant I'd have to wade through the peak-hour rush. At 8pm, I hadn't even reached halfway to the airport for a 9.40pm flight, when I decided to take a detour to Sid's house. Just as I entered, I booked a ticket for the next morning and decided to stay back at his house overnight.
He said: "let's try to get there. I will drive you. If you miss the flight, let's enjoy a good drive back from the airport and you could fly out anyway next morning." I agreed, half-heartedly, knowing it was going to be a futile effort in getting that far, only to be told I'd missed the flight. But as we hit the airport road and Sid decided to do a Michael Schumacher-like dash, I received a message from the airline that the incoming flight had been delayed, so the departure was being pushed back. This gave us just about enough time to reach the airport, and I was able to complete my check-in formalities five minutes before they closed it. The next morning's flight was wasted, but I'd made a flight I didn't think was possible an hour earlier because of his belief.
Karthik Lakshmanan: The most striking character of Sid Pat that I'd remember forever is his positivity no matter what. His love for the game - be it in the international stage or the terrace of the Wisden India office - was as pure as it got. Among the many wonderful interactions I've had the privilege of having with Sid, there is one I can never forget: while discussing the love for the game, I told Sid I turned to covering cricket after failing in my attempts at becoming one. Sid interrupted, saying "there is no such thing as a failed cricketer". That, in short, is how positive he was about everything in life.