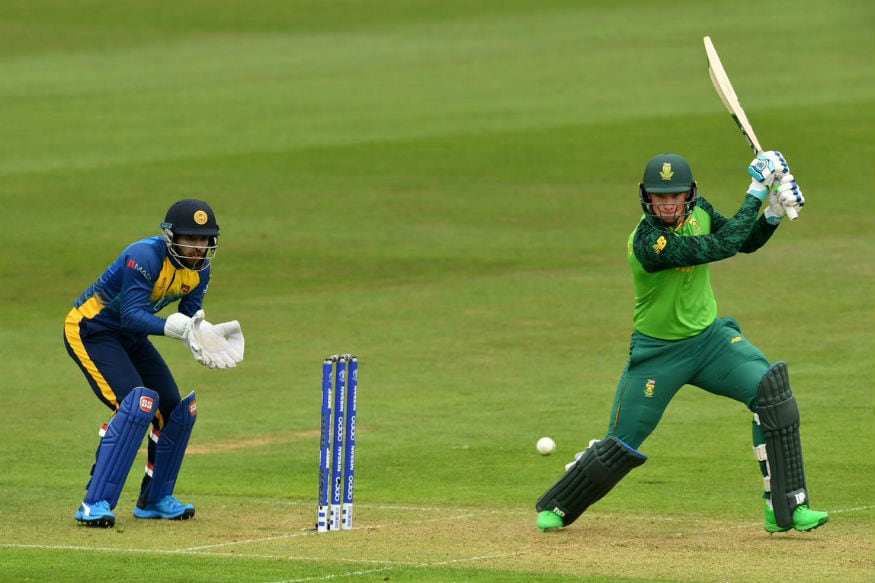 South African middle-order batsman Rassie van der Dussen feels that the late inclusion of AB de Villiers in the 2019 World Cup squad would have set a "difficult precedent".
South Africa are yet to win a match in this tournament and when they lost to India in Southampton on June 5, the news of Cricket South Africa rejecting de Villiers' last-minute offer to feature in the World Cup broke out. His inclusion would have probably come at the expense of van der Dussen.
"It's not necessarily the best question to ask to me because I am involved in it but had he not retired it definitely would have influenced me directly," said van der Dussen.
"But you can't, on the day before the announcement and a team that's been working for something for year and even longer than a year, come and say, 'I want to make a comeback now'.
"I am not saying he was wrong or he was right, so don't misquote me. But it would have set a difficult precedent - not necessarily a wrong one, because it's still AB, he is still one of the best players in the world - I just think it was handled maybe not in the correct way from his side."
South African skipper Faf du Plessis and head coach Ottis Gibson have already spoken about the matter and when van der Dussen got to know about it, the 30-year-old said he wasn't surprised because he knew a player of de Villiers' caliber would want to "make a comeback on the world's biggest stage".
"As I believe it, Ottis and Faf gave him opportunities to, say, 'Let's manage your workload going into the World Cup because we want you to play a World Cup'. He had a fair chance to manage that and he said no and that he is happy to retire and that's fair enough. And Faf accepted it, Ottis accepted it and they stood by it," van der Dussen said.
"I wasn't surprised (that he wanted to come back). The media and the press reports quite a lot on AB and the things he's said and how his last year has gone. I wasn't surprised that he would want to make a comeback on the world's biggest stage. That's the thing all the biggest players in sport have in common. They want to perform when the pressure is on and when the stage is at its biggest."
If de Villiers would have been included in the set-up in place of van der Dussen, it would have been harsh on the batsman from Pretoria. The right-hander made his ODI debut against Pakistan in January this year and went on to score five half-centuries in his first nine innings. He is currently South Africa's second leading run-scorer in the tournament and has looked like he belongs at this level.
Van der Dussen said that he wasn't affected by the whole incident and if an opportunity comes, he would like to deliver a match-winning performance, something de Villiers did on numerous occasions during his career.
"In terms of did it affect me? No. I am quite happy to be mentioned in the same sentence as AB. He is obviously one of the best there has ever been," he said.
"So do I have to replace him? I don't feel I have to. Can I play match-winning innings for my country? I believe I can. Is that what he did? Yes, he did. It didn't have as big an effect as I think people would like to believe it had."