Bristol: It started with a fist bump and an arm around the back. With Steve Smith and David Warner's journeys so intertwined, it was apt that when the former captain walked to the crease amid a chorus of the days loudest boos, that it would be to the comforting embrace of his then deputy who ruined his captaincy. If one person could empathise, it was him.
As Justin Langer stressed before the Afghanistan fixture, the pair were always going to hurt when receiving this treatment– especially Smith. Where Warner has always been a scrapper and collected his fair share of people inside the game who hate his guts, that wasn't Smith's experience as he rose to the peak of the game. Three months before the weekend that changed his life forever, he was on the front of the national broadsheet, named as their Australian of the Year after a Bradmanesque Ashes. He went from golden boy to piñata in really no time at all. That's quite the adjustment.
The job they had ahead of them on Saturday wasn't remotely as daunting as their broader reintegration to international cricket: 52 runs left for their re-calibrated side to chase the 208 required to start their World Cup defence with a win. For 58 balls, they ticked the board over as the game reached its natural conclusion with the sting long gone. Warner was in no hurry, already having reached his slowest ODI half century; taking 74 balls to raise his bat. He had been given a chance on 10 and was nearly stumped shortly thereafter but it was clear once he was set that his only objective was walking off with the win.
Image: Cricket Australia
Earlier, Smith had flexed his muscles in the field with a svelte collect-and-throw run out. There was no booing then. Nor was there when he made a brilliant one-handed stop at slip saving four runs – indeed, there was even some appreciative applause. When Adam Zampa was introduced and Warner sent to the long-off rope, kids queued five deep for autographs and selfies. But a couple of hours on, the boozy western flank at Bristol knew this was their time when they were batting together.
Once settled at the crease, when Smith missed a juicy half volley on leg stump, he gesticulated at himself just as he always has. There is nothing that annoys him more than missing out on swelling his score. Well, except for giving his wicket away, which he did when they were but three runs shy of waltzing off with a pair of red inkers. A thick outside edge taken on the third man circle meant he walked off with 18, prompting a final round of hooting. In the context of the game it mattered not a jot. But Smith was furious, waving his bat like he had just lost his nation the game then gripping it by the splice for the walk off.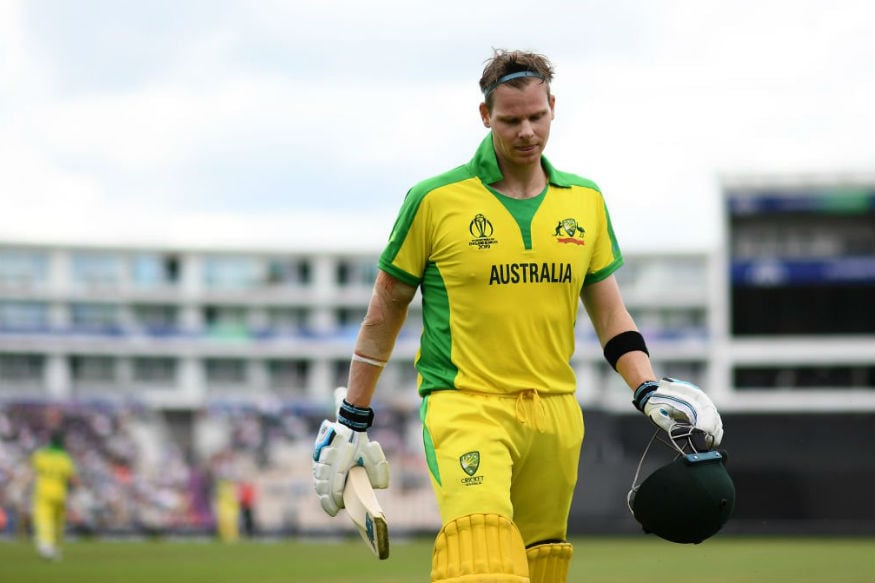 Image: Twitter
When the job was complete moments later, Warner collected the man of the match gong. Sure, they may have denied themselves the chance to cash in on some useful Net Run Rate love by not mowing down the target in fewer than 34.5 overs – possible considering the southpaw's 89 was from 114 balls – but as he explained, these things take time. "The way that I started out there playing T20 cricket over the last 12 months hasn't really moved my feet," he acknowledged. "So to get back into rhythm and start moving in the right direction, getting my head over the ball, was just great to get out there and do that."
Warner will never shake his earliest reputation as a short-form slugger, but he has never been happier playing well within himself. That this tournament so far, albeit from a narrow sample size, has seen fast bowling do plenty of damage, suits his willingness to rely on "normal cricket shots" – to use his words - rather than pyrotechnics. And with Aaron Finch striking the ball as well as he did on Saturday (66 off 49 balls out of their stand of 96) he can afford to ride shotgun early on.
So what to make of their first day back in canary yellow? Not much. Before flying to England, the team spent time talking about the response to Smith and Warner, but the conversation since landing has been kicked along externally. "There is a great energy and great buzz around this team now," noted Warner of the healthier dressing room he has reentered. And it will need to be, as this is going to follow them everywhere they go this summer – each crowd will insist on their moment. But if Smith and Warner can do what they do best enough of the time, shutting it out can only get easier by the outing.