South Africa were given a major blow when their most experienced pace bowler, Dale Steyn, was ruled out of the World Cup in England due to a shoulder injury.
Steyn is amongst the all-time great fast bowlers in Test cricket. With 439 wickets in 93 Tests at an average of 22.95 he is amongst the very best in history.
His record in ODI cricket is more human though. Overall, he has played just 125 ODIs (123 for South Africa and 2 for Africa XI) in a span of almost 14 years which suggests he was not a regular in the XI and preferred to represent South Africa in whites.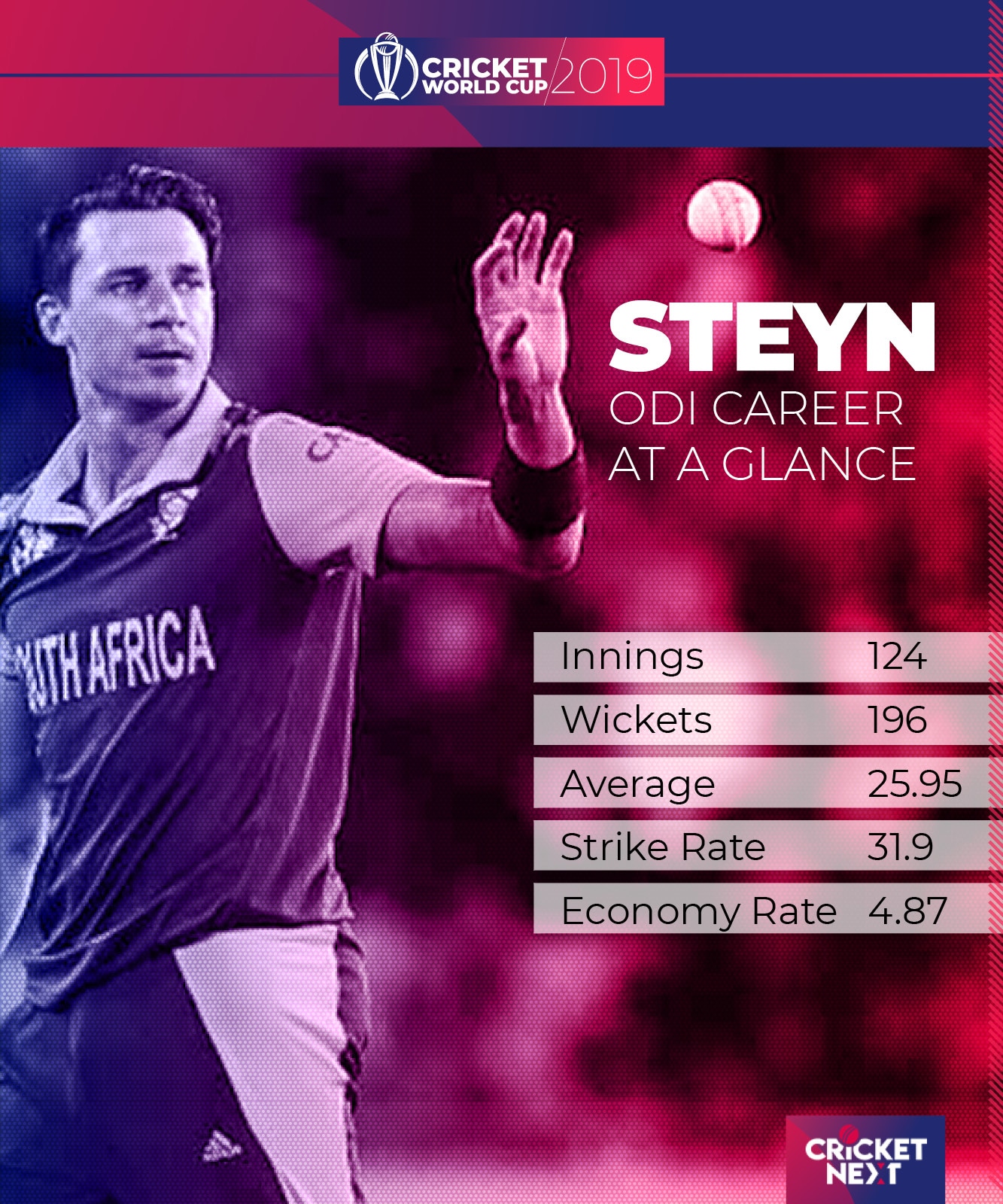 The fact that he still picked 196 wickets in 124 innings at 25.95 apiece at a strike rate of 31.9 and economy of 4.87 gives an account of his talent and ability.
As in Test cricket, his wicket-taking prowess stood out in ODI cricket too. His strike rate is higher than the likes of Kagiso Rabada, Makhaya Ntini and Shaun Pollock amongst others. Overall, it is higher than some great ODI bowlers like Lasith Malinga, Umar Gul, Glenn McGrath, Stuart Broad, James Anderson and Zaheer Khan amongst others.
Steyn played just 8 ODIs in his first three years since debut and has represented South Africa only 13 times since the beginning of 2016.
He played 104 ODIs between 2008 and 2015 and picked 164 wickets in this period (South Africa's joint-highest wicket-taker along with Morne Morkel) at 25.77 apiece and a rate of 32.3. All his seven 3-plus wicket-hauls came in this time-frame.
2011 and 2013 were the most productive for him in ODI cricket – he averaged less than 20 with the ball in both the years. In fact, his average of 15.85 in 2013 was the second-best in the world after James Anderson.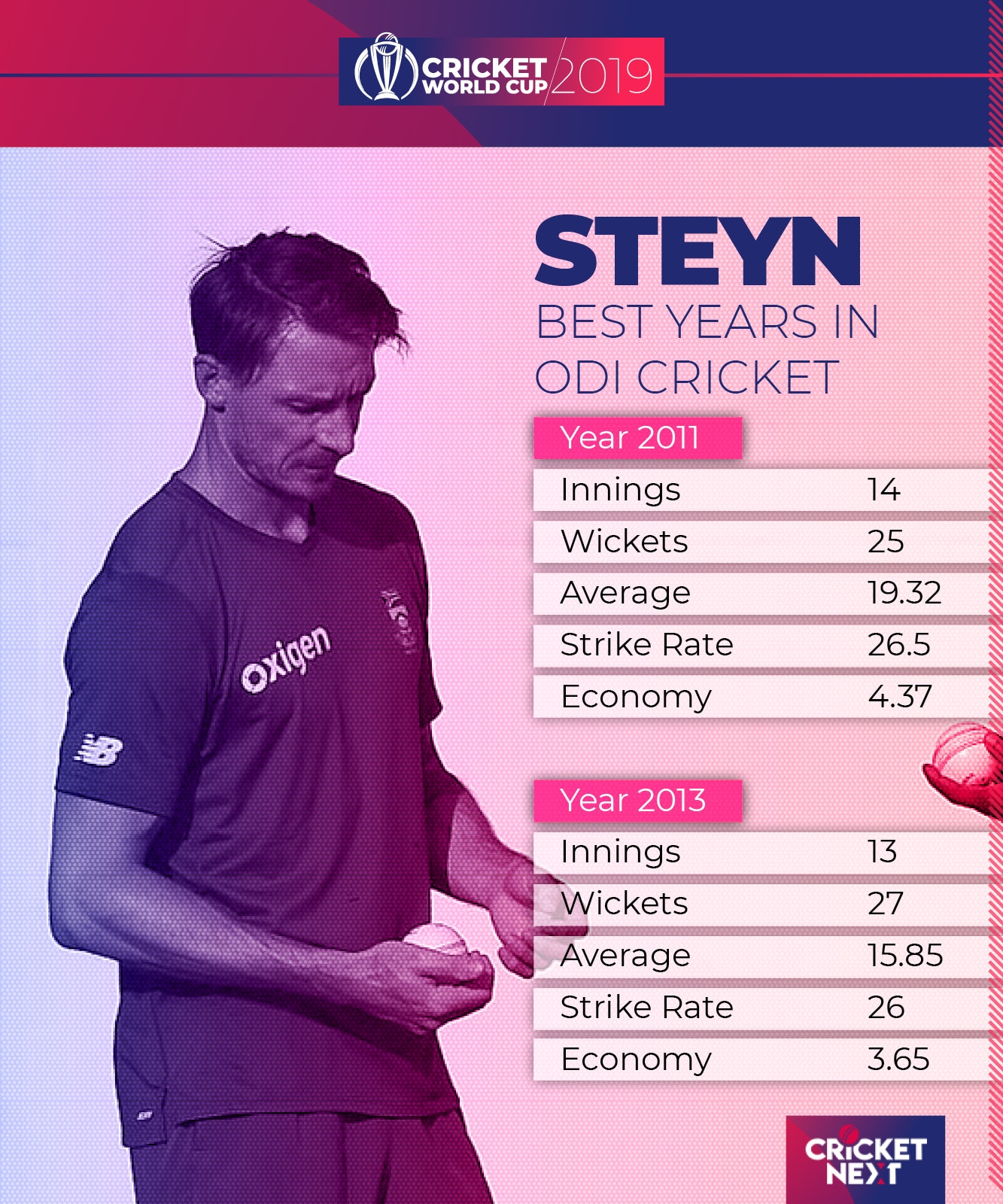 136 of Steyn's 196 wickets, i.e. almost 70%, have come in victorious matches – this suggests that was part of a successful South African team for most of his career. His average improved to 22.60 in such matches. Six of his seven 3-plus wicket-hauls also led his team to victory – an indication of the value of his performances.
While his record in Australia and South Africa is predictably good (average of 25.15 and 24.92), it is his performance in India – on flat unresponsive tracks – which stands out.
Steyn has picked 23 wickets in just 13 matches in India at an average of 25.6 and strike rate of 29. His finest performance came against India in Nagpur in the 2011 World Cup where he returned with 5-50 in 9.4 overs – a Man of the Match performance.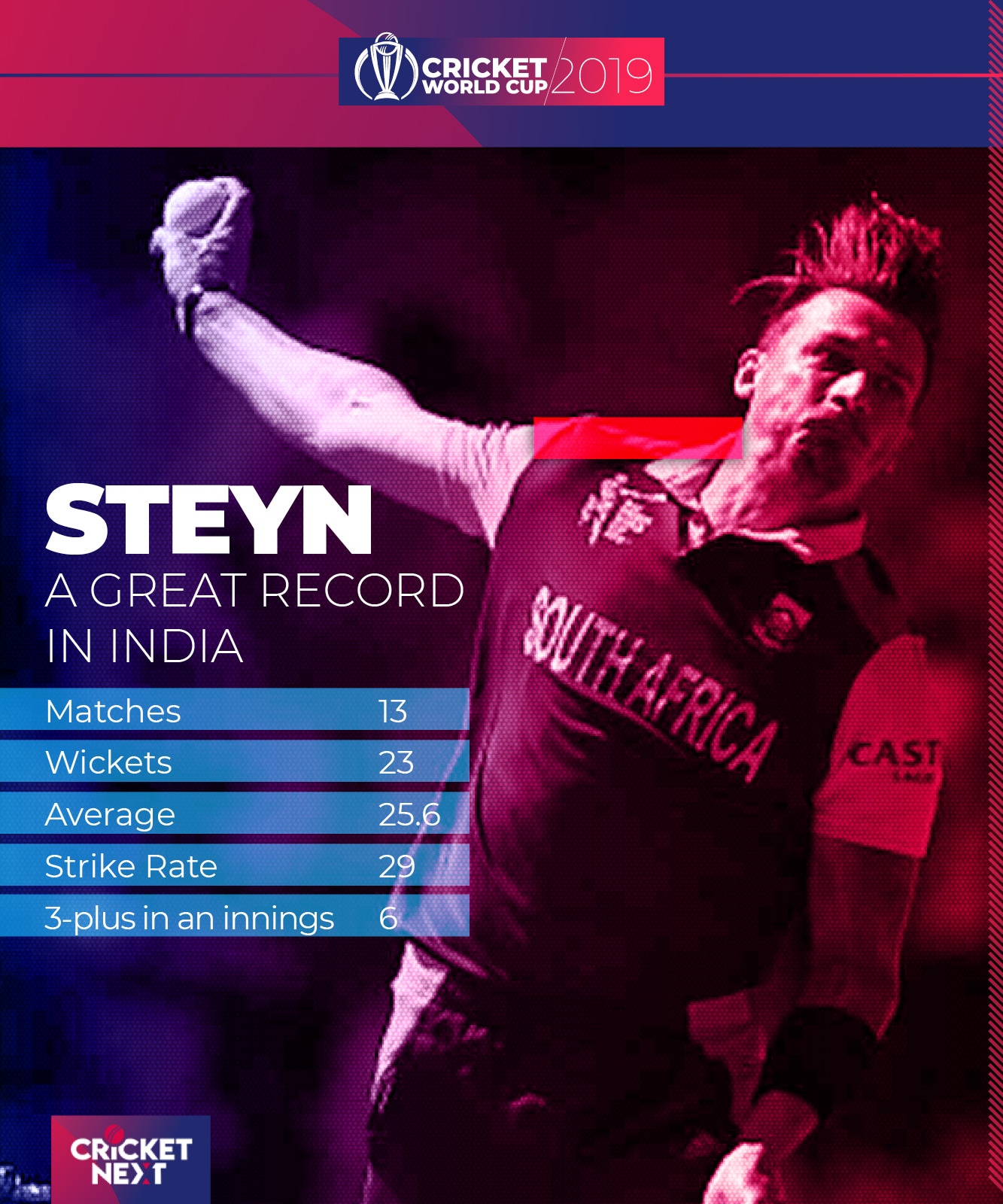 Steyn also has a splendid record in world tournaments. He has picked 31 wickets in 18 matches (2 World Cups and 2 Champions Trophies) at an average of 22.87 and strike rate of 29. He has also been very restrictive with an economy of 4.73.
He had picked 12 wickets in 6 matches in the 2011 World Cup at an average of 16 and strike rate of 23.
This ability to raise his level on the biggest stage speaks volumes of his temperament.
South Africa will miss the services of Steyn in England.
Although, he has not been as great a force in ODI cricket as he has been in Test cricket, he has still been a world class bowler for South Africa in the format.
Speculation is rife that this might be it for Steyn. We may not see him again in South African colours.