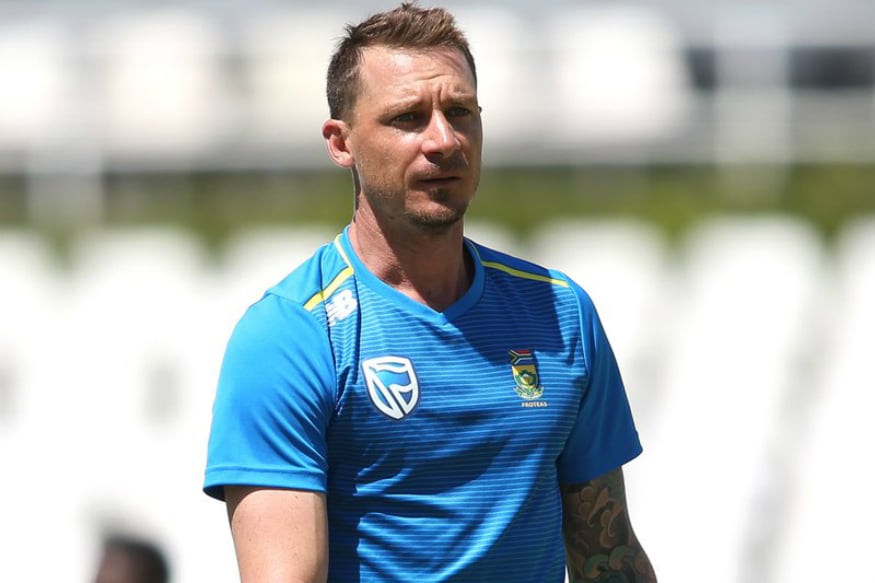 Dale Steyn who injured his shoulder during his Royal Challengers Bangalore stint in the IPL has been ruled out of the ongoing World Cup. Already reeling with two defeats at the hands of England and Bangladesh, this comes as a huge blow for South Africa.
Cricket South Africa have announced Beuran Hendricks as the replacement for the legendary pacer. The Proteas will be playing against India at Southampton on Wednesday.
The World Cup was expected to be the swansong for Steyn's career, particularly in the limited overs arena. However, Steyn will end up missing the marquee tournament now.
Twitter was totally upset with the star player being injured and missing out on the mega event. Fans poured their feelings out on not getting to witness the legend one last time in a World Cup. Steyn's dad too took to Twitter to post a heartfelt message for his son.
South Africa's prospects have been hurt badly as even pacer Lungi Ngidi is injured while a final call will be taken on Hashim Amla's availability.
Here are some tweets with regards to Dale Steyn's injury:-
My son, my heart is so heavy for you, I know that you had your heart set on this your last #CWC19 in your life. I also know that many South Africans will weep with me but there will be those who get pleasure from this. Keep your head up kid. I still love you no less.

— Schalk Steyn (@SteynSchalk) June 4, 2019
Its easy 2 say that Dale Steyn shouldnt have come to the World Cup but the team took a gamble on a high class player It didn't work, unfortunately And the #CWC19 is the poorer for not having Steyn Spare a thought for a man who has worked for years to get back on the park#sad — Natalie Germanos 🏏 (@NatalieGermanos) June 4, 2019
IPL cost us Steyn 😩

— Cricket Babe (@LadyCharlotte01) June 4, 2019
Steyn, Anderson, Broad are the last test fast bowler legends ever. All chances ke we not gonna see 400+ wickets wala test bowler in the future. I know there are few good bowlers par in this t20 age no bowler gonna play that much test match ke takes 400 wickets. — Jitender Singh (@j_dhillon6) June 4, 2019
Shame that Dale Steyn, the greatest fast bowler of his generation, is out the World Cup

— John Etheridge (@JohnSunCricket) June 4, 2019
My heart goes to Dale Steyn one of the best Fast Bowler I have witnessed ever, I hope he will come back stronger and will show us his performance in Tests for at least 1-2 years — Mitul (@Eme2ul) June 4, 2019
With NGidi injured and Steyn out of WC.

Oh Protea

— Mr. A 🏏 (@cricdrugs_) June 4, 2019
Heart goes out to Dale Steyn. Gutted for the legend who we may not see in the big stage again. #ProteaFire — Rohit Sankar (@imRohit_SN) June 4, 2019
No Lungi, Steyn... Nortje already ruled out...they were one of the best teams with class fast bowlers but now only Rabada left to play against India.

— Johns (@CricCrazyJohns) June 4, 2019
Dale Steyn ruled out of #cwc19. Beuran Hendricks called up. Steyn not able to bowl for the foreseeable future. #cricket — Firdose Moonda (@FirdoseM) June 4, 2019
Ach! What a shame for South Africa and fans in general. Was really looking forward to seeing Dale Steyn in action. Shoulder injury has ended his #Cwc19 campaign.

— Melinda Farrell (@melindafarrell) June 4, 2019
Big blow for SA. Dale Steyn out of the World Cup, to be replaced by Beuran Hendricks, ICC confirms. — Cricketwallah (@cricketwallah) June 4, 2019
Steyn was fit,fresh & desperately raring to go into his final world cup & then suddenly RCB called him up as replacement & the rest is history.

— arfan. (@Im__Arfan) June 4, 2019
The loss of Steyn is a big blow for South Africa already struggling with the absence of Ngidi. It means they must either play another spinner in Shamsi or risk weakening the bowling by playing another all-rounder in Pretorius. — Harsha Bhogle (@bhogleharsha) June 4, 2019
Will be so upset if we've seen the last of Dale Steyn in international cricket.

I modeled my action on this guy! One of the greatest bowlers to ever play the game.#INDvSA #CWC19 #WorldCup2019 pic.twitter.com/SvJ5CmF49E

— CricBlog (@cric_blog) June 4, 2019
Dale Steyn being ruled out of the World Cup is a huge blow - not only for South Africa - but for the tournament. Steyn is the greatest fast bowler of his generation and one of the most watchable cricketers to play the game. Let's hope we see him on the biggest stage again. #CWC19 — Freddie Wilde (@fwildecricket) June 4, 2019