India vs Australia is always an intense game to start off with. And when you add the prospect of a World Cup clash to the mix, it takes on even more significance. With the two teams ready to face-off against each other once again on Sunday, CricketNext takes a look at the last five encounters between India and Australia in World Cup competition.
March 26, 2015: Australia won by 95 runs
Australia's Mitchell Johnson (2nd R) celebrates the wicket of India's Rohit Sharma in 2015 World Cup semifinal in Sydney (Pic: AFP)
The last World Cup encounter between the two sides took place at the iconic Sydney Cricket Ground, where the stakes could not be higher – a place in the final of the World Cup. Winning the toss and opting to bat first, Australia rode on a century from Steve Smith to post a total of 328/7 in their allotted 50 overs.
While not a humongous total when looked at in the context of scores that are chased regularly in modern-day ODI cricket, India would eventually fall 95 runs short. Although Rohit Sharma and Shikhar Dhawan gave India a good start with an opening partnership of 76, Mitchell Johnson got the breakthrough when he went straight through Sharma's defences. Kohli was dismissed with two runs added to the scoreboard, and India never really recovered from that point on.
They lost wickets at regular intervals, and despite MS Dhoni's run-a-ball 95, were all out for 233 with a little over three overs to spare.
March 24, 2011: India won by 5 wickets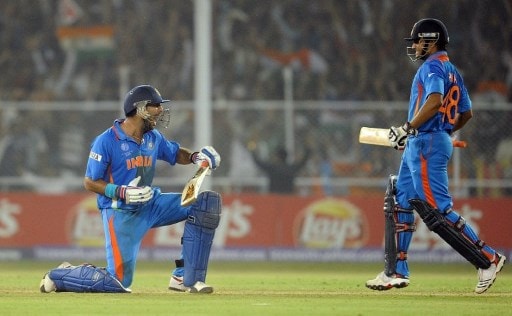 Yuvraj Singh (left) celebrates with Suresh Raina (right) the 2011 World Cup quarterfinal win over Australia in Ahmedabad (Pic: AFP)
The quarterfinal of the 2011 World Cup for India saw Yuvraj Singh step up and be the talisman for India, as they triumphed by 5 wickets, chasing a target of 261. Ricky Ponting scored 104 to helped set up the first innings total for Australia, but the Indian bowlers did well to contain the other batsmen.
Cut to the chase, and India were in a tricky position of 143/3 when Yuvraj Singh walked in to bat, with just under 120 runs still required to get over the line. His knock of 57 off 65 balls, remaining not out with Suresh Raina till the end has gone down in Indian cricket folklore. It was the most significant contribution that got India over the line, and it was later revealed that he was battling cancer when he went down on the pitch during that innings.
March 23, 2003: Australia won by 125 runs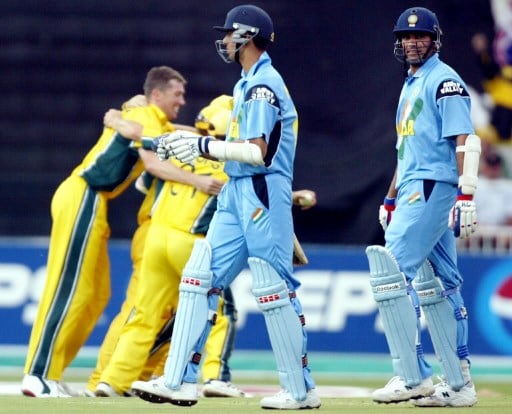 India's Zaheer Khan (right) and Ashish Nehra trudge off as Australia celebrate after winning the 2003 World Cup final in Johannesburg (Pic: AFP)
A match which broke the collective hearts of a generation of Indian cricket fans, India lost out to Australia in the final of the 2003 World Cup played in South Africa.
After enjoying a memorable run to the final, Australia rode on Ricky Ponting's mammoth 140* off just 121 balls to post a total 359-2 in 50 overs, with Damein Martyn and Adam Gilchrist playing crucial supporting roles.
It was a mountain to climb for the Indian batsmen, and as soon as Sachin Tendulkar was dismissed off the fifth ball of the first over, things started to look even more bleak for India.
Despite the best efforts of Virender Sehwag and Rahul Dravid, India folded on 234 in just the 40th over, and lost out on winning the World Cup (at the time), for the first time since 1983.
June 4, 1999: Australia won by 77 runs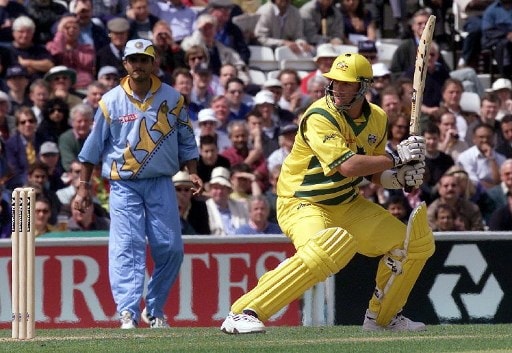 Australia's Mark Waugh (right) scores a fifty against India at the Oval in the 1999 World Cup Super Six game. (Pic: AFP)
The first match that India played in the Super Six stage of the 1999 World Cup, they were up against the formidable Australians who would eventually go on to win the trophy that year. They ended with 282/6 batting first, with the most significant contribution coming from the opener Mark Waugh – a 99-ball 83 that set the foundation for the Australian innings.
On a seaming Oval wicket, India did not get off to a good start when Tendulkar was out in the first over against Australia in a World Cup again (not the first time that would go on to happen).
In what was a typical performance from an Indian team in the 90s, the team did not click together as a unit even though Ajay Jadeja would go on to score 100 off 138 balls batting at number 4.
Robin Singh was the only other player to get into double digits with 75, as India were bowled out for 205 in the 49th over.
February 27, 1996: Australia won by 16 runs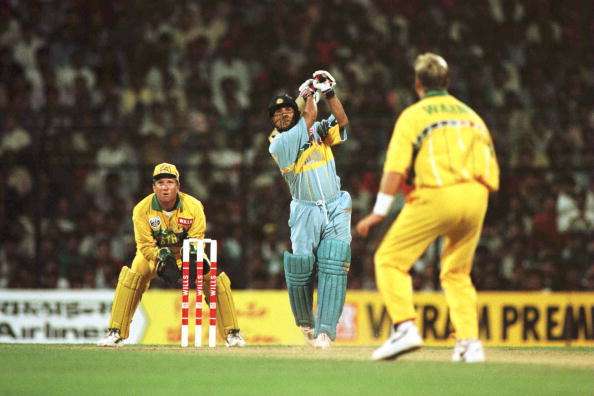 India's Sachin Tendulkar goes after Shane Warne of Australia in the 1996 World Cup match in Mumbai
Mark Waugh was the star of the show once again for Australia at the top of the innings with his 135 ball 126 at the Wankhede Stadium helping Australia to a total of 258.
They were all out off the last ball of the innings, with Damien Fleming run-out, bringing to an end what was otherwise a pretty lacklustre performance from the Australian batting line up. Michael Bevan came in at number 6 and from that point, no other batsmen even got into double figures (Bevan included) which showed the control the Indian bowlers had during the innings.
However, the Indian batsmen made a hash of a perfectly chaseable total. At 143/3 with Tendulkar still on the crease, it looked like India would get over the line. But Sachin Tendulkar was then stumped off the bowling of Mark Waugh, and when Manoj Prabhakar was run-out by Ricky Ponting a few balls later, the downward spiral started. India's innings folded on 242 with two overs remaining.