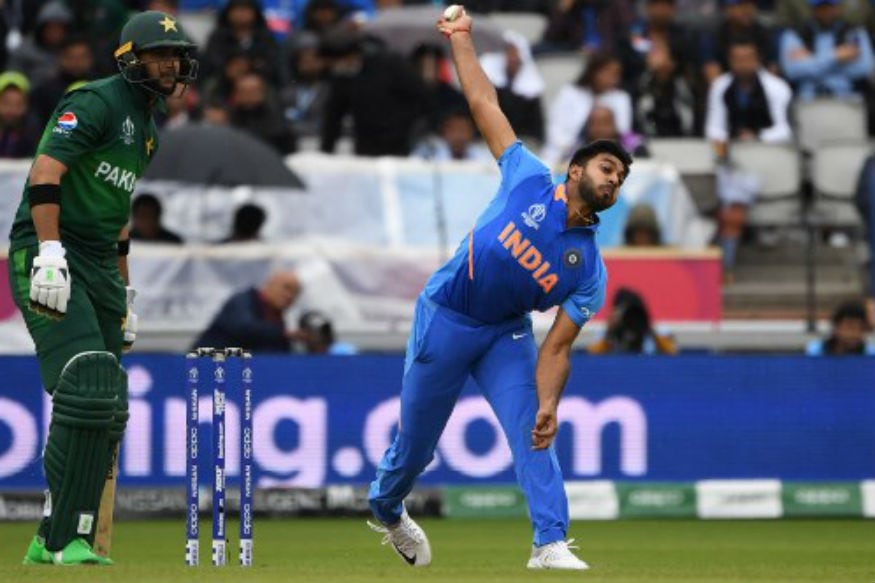 Manchester: It was a moment straight out of dreams for Vijay Shankar. India had lost Bhuvneshwar Kumar to injury, and Virat Kohli turned to Vijay to complete the two balls of the fifth over. Vijay, on World Cup debut against Pakistan, trapped Imam-ul-Haq leg before wicket with a full ball that seamed in, giving India the first breakthrough with his first delivery in World Cup cricket. He became only the third bowler in history to achieve the feat.
"I was so blank, because I wasn't expecting it at that time. I think that also helped me at that time," Vijay explained after India's victory. "It was swinging a bit for me so I just thought I should hit the right areas. Getting a wicket off your first ball is always special for any cricketer.
"It is a very satisfying match for me. Playing against Pakistan, making a World Cup debut against Pakistan is a great thing for me. I just wanted to enjoy this moment because we rarely get such opportunities. World Cups come once in four years, the whole world will be watching this game. Making my World Cup debut in this game, I just thought I would enjoy myself a lot more," the Tamil Nadu all-rounder said.
Vijay ended with two wickets and also took a catch in the game. Before that, he made an unbeaten 15-ball 15 in the fag end of the innings. He struggled to connect initially before hitting a four off Mohammad Amir over extra cover, a shot he attempted a few times in vain. Vijay said the fluency in his batting will come with more matches.
"In the back of the mind there was a slight thought that I wasn't connecting but on the positive side I was just trying to hit through the line," Vijay explained. "I wasn't going across (the line). As a batsman I'll take it as a positive because it was reversing a lot and they were bowling wider lines. It happens. Maybe after a couple of innings when I have a flow, things will be totally different."
The two wickets would have helped Vijay's confidence, but he stressed he wasn't feeling 'settled' and was keen not to take things for granted. His only focus, Vijay said, was on preparation whether or not he is in the XI.
"I definitely don't see anything like that," he said. "You cannot take anything for granted. It is important for me to do the same things that have got me here. If I can carry it and improve on it... I need to get better as a cricketer.
"I've always given importance to the preparation. For me, I should always work really hard and keep myself really fit. I should keep improving my cricket. That's the only thing I look at in my practise sessions. At the end of the practise sessions if I'm feeling satisfied, it means I've got something good."