When it comes to ODI cricket, KL Rahul is still finding his way around. Just 14 ODIs behind his back, Rahul is far from being a certainty in the playing XI due to his inconsistent form — glorious highs peppered with shocking lows.
An opener from his age-group cricket days, Rahul has batted below the No. 3 slot in 4 games and has notched up 33 runs only. The No. 4 batting position is an alien one to Rahul but it's the only one up for grabs in the Indian team heading into the ICC World Cup.
Till March this year, the experienced Ambati Rayudu was the front-runner for the position while Rahul was unsure of even making the trip to England and Wales. An ill-advised appearance on the TV show 'Koffee with Karan' with Hardik Pandya, meant Rahul was not only suspended for five international games on the Australia and New Zealand tour but was also battling to regain his spot due to his patchy form in Test cricket.
As luck would have it, Rayudu's poor form coupled with Rahul hitting his straps in IPL-12 with Kings XI Punjab put him on the flight to London as debate for No. 4 position raged on.
"He was in a good space when he arrived with us (Kings XI). It was a tough start for him but he got into his groove once he found his rhythm in a couple of weeks. He's a very, very fine player, it was a question of finding his rhythm which probably took a week or so," Kings XI Punjab coach Mike Hesson told CricketNext about Rahul.
Chairman of selectors MSK Prasad had ear-marked all-rounder Vijay Shankar for the No. 4 position when the World Cup squad was announced last month. But a freak injury in the nets in India's first practice session in London to Shankar, meant Rahul was slotted into that position for the first warm-up game against New Zealand at the Oval.
Rahul looked pleasing to the eye in his brief stay in the middle against the Kiwis but it's his explosive ton against Bangladesh that has probably placed him in pole-position to start at No. 4 in India's opening World Cup fixture against South Africa at Southampton on June 5.
"Look it's a very big change, it's a tough ask for anyone who has batted at the top of the order. A lot of international players have done it the other way around — middle-order player has moved to the top in white-ball cricket with a lot of success.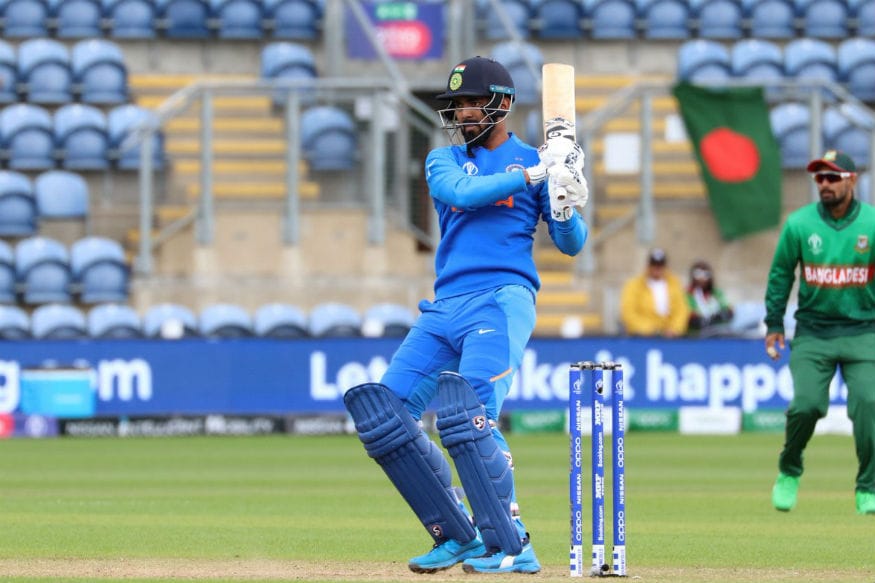 "Going the other way, very few players have been successful at it. Tom Latham springs to mind. KL is the one who can do it by starting well against both spin and pace. It is a tough ask but he has the skill to do it," former New Zealand head coach Hesson felt.
One of the biggest changes to his game that Rahul needs to incorporate batting in the middle-order is rotation of strike. Rahul needs to cut down on the amount of dot-balls by rotating the strike, something the likes of Virat Kohli or MS Dhoni excel in.
"When you bat the top, you can get your innings underway with boundaries. There can be a number of dot balls in between but you can make up for that. KL has the ability to maneuver the ball, if he can add that pace between the wickets and ability to hit gaps for twos — aim being to minimize dots and score off every ball, then he'll be really successful," Hesson said.
Another one of the criticisms against the Karnataka batsman has been his soft dismissals. The way he dragged the ball on to his stumps against New Zealand after getting his eye in was an example of that.
"He's making a transition to changing his role and he's going to get out sometime. It's not going to look good majority of the time. If you concentrate on just the dismissal you are going to have a pretty horrible career just thinking about that. He needs a little bit of time and patience to own that role. If all the focus is on his dismissals, he is never going to be consistent," the 44-year-old said from Dunedin.
Asked if Rahul will need to adapt his game depending on tougher opposition like England, Australia or South Africa, Hesson said, "You can play only according to what the opposition dishes out against you. He was given some scoring opportunities by Bangladesh and he was in right frame of mind to grab the initiative. Whether it's good pace or spin bowling, don't think there is any attack in the world can control him when Rahul is playing well."