London: What was billed a celebration of Imran Tahir's 100th ODI, turned into 99 problems for South Africa and defeat is the biggest one of them. The Proteas have lost two from two and though it's still a league competition, as Faf du Plessis would have you believe, their issues are mounting as quickly as their injuries.
Lungi Ngidi is out of the match against India. Dale Steyn will be assessed before the match and though he is bowling at the moment, the noises from the South African camp don't sound too positive. Hashim Amla seems to closer to comeback, even though he suffered a recurrence of concussion symptoms on Saturday. Still, South Africa will go into their biggest match of the first half of the tournament without their Plan A.
"It's gone," Faf du Plessis confirmed, because the full pace battery have not played together at this tournament. Plan B is gone too, because Anrich Nortje was ruled out pre-tournament having recovered from a shoulder injury only to break his hand in the nets.
Plans C-Z all involve the two reserve allrounders, but the way South Africa talk about them, it does not seem as though they have full faith in their abilities, and justifiably so.
Chris Morris has, so far, has only shown why he was left out in the first place. He was inconsistent in the warm-up, not picked for the opener against England and ineffective against Bangladesh. Morris was the most expensive of the quicks who bowled their full quota of overs, going for 73 runs, compared to Kagiso Rabada's 57 and Andile Phehlukwayo's 52. He struggled with his length more than the others and still over-relies on the short ball, even though the myth of subcontinent teams struggling against bounce has now been busted. By the time Morris was required to bat, there wasn't much he could do but he managed to send a full toss down deep mid-wicket's throat.
That puts Dwaine Pretorius ahead of Morris in the pecking order. Though he is a steady performer, South Africa would still prefer a little more firepower, a little more flashiness, a little more x-factor, even though they have been so hesitant to say so. South Africa's pre-tournament mantra was that they don't need a "superman," a nod to AB de Villiers' moniker and a statement of defiance about their perceived reliance on him. But South Africa's batting is missing something which starts with the letter c - confidence.
The only middle order batsmen who looks in decent nick is Rassie van der Dussen, the relative newcomer with few pre-tournament scars. Questions have to be asked over JP Duminy, who has precious few opportunities left to finally fulfil the potential we have been waiting more than a decade to witness and David Miller, who was left out for the first game and could not push on in the second.
If Amla is fit, South Africa will have to pick two of Duminy, Miller and Markram, provided van der Dussen is rewarded for form, and that in itself is a tough choice. While on paper, South Africa appear to have several different combinations available to them, in reality, those options are only really worth something if all the players involved perform.
The biggest problem is that there isn't another reserve batsman in the team so if the top-order fails, opposition attacks will sense that they can either run through South Africa, or tie them down. Now may not be the time to ask if Reeza Hendricks should have been brought along, or to question the depth of the South African system (although if they keep going like this, that will probably have to come up) but even when it was hinted at, du Plessis had few answers.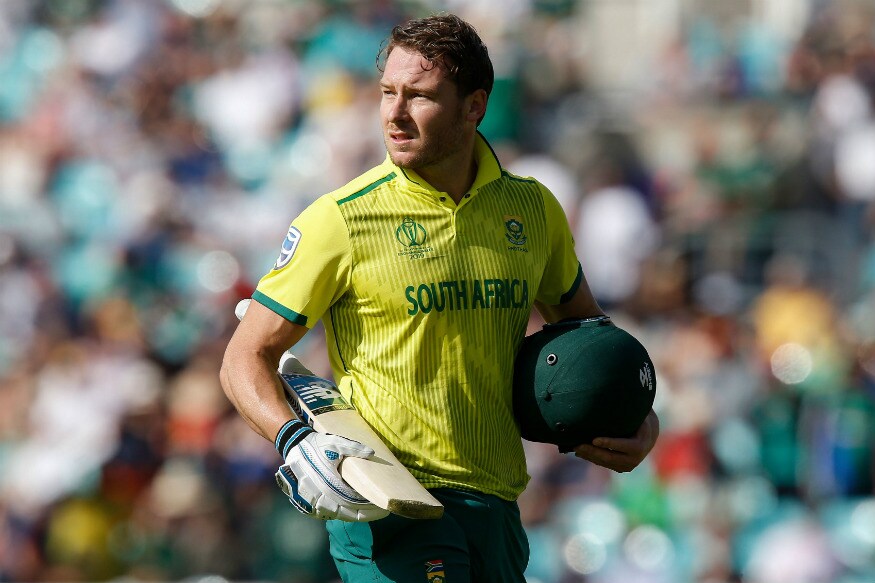 Asked if or when the team would begin to consider a replacement for someone like Steyn or Ngidi at the tournament, du Plessis admitted that South Africa's, "resources are slim." In future, they may need to look at conditioning, especially of the bowlers. Only Imran Tahir came into the tournament without a prior niggle and South Africa's decision to bring a semi-fit attack is starting to look more and more like a gamble that will not have good returns.
At least South Africa are being honest about where they stand. Du Plessis refused to provide excuses even though there are some within easy reach. The threat that head coach Ottis Gibson will not be retained unless the team reaches the final is one of them, the fact that the South African Cricketers' Association (SACA) have taken Cricket South Africa (CSA) to court over plans to restructure the domestic system is another but neither were offered up as reasons for these two defeats.
Instead, du Plessis blamed no-one but the team. "Every single player in our dressing room is not playing to their full potential," he said and promised that, "If guys think they can make excuses for a performance like today, they will be challenged".
He also said he still believes South Africa can win, and in theory, he is not wrong. They are far from out of the tournament but need to win at least five of their remaining seven games. Considering the strength of India and Australia, South Africa will be targeting West Indies, Sri Lanka, Afghanistan, Pakistan and perhaps New Zealand. But they should also have been targeting Bangladesh, and we've all seen how that worked out.