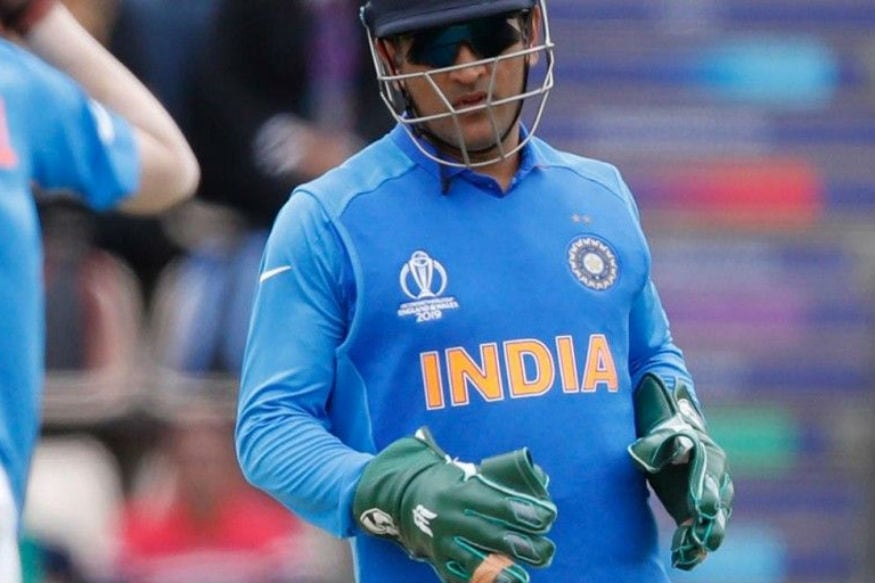 Let us run through the course of events first. The television cameras had spotted MS Dhoni donning the "Balidaan (sacrifice) Badge" on his wicket-keeping gloves during the World Cup match against South Africa. This did not come as a surprise, given his love for the Indian Army, and Dhoni received warm support from his fans.
However, only paramilitary commandos bear the right to wear the insignia. But then, Dhoni is an honorary Lieutenant Colonel in the Parachute Regiment. And given the Army has not raised a complaint till now, one can assume it is unlikely that Dhoni will face objection from their end.
ICC, on the other hand, did not think on the same lines. They asked BCCI to ensure Dhoni does not don the same insignia the next time he takes field during a match.
BCCI have typically stood by their cricketers in the international arena; they did the same for Dhoni. Unfortunately, ICC refused to revoke the decision, much to the chagrin of most Indian fans.
The entire chain of events has obviously led to several questions:
Do the ICC have a right to do this?
Section G of ICC's Clothing and Equipment Rules and Regulations clearly states that the cricketers are specifically barred from donning (or get tattooed) anything that has anything to do with "political, religious or racial activities or causes".
But one person's definition of political stance may differ from another's…
ICC have addressed that too: "The ICC shall have the final say in determining whether any such message is approved."
What if the board backs the players, like BCCI is doing for Dhoni at this point?
This, too, has been addressed: "Where a message is approved by the player or team official's Board but subsequently disapproved by the ICC's Cricket Operations Department, the player or team official shall not be permitted to wear, display or otherwise convey such message in International Matches."
The words leave little scope for ambiguity. Unless one confuses the regulations with a software installation manual and clicks "I Agree to Terms and Conditions" without reading, there is no reason why the board – BCCI, in this instance – would object to the ICC's decision.
They tried their best, but as per ICC regulations, the decision rests with ICC – and that is precisely what happened.
It says "International Matches", not specifically Matches at ICC events. Why was there no issue when the Indian team played in army camouflage caps against Australia at Ranchi earlier this year?
Yes, but as has been stated above, the final decision to take a call on what is a political stance and what is not lies with ICC.
Isn't Dhoni's insignia too insignificant an issue to be bothered with?
This is a subjective question. And the ICC ruling holds in case of this, and all other, subjective calls on this topic. As things stand now, the most a cricketer or a board can do is to appeal to or request the ICC. That may or may not work.
Is Dhoni the first cricketer to be asked to remove something from his gear or apparel?
No. Moeen Ali had donned wristbands with slogans "Save Gaza" and "Free Palestine" printed across them in 2014. ICC match referee David Boon had asked him to remove them, which he had to, despite ECB's insistence that Moeen's stance been more humanitarian than political.
When Imran Tahir exploded into one of those trademark sprints at The New Wanderers in 2016-17, he lifted his jersey to reveal an image of Junaid Jamshed, a Pakistani pop icon and religious preacher who had died in a plane crash the month before. Tahir was reprimanded by ICC.
Is it fair to prevent cricketers from taking a political stance? What about flouting norms regarding attire?
This is entirely a subjective topic, left to discussion. Some would insist on not mixing politics and sport. Others would expect stances from athletes, who, as role models, should be at the forefront to lead political causes. But that is not relevant here.
What is relevant is that the boards (and cricketers) had signed up for certain terms and conditions and whether they had chosen to abide by them.
But yes, cricketers have used apparel to make political statements. In another era, Andy Flower and Henry Olonga's black-armband protests would have been restricted to muffled voices; ICC might have asked Viv Richards to remove his Rastafarian wristband; and – this is non-political – Douglas Jardine would almost certainly not have been allowed to wear his Oxford Harlequin cap in a Test match.
But as of now, one can safely conclude that whatever stances cricketers take will be restricted to off the field.
Are these restrictions unique to ICC?
No. For example, FIFA has a similar stance on "undershirts which contain slogans or advertising" and has a ban on "political, religious or personal statements" on sporting attire. In case there is one, a player would require prior approval from the competition organiser and FIFA. The referee is supposed to mention the same in his match report.
Wimbledon, if anything, had stretched things a bit further by extending the ban on slogans to spectators in 2017 when followers Jeremy Corbyn were ready to erupt in support. They put a "no political slogans" sign on the entrance gates.
Are there examples outside cricket?
There have been several instances of athletes taking political stances in the arena. We shall stick to the ones involving attire here. Some are trivial (again, subjective, remember?), like Dhoni's; others, like Flower and Olonga's, contained serious political messages.
The most famous of these took place during the 1968 Olympics at Mexico City. Tommie Smith and John Carlos, gold and bronze medalists in the 200m event respectively, went up to the podium shoeless, wearing black socks, and shared a pair of gloves (Carlos apparently forgot his at the village), and kept their heads bowed and fists raised as the American national anthem was played.
Both men also wore human-rights badges on their jackets, as did Peter Norman, the silver medallist from Australia. Both Smith and Carlos were expelled, but only after IOC had threatened that they would ban the entire USA track team.
Robbie Fowler and Steve McManaman of Liverpool FC had decided to wear t-shirts with the text "Support the 500 sacked doCKers" to show solidarity towards the sacked employees of Liverpool Dock. They were supposed to reveal the t-shirt after the match – the 1997 Champions League quarter-final against SK Brann.
But Fowler forgot about the agreement and lifted his jersey after scoring the second goal, revealing the message. Unfortunately, it was a Calvin and Klein t-shirt, and they had used the C and K of the logo for the C and K of "DOCKERS"; Fowler was fined £900.
Image: Twitter
Ironically, Fowler had been praised by UEFA for not taking advantage of an unfairly awarded penalty in the same match.
In 2006, Frederic Kanoute refused to wear the Sevilla jersey that featured the name and logo of club sponsor 888.com, a gambling company. Sevilla had to arrange for a brand-free shirt. However, he was fined $4,000 by Copa Del Rey in 2009 for lifting his jersey to reveal a black t-shirt with "Palestine" across it during a match against Deportivo La Coruna.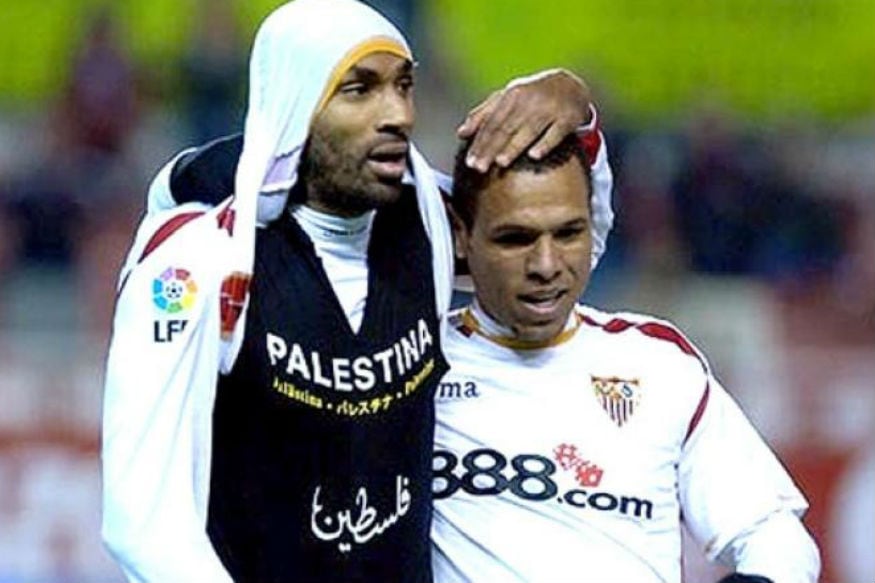 Image: Twitter
And to conclude, Laura Robson – then 17 – wore a rainbow-coloured hairband during the 2012 Australian Open. However, this did not flout any norm.