Southampton: It was January, 2012. The No. 1 ranked Test side England were playing a three-day warm-up match against ICC Combined Associate and Affiliate XI in Dubai ahead of their series against Pakistan.
The combined side had posted 281 on Day 1. Day 2 began with Afghanistan pacer Hamid Hassan bowling an 11-over spell, picking up the wickets of Andrew Strauss and Jonathan Trott. He wanted to continue bowling; he claims he has bowled 22 overs on the trot in a match against Scotland when a shocked umpire Kumar Dharmasena asked him whether he is human or machine.
And then...
"Alastair Cook hit a shot, I tried to chase the ball but couldn't stop," Hamid narrates to CricketNext. "I was in two minds, whether to stop the ball or leave it. I left the ball, but I had to jump over the fence. The right knee jumped over, but the left knee slightly hit it with full speed, and I went bannnng to the sightscreen grill.
"This knee, that knee, the shoulder, I was injured everywhere. I was conscious for a minute maybe. I felt dead. When I opened my eyes I was face down, I was not moving my hand. This leg [left], even a single centimetre was not moving. Same with the right one. I start crying 'my legs, my legs'. Like a small baby, a kid. They came with a stretcher and rolled me like you're rolling something in a paper.
"I was still conscious a little. I still told the coach, please give me the ball I want to take five wickets. He said 'Ok son, get well soon and I'll give you the ball'. I didn't know what I was speaking, I was out of the world. They took me to a hospital that was forty minutes from the ground and the full forty minutes I was crying because the pain was unbearable. There were bruises everywhere in my leg. For two-three days they took some MRI scans. My right leg was massive and turned purple. When MRI results came they said ligaments is gone, this is gone...I didn't even know the names but they said everything is gone. I had to undergo operation."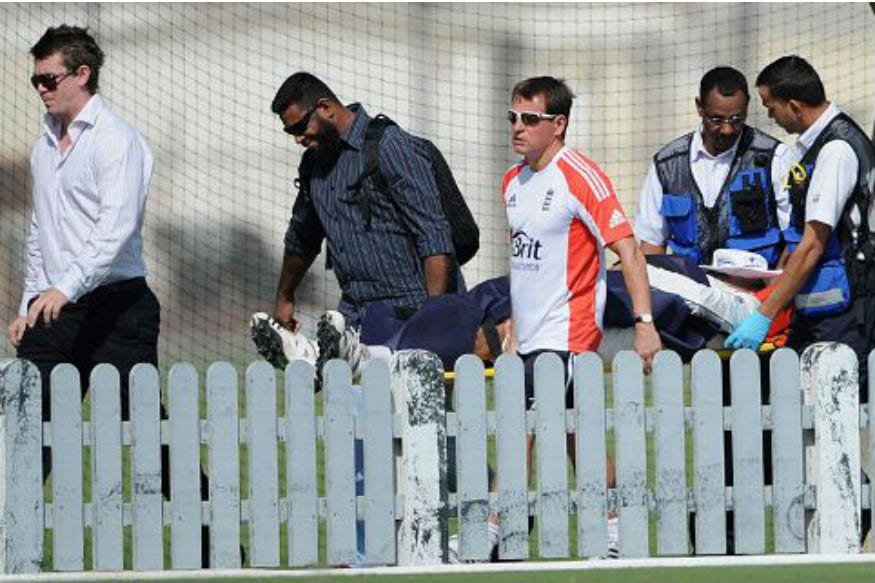 Getty Images
Hamid was 25, entering his peak years as a fast bowler. He says he was told by Sourav Ganguly to put his name up for the IPL that year. He was also offered to play for Middlesex in the T20 blast, but couldn't because the laws didn't allow players from non-Test playing nations to play. The injury was a big blow - physically, mentally, and to his career plans.
***
Hamid rarely gives up on his dreams. Throughout his journey, he has faced numerous obstacles but has crossed them all. The obstacles began at home - his father didn't approve of his plans to play cricket. The family had fled war in Afghanistan to live as refugees in Peshawar, Pakistan when he was six. His father did not want his son to venture outside home, and instead urged him to focus on education.
Hamid, though, was aiming for the stars.
"I promised myself that one day I will become famous and a star, but didn't expect I'll become a cricketer. I was dreaming with eyes open. I'd dream Hamid is in London, Australia, USA... whatever."
When Hamid was caught playing the game, he would be 'punished' or 'hit'. But he found a supporter in his mother.
"My mom was the one to support me," says Hamid. "She passed away two years back, I really miss her. She was the only one, whether I did good or bad, she would always say 'okay son, just keep going'. You know about you better yourself. In future don't say to mom and dad that you guys cannot do anything for us. It's your life, your choice, don't blame us in future. I said don't worry mom, I won't let you guys down, and one day you will be proud. She must be proud now. Even dad."
Hamid played in secret for most parts, often with his elder brother Rashid, who convinced him to leave batting for becoming a pacer. It was around the time Shoaib Akhtar entered the cricket world with all his pace and long run up, and teenaged Hamid was mightily impressed.
But again, there was an obstacle. Not external, but internal this time.
"My weight was too much. I was 122 kg. I would watch him and bowl three times from same run up, and fourth ball I would be tired."
Hamid overcame all that and more, being inspired by everyone who bowled fast - Akhtar, Brett Lee, Shaun Tait, Andrew Flintoff. He rose rapidly in the next five years - from street cricket to academy cricket to ACC Under-17. His career and life changing moment, this time for the good, came in 2006 in Mumbai when a Mike-Gatting led Marylebone Cricket Club played Afghanistan in a 40-over game. Led by a century from Mohammad Nabi, Afghanistan slammed 356 for 7 to which MCC managed only 185 in reply.
"I was bowling in normal trainer shoes and hit four batsmen on the toes, two of them were injured. Got two-three wickets, bowled only 5-6 overs but gave away only 6-7 runs. I bowled too quick," recalls Hamid. "The President of MCC, Robin Marlar, was there. After the game, he came to me and said 'do you want to play in England? I said 'who are you talking to? Me?'
"'Seriously, I'll take you to England - green wickets, faster pitches. Have you heard about England?' I said I've heard, it's my dream to play in Lord's. He said, 'Don't worry son, I'll take you'. I thought he was joking, like some old man is playing the fool... I didn't even know he was the MCC president, seriously. Then later, we had a party in the evening when they announced, 'We'd like to invite Robin Marlar, the MCC president' and he got up. Then I thought 'Oh, he's someone!' After that he discussed with my coach, then he took me and Nabi to MCC."
Hamid and Nabi got a chance to play at Lord's, living in hostels together. Not in their wildest dreams would they have imagined they'd be back in the country 13 years later, playing in a World Cup.
"Sometimes we do think back to where we were and where we are. It's almost like an unbelievable journey. 14 years back, Afghanistan's ranking was above 100. Right now we are in top 10."
In 2006, Nabi and Hamid Hassan left Kabul to train at Lord's, sharing a cramped room in a hostel, and gorging on fish n chips. They'd have been mad then to think they'd ever come back to play in a World Cup in UK. But here they are... #CWC19 #AfghanAtalan https://t.co/rPuRjI0vgV pic.twitter.com/gMm5Cvvy6h

— Paul Radley (@PaulRadley) June 1, 2019
Hamid would go on to become a regular in the English club cricket circuit - three years for MCC, two years for for Norden cricket club, and one year for Skegness.
***
Hamid and Nabi have another thing in common. Both were a part of Afghanistan's first ever One-Day International - against Scotland in 2009. Since then, Nabi has gone on to play 117 of Afghanistan's 119 ODIs. Hamid has played only 37.
His life has never been the same since that injury to his knee. Without proper guidance, Hamid rushed his comeback and was injured again, necessitating another surgery. He was out of cricket for the next 14 months.
Hamid was on and off from 2013 to 2016, but when he played, he was part of some big moments in Afghan cricket, most notably the World Cup 2015. He bowled the country's first ever ball in World Cup cricket. He dismissed Kumar Sangakkara and followed it up with a cartwheel. He played a handy knock with the bat against Scotland to give Afghanistan their first, and only, win in World Cups.
But a hamstring injury and surgery for sports hernia the following year forced Hamid to step back once again. He didn't play any cricket after July 2016, but watching Afghanistan win the World Cup Qualifier last year reignited the passion.
"I was struggling 2.5 years and just sitting. But when Afghanistan qualified in Zimbabwe, my dream came alive again. I said to myself - Hamid, it's not the time to give up," he says. "So I boosted myself, gave myself some confidence. Start from zero, from nothing to 100% level. Day by day I trained and improved. I joined the team three months back in Bangalore and then in Dehradun. I was even commentating in the series against Ireland. But I still managed to take my time and managed myself, to give my time for fitness and training.
"In the break time, I would run like crazy, bowl and train and then go back, get a mic, give some positive and negative comments," he laughs. "It was busy and tough but exciting as well. The coach and selection committee were very impressed and said they'll select me for the World Cup. When they said they'll take me for the World Cup, I was very surprised. I don't think any country will take someone who hasn't played anything for three years. But it's not like I'm an anyone, they gave me credit because I've done a lot for Afghanistan in the past.
"I never gave up. I'm not saying I'm like Alexander, but my mind was not accepting that I'd be sitting at home and saying bye bye to cricket. Some people say to your back Hamid is finished, he cannot play anymore. When I was walking, people were saying see he's limping how can he bowl? I was listening to everything, I was taking it positive. You guys talk, the day will come and I will show you that Hamid is not finished, he still can bowl. When I bowled 145-148 kmph against Australia, I was also surprised. Is that me or somebody else? I don't know where it comes from."
Hamid should in fact know where it comes from - the head band and the paint of Afghanistan flag on his face. It's given him the name 'Afghanistan Rambo', but the band and paint stand for much more.
"Whenever I'm making the paint or putting the head-band, it gives me energy. That who you are, and why you're here. It reminds me that I'm representing the three-colour flag, it's my time to do my best whether I'm in pain or not."
Hamid, 32, will retire from ODIs at the end of the World Cup. He has picked up only one wicket from four matches, but the batsmen have hardly given the bowlers a chance to be in the game. Hamid can finish with a maximum tally of only 41 ODIs. But numbers hardly tell the real story. Afghan cricket is gripped by spin in the modern era, but this pacer's blood and toil is a big part of their rise too.