Shakib Al Hasan put in a brilliant all-round display against South Africa at The Oval to give Bangladesh a famous and rare win at the World Cup. He scored 75 off just 84 deliveries and put together a match-winning 142-run stand for the third-wicket with Mushfiqur Rahim before bowling a brilliantly restrictive opening spell coupled with the wicket of Aiden Markram.
This was the 36th time that Shakib had registered a fifty-plus score and picked at least one wicket in a match – that in itself is an incredible statistic!
The fact that Bangladesh, who have not been at the better end of match-scorelines for most of their cricketing history, have won 20 of these 36 matches highlights their dependency on their ace all-rounder and the value of his performances.
Shakib is a world-class all-rounder and among the pantheon of all-time greats.
He crossed the milestone of 250 ODI wickets and became only the fifth all-rounder in ODI history to achieve the double of 5000 runs and 250 wickets after Sanath Jayasuriya, Shahid Afridi, Jacques Kallis & Abdul Razzaq. He is also by far the quickest to do this - in just 199 games!
Amongst the 19 players who aggregate 3000-plus runs and have picked 150-plus wickets, Shakib is placed at number 6 (in terms of batting average – bowling average) only after the likes of Kallis, Lance Klusener, Shane Watson, Andrew Flintoff and Imran Khan. His differential of 5.94 is higher than some all-time great all-rounders like Shaun Pollock, Chris Cairns, Kapil Dev and Jayasuriya.
Shakib is in the exclusive list of 10 all-rounders who have scored in excess of 2000 runs and picked more than 100 wickets since his debut in August 2006. Among these, he has the third-best batting average – bowling average differential only after Watson and Angelo Mathews. Shakib has been the leading wicket-taker and the second-highest scorer among these all-rounders in this period. That is how good he has been, both, with the bat and ball.
Shakib has been the pivot around which the Bangladesh team has revolved. He is the second-highest scorer in Bangladesh's ODI history with 5792 runs at an average of 35.97 and strike rate of 81.64. His exploits include 7 hundreds and 43 fifties.
He is also the second-highest wicket-taker in Bangladesh's ODI history with 250 wickets at 30.03 apiece at a strike rate of 40.5 and economy of 4.44. He has nine four-plus wickets in an innings (joint-highest for Bangladesh along with Abdur Razzak).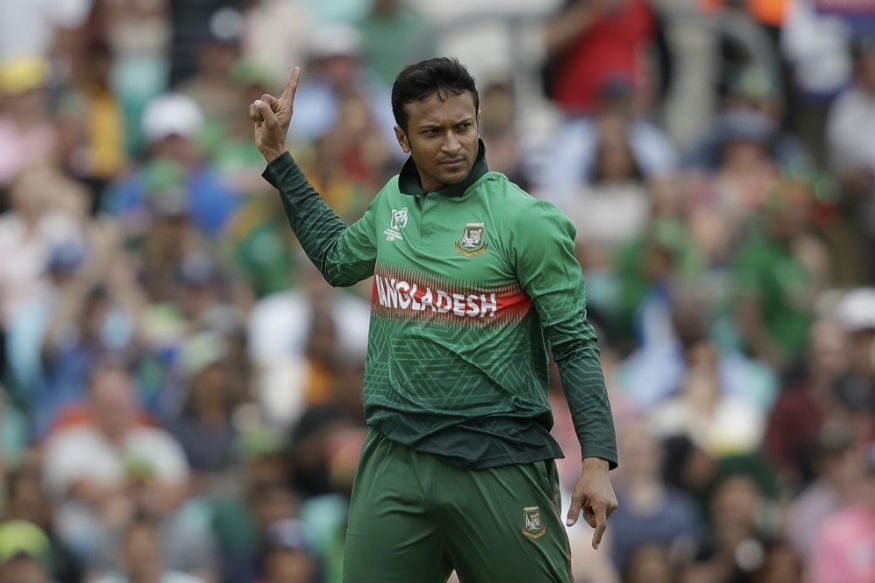 Shakib al Hasan celebrates a wicket. (AP)
These are incredible numbers which put Shakib in a very unique place in the history of the format – no one except Jacques Kallis (highest scorer and third-highest wicket-taker for South Africa in ODI cricket) and Sanath Jayasuriya (second-highest scorer and fourth-highest wicket-taker for Sri Lanka in ODI cricket) come any way close.
To achieve these numbers for a team which has for the better part of its cricketing history struggled to compete with the best makes this achievement even more special.
Shakib was brilliantly restrictive on Sunday and it was his initial spell that did not let the South African top-order get away. He bowled a tight line and length and did not concede even a single boundary off his first 7 overs, giving away just 25 runs. His spell included as many as 18 dot deliveries. This was a remarkable effort given that the South Africans were chasing a big total and the asking run-rate was in excess of 7.
This does not come as a surprise as economy has been Shakib's forte throughout his career. He has the second-best economy rate in Bangladesh's ODI history after Mohammad Rafique (min. 50 wickets). In fact, Shakib has been the seventh-most restrictive bowler in ODI cricket since his debut.
Shakib's most memorable performance with the bat came against New Zealand in the ICC Champions Trophy in Cardiff in 2017 where, chasing 265 for 8, he came out to bat with Bangladesh in deep trouble at 12 for 3 and smashed 114 off 115 deliveries as his team romped to a famous five-wicket win.
These 'tough runs' – runs he has scored under pressure when his team has lost early wickets – have defined Shakib's performances over the course of his career.
His most noteworthy performance with the ball also came against New Zealand in an ODI at Dhaka in 2010 when he picked 4 wickets to guide Bangladesh to a nine-run win.
Shakib's batting average rises to 50.44 and bowling average also dramatically improves to 24.05 in wins for Bangladesh – the second and the fourth-highest in victorious matches in his team's ODI history.
His average differential (batting – bowling) in wins of 26.39 is the second-highest in ODI history (min. 1000 runs and 80 wickets in victories) after Andrew Flintoff (27.7). It is higher than Kallis, Imran, Watson and Cairns to name a few greats of the game.
This basically means that Shakib has played a more significant part in Bangladesh's victories than Kallis did for South Africa or Watson did for Australia or Cairns did for New Zealand or Imran did for Pakistan.