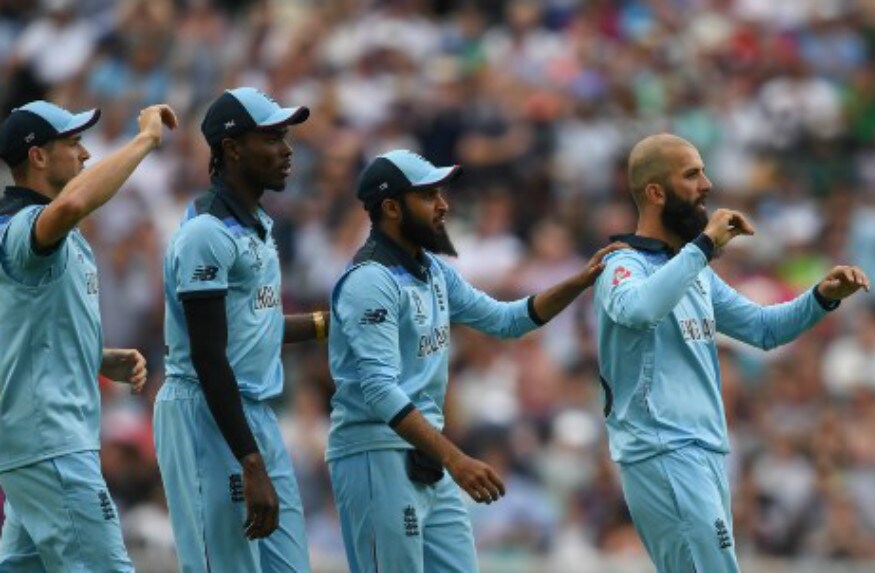 England all-rounder Moeen Ali believes that spinners will have a huge role over the course of the World Cup, which got underway on Thursday (May 30) with England comfortably getting the better of South Africa 104 runs at the Oval.
Right from the outset, there were traces of enough spin for both finger spinners and leg-spinners and Moeen insisted that as the tournament wore on, there were will much more turn on offer.
"I think spinners are going to be huge," Moeen said at the ICC mixed zone after the game. "As you saw, Imran bowled really well today. There was spin as well for Rash (Adil Rashid) and there's always going to be a chance for getting wickets, especially if it is going to spin like it did today.
"I think it will spin, I think it will play a big part," he added.
Moeen was a little expensive on the day as he returned figures of 1/63 from his ten overs. Speaking about his bowling he said that he tried to keep it as tight as possible because as a finger spinner he does not have a lot of variations and knows he has to bowl within limitations.
"I try and bowl tight, to be honest with you," he said. "There is not a massive amount that you can do unless it is spinning a huge amount. I try to bowled tight, build pressure and try and get wickets.
"As a finger spinner, you don't have that mystery. That one extra fielder (inside) makes a bit of a difference. It's not like we can bowl a googly or anything like that. You need to control the middle overs. As a wrist spinner, you can still spin the ball both ways, slider and googly. As a finger spinner, the maximum you can use is the arm ball, maybe the carrom ball. Not many people do that. I think for a finger spinner, it is very difficult."
Further adding on the bit about variations, Moeen admitted he tried adding the carrom ball to his repertoire but failed drastically as he did not have the "patience to stick with it".
"I went to India for the IPL and I bowled two (carrom balls) in the nets. Pathetic balls they were. I don't have the patience to stick with it," Moeen joked.
"The boundaries are so small. Same here. The wickets are so good that the batters don't care what is coming their way. They use their strength and bat and hit the ball hard."
The all-rounder was also effusive in praise of paceman Jofra Archer who looked menacing as ever. Comfortably hovering around the 145-150 kph bracket, Archer returned 3/27 from his seven overs which included the wickets of Faf du Plessis, Aiden Markram and a set Rassie van der Dussen. He had earlier also forced Hashim Amla to retire hurt after striking his helmet grille with a 146kph snorter.
"He is fast, he is very fast," said Moeen on Archer. "I faced him once in the nets and I don't want to face him again, honestly. He is very fast, he is very accurate and very skilful. He brings a lot to the team. For him to get into his side, so quickly shows how good he is.
"There is big pressure on him as well. He knows that and he loves that. You see that when he performs in the IPL and all the leagues around the world. He is used to that pressure."
Moeen also heaped praise on fellow all-rounder Ben Stokes who fired on all three counts for England. Stokes first dug his team out of a hole with a classy 89, then took the most astounding catch one can remember and finally finished off the game with two wickets.
"Stokes missed out on the last World Cup, he was disappointed. He is capable of winning games on his own. He is very mature and he brings a lot to the team – batting, bowling and fielding," said Moeen.
"You can't replace that. No matter what format it is, he always gives 100%. He is great to have in our team."