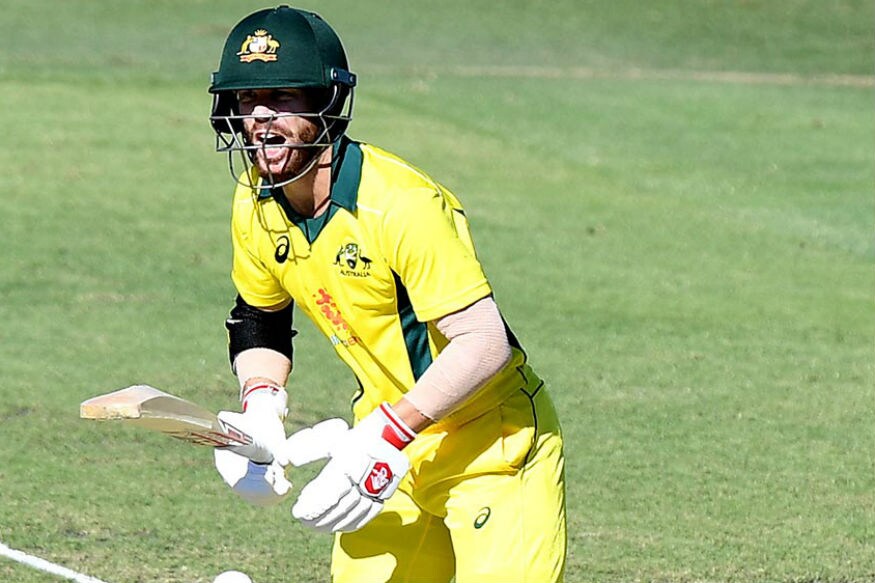 David Warner signalled his intentions loud and clear as he started off his World Cup campaign with a match-winning 89 not out taking Australia to a comfortable seven-wicket victory over Afghanistan.
Playing his first international game post his one-year ban, Warner, who was named Man of the Match for his unbeaten knock said that although he was a bit nervous initially, once he got into the groove of things, it became easier.
"It was just nerves getting back into the camp and getting back into the full intensity of training," Warner said at the post-match presentation ceremony. "I was a bit more relaxed when Finchy (Aaron Finch) started going."
It wasn't the usual swashbuckling innings that one would associate with Warner though. He was prepared to graft it out and played just one lofted shot during his entire innings of 114 balls. In fact, this was his slowest-ever half-century in ODIs.
"The way I started out there, playing 20-20 cricket over the last 12-14 months, I haven't really moved my feet," said Warner. "To get out there, start moving in the right direction and get my head over the ball was great. It was a positive for us to get past this first victory and we now move onto the West Indies."
Warner further emphasised the need to keep patience on these tracks in England especially in the first few overs when the ball does a bit.
"The bowlers always say that one-day cricket is a batsman's game. With two new balls over here, hope there is some swing for the fast bowlers. But you saw the out and out quicks are going through the top-order. We as batters just have to hold our nerve a little bit, play normal cricket shots and get into our innings," quipped Warner.
Aaron Finch too played his role getting his side off to a blazing start in pursuit of Afghanistan's 208. He slammed 66 of just 49 balls stitching 96 runs with Warner at the top. Speaking after the game, the Australian captain said that he felt he was timing the ball well while also heaped praise on Warner, who despite not being at his best stuck it out.
"I felt good today, you get a couple away early and get a good flow going," Finch said. "Warner is very important to our side. He was struggling to time the ball in the first half, but the fact that he kept hanging in there was great for him.
"He did the job at the end. Important you don't look too far ahead."
Finch was also effusive in praise of his fast bowlers who did the early damage in the Powerplay which kept Afghanistan from getting off to a quick start.
"Wickets in the Powerplay are crucial to any side, if you look at the data, so pretty good to get a couple early," Finch said with a smile.
"Always a bit of nerves, we've been training together so long now. We were probably ready to go four days ago, long build up. But good to get a first win."
Gulbadin Naib, the Afghanistan captain, on the other hand lamented the early loss of wickets while his side were batting.
"We didn't have a good start with our openers, so obviously we were a bit on the back foot," Naib said. "With top-class batsman like Shazad back in the hut the pressure was on us early."
The track in Bristol did not aid a lot of turn but Naib hoped as the tournament wore on, the spinners will play a major role.
"I am hoping in the upcoming matches, there will be more turn on offer," Naib said. "In the middle of the tournament we will see more turn, I am sure."