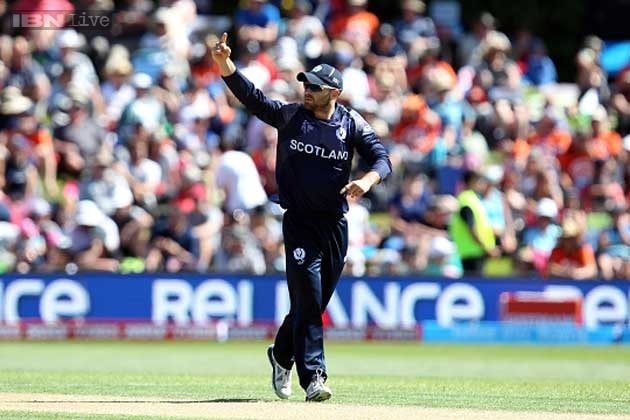 Christchurch: Scotland captain Preston Mommsen said now was a "good time" to play England as his side prepared for a World Cup clash against their border rivals in Christchurch on Monday.
England suffered a humiliating eight-wicket defeat by New Zealand on Friday, leaving them bottom of Pool A following a 111-run loss to Australia, the other co-hosts, in their tournament opener in Melbourne.
Scotland were also beaten by New Zealand in their only match of the tournament so far, but lost by just three wickets and scored 142 compared to England's 123 against the Black Caps.
Former England allrounder Ian Botham labelled Friday's hammering in Wellington as the worst one-day performance he'd seen in 40 years of playing for and watching England.
And Mommsen told reporters on Sunday: "Obviously, it is a good time to be playing them, but at the same time, we're pretty focused on our own game, and that's been the mindset over the last couple of days in the preparation leading up to the game tomorrow."
England were undone at Wellington's Westpac stadium by a sensational spell of swing bowling from Tim Southee, who took seven wickets for 33 - the third-best World Cup return of all-time.
But someone who wasn't stunned was Scotland coach Grant Bradburn, who coached Southee at New Zealand's Northern Knights domestic team.
"Having coached the Knights and having Tim Southee and Trent Boult in that environment for a number of years, not really, I was not surprised. They're fantastic bowlers at the top of their game.
"I think it vindicated the 10 overs that they bowled at the start of our game in Dunedin (when Scotland collapsed to 12 for four) and would have had any side in the world in trouble.
"We don't read too much into the actual scores, what England scored and what we scored."
Scotland, whose backroom staff includes former England allrounder Paul Collingwood, have never beaten a major cricket nation, with three previous ODIs against England yielding two wins for the Test side and one no result.
Mommsen said victory on Monday would have incalculable consequences for Scotland who have never won a match at the World Cup.
"I don't think I could really put into words what it would do for this team, for Scottish cricket on the whole, and what it would do for cricket back home right now," he said.
"We have yet to beat a full member team, and that is something that is a major goal for the current team and something we're working very hard towards. We know that we're not far away from that.
He added: "We're up for this game, we'll be fighting for it, there's no doubt about that. We want to win this game and hopefully we can put in a huge performance."