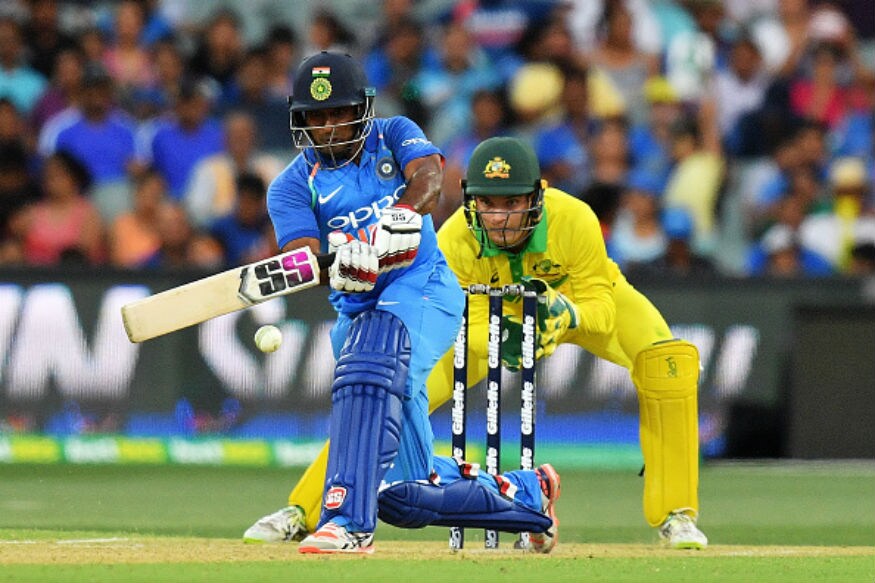 IPL is universally recognized as the premier (excuse the pun) T20 league in the world. There are lots of eyes watching the IPL - of spectators, players, ex-players and coaches alike. A good performance is noticed and consistently good performances create buzz that can lead to bigger, better things – just ask the Pandya brothers.
Over the years, the IPL has become a platform where if one has a good season or two, there is a fair chance they find themselves in contention for the respective national teams.
There have also been a fair few of them whose career got a second wind of sorts after a good season or so in the IPL. We look at some such players.
Ambati Rayudu
Perhaps the most apt example of a player benefitting from good IPL performances.
Ambati Rayudu captained the India U19 team at the World Cup of 2004. He was regarded as the most promising player of the team that included the likes of Dinesh Karthik, Shikhar Dhawan, Suresh Raina, Robin Uthappa and RP Singh.  He played for Hyderabad in the Ranji Trophy but soon had issues with the team management and opted to play for Andhra. He had issues there too, and in 2007 he signed up for the rebel T20 league ICL. The BCCI banned all players associated with ICL for life only to revoke the ban and bring the players back into its fold. That ban prevented Rayudu from being part of the IPL from the first season but he got his chance with Mumbai Indians in 2010. He grabbed the opportunity with both hands and scored more than 325 runs in each of his first 3 seasons, turning in some useful performances at a brisk pace. His game management and maturity was for all to see. It surely impressed the selectors and he was drafted into the India team in late 2012. He was also selected for the India team for the 2015 world cup but did not get a game during the tournament. While he continued to perform well in the limited opportunities he got, he was not consistent enough and soon lost out his place in the team in mid 2016. He was 31 years old then and his career in India colours seemed over. But there was a 'second' second wind.
Rayudu had a stellar IPL 2018, scoring over 600 runs in the season in a successful campaign for CSK, scoring a century and 3 fifties in the process. He also flung himself around the field with the energy of a 21 year old, not someone who is 32. These performances propelled him into the Indian team again and he is one of the contenders for the India World cup squad for the 2019 world cup as of April 10, 2019.
Jos Buttler
Jos is a rare talent. He is one of the few players who can give the ball a good hit from the very first delivery he faces and is also one of the 360-degree  batsmen who can smash the ball to all parts of the ground, equally comfortable hitting the ball in from off and behind the wicket with his lap shots and scoop shots. This makes him a very dangerous proposition. This was recognized early in his career and he was thrust into the England T20 and ODI set up in 2011 and 2012. He was soon drafted into the test squad too and after a stellar start, had only tepid performances for the test team and was subsequently dropped from the side. People bemoaned his lack of consistency. He craved to be part of the test team but the selectors looked in favour of the likes of Jonny Bairstow.
Coming into the 2018 IPL, Buttler had last played test cricket in 2016 and had all but resigned himself to be a specialized ODI player for England. In fact, he was playing the IPL because he was not part of England's test set up for the summer. How it all changed in one season of IPL.
Mid way through the tournament, playing for RR, Buttler was promoted to open the innings. He responded by scoring 5 consecutive 50s and at a strike rate of over 155. This run of scores and consistency made him the talk of the IPL and impressed one and all, including the England selectors and he was recalled into the England test team after the IPL and has been a regular ever since, playing as a specialist batsman. He was recently elevated to the position of vice captain of the test side.
Shane Watson
In early 2000s, Shane Watson was spoken of as the biggest emerging talent in Australia. A genuine all rounder in the making capable of bowling 10 overs in an ODI and scoring a century. However, injuries plagued his career and he kept breaking down due to injuries frequently.  He was selected for the 2003 world cup only to be withdrawn due to injury. He made his  test Debut in 2005 and was looked upon as a future test all-rounder but kept breaking down, being selected for the 2006-07 ashes only to miss it due to injury. These frequent injuries prevented the selectors from having confidence that he could play consistently for long periods.
It was for this reason that coming into the inaugural 2008 IPL season, despite all his early potential, six years after making his international debut, Watson had played his last test in 2005 and last ODI in April 2007.
IPL 2008 turned to be defining moment of his career up to that point. For one thing, he did not suffer an injury for the duration of the 6 week tournament playing 15 games. He was declared the man of the series, scoring 472 runs at a strike rate over 150 and took 17 wickets at an economy of just over 7. This cemented his credentials and from there on he was an important cog in the Australia test, ODI and T20 set up.
Chris Gayle
You wouldn't think Gayle would be on this list, but he was not always the CONSISTENTLY destructive batsmen that he is known as now. The IPL made him the UNIVERSE BOSS that he calls himself now.
He had already had a long career by the time IPL 2011 came around. He was not even part of the auction for the 2011 IPL and after being dropped out of the WI team for the T20 and ODI series against Pakistan in 2011, he signed a deal with RCB to represent them. Having made his international debut in 1999, he was a 31 year old with not many years of top flight cricket let in it, or so it was thought. What transpired in IPL 2011, 2012 and 2013, (season scores of 608, 733 and 708 respectively) built his reputation as it stands now. It helped him milk his brand and he was wanted by teams in T20 leagues ever where. It certainly helped him stretch his T20 and International career, he made great efforts to keep him fit, still going strong at 39 years of age. Talk about a career defining second wind.
Shikhar Dhawan
The player of the series of the 2004 U19 world cup with 3 centuries in the tournament. Surely, he was to be the next big thing in Indian cricket. However, things did not go exactly as planned for him. Indian team had two steady openers at the time in Sehwag and Gambhir and the likes of Wasim Jaffer waiting in the wings. Sheer weight of domestic performances got him into the Indian ODI and T20 team and he made his ODI debut in 2010, but he did not set the field alight and could not cement his position in the team. On the Test match front, even when players like Sehwag and Gambhir were dropped, players like Murali Vijay and Abhimanyu Mukund were given a chance and Dhawan over looked. He had played a spate of international games coming into the 2012 IPL, the last one being in 2011 and it looked like he would not have the long international career, many felt he should have had. He simply could not just knock on the door of the selectors but needed to break it down and in IPL 2012, he did exactly that.
He was one of the most consistent players in the tournament, scoring 569 runs in 15 innings at an average over 50 with 5 fifties. It impressed the selectors and he was drafted into the India A teams. Good performances there propelled him into the Indian team and he has never looked back since.
Mitchell Johnson
Always known for his raw pace, accuracy and control was his problem. He was also known to lose his composure once players got after him. Even the Barmy Army  got the better of him during the 2010-11 Ashes, something Johnson confessed to as well. When he lost his rhythm, he was wayward and for long periods of time. This made for him being in and out of the Australian ODI and Test teams. By 2012-2013 he was not a regular member of the test team and played only 2 tests in  2012 and 2 in 2013 coming into the 2013 IPL.
But it was in the 2013 IPL that we saw a reinvigorated Mitchell Johnson, bowling fast and accurate, unafraid if the batters hit him ( not many were able to though) and taking important wickets regularly for his team MI. He formed a great partnership with Malinga throughout the tournament and took 24 wickets at an average less than 20 and economy just over 7.  He seemed to be enjoying himself and bowling in good rhythm, bowling FAST, without looking like he was trying to. So impressive was he that many a commentator remarked that they were dumbfounded that he was not a part of the Australia squad for the Ashes series in England.
What he missed out on, he more than made up in the return leg of the Ashes series, later that year in Australia. The rest, as they say is his story.
Ashish Nehra
Nehraji as he is fondly called, is one of only two bowlers to have bowled from an 'end' of the ground named after him. The other being James Anderson. He was a rare commodity, left arm quick, in Indian cricket when he burst on to the scene in the late 1990s and made his test debut in 1999. He was best remembered for his performances in the 2003 world cup, particularly the spell against England where he picked 6 wickets. His career was plagued with injuries and he seldom went a full season without injury, constantly in and out of the team. He, however, always persisted and kept giving his best. The pinnacle of his career was being a part of the 2011 world cup winning team. He was injured during the tournament and could not play the final. When he recovered from his injury in 2011, he expected to make the squad for the next series, but was ignored. He was deeply hurt by the snub, but with a new crop of bowlers doing well, at 32, the writing was on the wall for Nehra.
But, true to his nature, he kept at it and kept trying. Having played in IPL through the years, he also missed his fair share of matches due to injury and bad form, but like wine, he started to get better at T20 bowling with age and it was in the 2015 season that he had a standout performance . He took 22 wickets for CSK at an economy of 7.2 across 16 matches, helping them reach the finals. His understanding of the condition of the match, pre-empting what the batter was going to do, bowling to a plan and to his field impressed one and all and lo- behold a 36 year old man was part of the Indian team again and was part of the 2016 World T20 team as well. He retired from international cricket on his own terms in 2017.
So these were a selection of players who indeed got a second wind to their career, thanks to a stellar showing in the IPL.