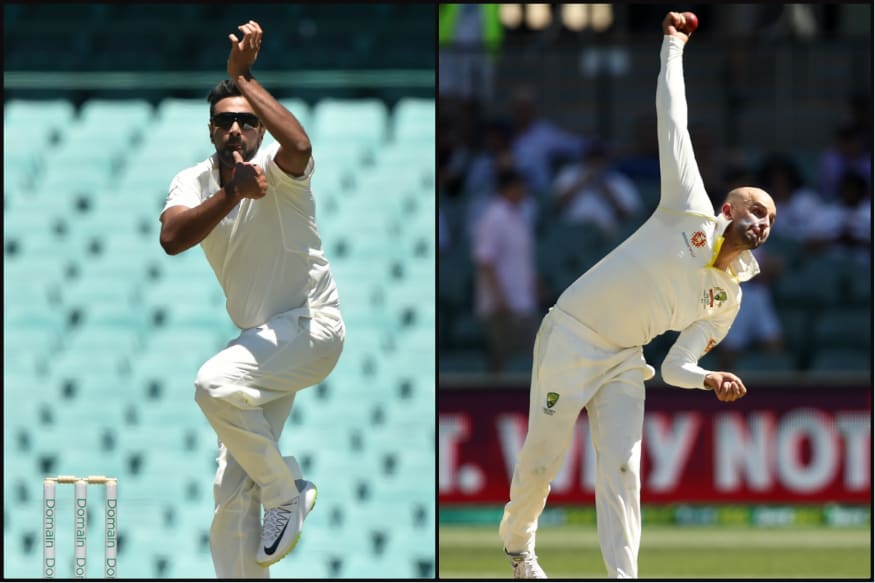 The first Test between Australia and India at the Adelaide Oval was defined by spin - both how it was bowled and how it was played.
The entwined battles between the world's premiere spin bowlers: Nathan Lyon and Ravi Ashwin, and their opposition batsmen on a pitch that provided lavish turn, bounce and later devilish foot-holes, was as engrossing as it was significant. In particular, the duel between Lyon and India's middle order of Cheteshwar Pujara, Virat Kohli and Ajinkya Rahane on the third evening and fourth morning was one for the ages.
Even before the match had begun—and despite the emphasis placed on pace bowling in the series build-up—the contest between Lyon and Ashwin threatened to shape events in Adelaide. The balance of both teams, with neither side opting for an all-rounder and both committing to four man bowling attacks, placed great emphasis on the holding role for the spinner, particularly in the scorching temperatures on days one and two.
This responsibility was accentuated by an Adelaide pitch which took significant turn from the very first innings. Australia's team selection, with four left-handers in their top six, further brought Ashwin into the game who has a far superior record against lefties; while the emergence of sizeable foot-holes outside the right-handers' off stump when bowling from the River End brought Lyon into the game against India's entirely right-handed top six. After India eked out a 15 run first innings lead the match became a one innings contest on a wearing pitch with the spinners expected to play the leading role.
There was more to this clash than simply the match in question. The careers of Ashwin and Lyon have been closely linked and fascinatingly contrasting: they made their Test debuts within two months of one another but could scarcely be more different bowlers. Both men are the product of their upbringings: Lyon - brought up on unforgiving Australian pitches with bounce and little spin - is an old-school off spinner with no variation deliveries and a classical side-on action that imparts overspin on the ball - his primary role is that of a holding bowler. Ashwin - brought up on dry Indian pitches with uneven bounce and big spin - is a new-age off spinner with a coterie of variations and a more front-on action that imparts sidespin - his primary role is that of a strike bowler.
Both methods are suited to their home conditions—Lyon in Australia, where the margin for error is small and accuracy is key and Ashwin in Asia, where uneven bounce and big spin enhance variation. Both men have sought to learn from the other - their careers seemingly inextricably bound; simultaneously challenging and elevating one another. Recently Lyon has made adjustments to his method in Asia - bowling flatter and faster and these changes brought huge success. Heading into Adelaide and this series more generally the onus was on Ashwin to rein in his variations and adapt his approach to Australian conditions where patience is key. In two series before this one Ashwin averaged 54.71 in Australia.
In Adelaide both men bowled brilliantly. Lyon doubled down on the qualities that have made him so successful - accuracy and consistency, while Ashwin visibly battled to resist those that have made him the bowler he is - variation and unpredictability. Standard deviation, a value which measures variations within a dataset, shows that across the Test Lyon and Ashwin varied their speeds and lines significantly less often than their career average. For Lyon, bowling in home conditions, this was unsurprising; but for Ashwin it was tacit acknowledgement of the necessity for him to adapt his method to Australian conditions - prioritising greater consistency over variation.

In the first innings for both bowlers the emphasis was on containment to allow the pace bowlers to rest. Ashwin clearly outperformed Lyon in this innings recording a significantly lower economy rate and bowling a higher proportion of overs. Lyon's economy rate of 2.96 was above the innings run rate of 2.84. In addition to that three wickets for Ashwin—all top four batsmen and all left-handers underlined the risk of Australia's selection.
In India's second innings with Australia chasing the game and big footholes developing outside the right-handers' off stump Lyon was expected to provide a strike option as well. Lyon bowled beautifully in this innings - pitching 47% of his deliveries to the right-handers in the foot-holes outside off stump.
But as well as Lyon bowled, India played him better. Kohli's masterful wristwork smothered the turn out of the rough while Pujara and Rahane's balletic footwork nullified the effect of the footmarks. Ultimately Lyon finished with figures which reflected how well he bowled but not his influence on the match: six wickets, including that of Pujara, was just reward for his persistence but with three of them coming after India's lead had swelled beyond 250 and Pujara's only coming after had survived for 204 balls, Lyon's strikes came a little too late for Australia.

It was telling that Lyon only snared Pujara after deploying a silly point which forced Pujara to adjust his tactic of coming down the pitch and padding Lyon away which he employed so successfully throughout the innings. Once the fielder was in place Pujara was forced to either pad the ball away from the crease which required him to predict the degree of spin, or advance down the track and risk being caught bat-pad or even run out by the newly positioned fielder.
Once the silly point was in place Pujara's false shot percentage against Lyon increased from 10% to 29% and eventually forced his dismissal when he was caught at short leg after padding from the crease and mis-reading the spin. Australia's hesitancy to use this close catcher may have cost them the Test.
After Lyon's six-for in the third innings there were expectations that Ashwin would run through Australia in the fourth innings but his role was less attacking than that of Lyon. After snaring two of Australia's top three on the fourth evening Ashwin was utilised in a defensive role on the fifth day with Kohli conscious of conceding a session where the run rate spiralled, preferring instead to force wickets through a build-up of pressure and use Ashwin as a holding bowler.
Additionally, the effect of the footmarks—so prominent during Lyon's second innings, were reduced by Australia's comparative lack of right-handers. Ashwin still exploited them well, pitching 42% of his deliveries to right-handers in and around them - only slightly less than Lyon for whom accuracy comes more naturally.
At times Ashwin—more typically used as a strike bowler in Asian Tests—appeared to grow frustrated and impatient: on the fifth morning he changed from over to round the wicket to Australia's left-handers four times in five overs. Ultimately though, he succeeded in his primary role, maintaining an economy rate of just 1.74 across the innings. The 52.5 overs bowled by Ashwin in the fourth innings is the second most he has ever bowled.
The only time he has bowled more overs was the first innings of the Adelaide Test six years ago when his economy rate was 3.66 runs per over - a reminder that although even in his defensive role this time around he would have hoped for a better strike rate this was a performance that represented a significant improvement. Crucially, the control maintained by Ashwin allowed India's quicks the rest they needed to come back for spell after spell and maintain their highest average speed and highest proportion of balls on a good line and length in any Test since 2006. The vicious bouncers that accounted for Travis Head and Pat Cummins at crucial junctures on the fifth day were tangible reward for India's rested quicks, finding extra reserves when it mattered most.

Ashwin took the tenth Australian wicket in the fourth innings which sealed India's victory. The wicket brought his match average fractionally below Lyon's - fitting recognition of two brilliant performances that had shaped the Test. The same could not be said of the battle of the batsmen against spin which was comprehensively won by India and was ultimately the difference between the two sides. Australia faced more overs than India across the Test but their low scoring rate—largely against Ashwin—meant India emerged as victors. The brilliance of Pujara, Kohli and Rahane against Lyon was contrasted with the shortcomings of Australia against Ashwin.
India's batsmen had a clear method to hit Lyon off his length by using their feet or smothering the spin and pouncing on the short balls that followed; Australia had no discernible strategy. This contrast is reflected in shot-type analysis which shows how India played far more rotating shots than Australia who got stuck in a rut of defence against Ashwin, not even attempting to score off more than half his deliveries - a stasis that is testament to Ashwin's brilliance but also Australia's weakness against spin. Additionally, when Australia did try to attack Ashwin they only scored at 6.06 runs per over compared to India's 9.51 against Lyon.
Moving onto Perth and a pitch that is expected to provide less assistance to the spinners and more to the seamers it is likely that Ashwin and Lyon will assume lower key roles. On the evidence of Adelaide that will be good news for Australia whose inability to match India's batting against spin was the decisive factor in the first Test.
(Freddie Wilde is a CricViz analyst. @fwildecricket)