England have been outplayed with the bat, ball and in the field in their two thrashings at the hands of the Windies. However, it is their batting - which has failed to pass 200 in three of their four innings so far - that has come under most scrutiny. England's average runs per wicket in the series of 16.05 is their sixth lowest in any series in history.
In particular it is England's approach to batting that is coming under most pressure. Many pundits, including some former England captains, have all accused England of being unable to bat for long periods of time, bemoaning poor mental discipline and weak techniques. England's capitulation against the number eight ranked team in the world appears to have brought a common criticism of England during Trevor Bayliss' tenure as coach and Joe Root's as captain to a head, namely that England's batting is not good enough technically or mentally for Test cricket.
However, while there can be little doubt that England's performance in the West Indies has been woeful, broader criticism of England's batting, and indeed modern Test batting in general, should be very carefully considered.
Batting in Test cricket has rarely been as difficult as it is right now. In 2018 the overall average runs per wicket of 27.58 was the lowest in any year since 1959. This exceptionally low average was the product not of a low run rate but of the lowest balls per dismissal of any year since 1902. Of course, this could in part be explained by declining standards of batting but CricViz analysis of ball-tracking data suggests that batting difficultly has increased significantly in the last few years. This analysis is based on a CricViz model which considers only ball-tracking data to evaluate the likelihood of runs and wickets being scored of any given delivery. This data is aggregated to produce Expected Statistics. Based on this model the Expected Balls Per Wicket in 2018 of 54.6 was the lowest of any full year on record.
Subtracting the Expected Balls Per Wicket from the Actual Balls Per Wicket is a method of evaluating batting quality with a positive figure representing the batsmen over-performing relative to expectation and a negative figure representing the batsmen under-performing. In 2018 batsmen under-performed by -4.6 balls per wicket - a large difference but still in line with natural variation seen across the last 12 years.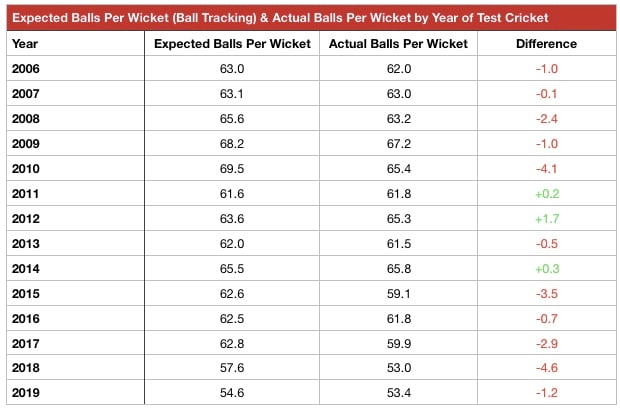 The increased difficulty of batting can clearly be attributed to two things: better bowling and more difficult conditions.
We are currently in a golden age for Test bowling. The last five years has seen the emergence of a coterie of bowlers who are already, or have the potential to be, all-time greats: Dale Steyn, James Anderson, Rangana Herath, Nathan Lyon and arguably Morne Morkel are already there and they could be joined by any number of Stuart Broad, Kagiso Rabada, Vernon Philander, Pat Cummins, Mitchell Starc, Josh Hazlewood, Mohammad Abbas, Jasprit Bumrah, Mohammad Shami, Trent Boult, Tim Southee, Yasir Shah and Ravichandran Ashwin. Not only is the standard high but there is depth too. The likes of Kemar Roach, Shannon Gabriel, Mohammad Amir, Ishant Sharma and Neil Wagner might not retire as greats but they are excellent and reliable performers.
Combine this arsenal of bowlers with pitches that are producing more seam and more spin than in any point in the last 12 years and the historic low batting averages of 2018 and the woes of batsmen the world over begin to make more sense.

Since Bayliss was appointed as head coach England actually have the fourth highest batting average of all teams in world cricket. Admittedly, they are a considerable way off the best batting teams in this period: India and New Zealand, but they are not the basket case that recent media reaction would suggest.
England's challenge is also complicated by their home conditions which are notoriously difficult for batting—South Africa is the only host country with a lower Expected Bowling Average than England. CricViz's Expected Analysis incorporates this as well as the quality of the bowlers they have faced to produce a more accurate picture of performance.
Comparison of England's Actual and Expected Average since Bayliss was appointed puts their batting performance into perspective. In this period England are one of five teams to average more runs per wicket than we would expect based on the balls they have faced - suggesting England have, contrary to mainstream media opinion, over-performed with the bat since Bayliss' appointment. With an average of 31.2 this might appear strange but in an era of bowling dominance such a return represents a comparative success.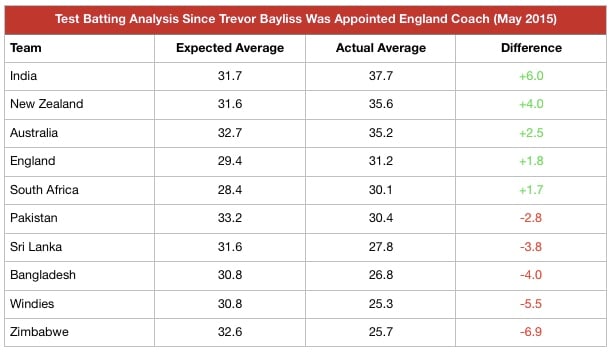 England's current series against the Windies represents by far their worst batting performance relative to expectation under Bayliss: with an average of 16.1 they have underperformed by -9.7 runs compared to their expected average of 25.8. However, this is only the fourth time in 16 series under Bayliss that England's batsmen have underperformed. The other three being -10.4 away against New Zealand last year, -2.2 in the Ashes in Australia and -4.7 away against Bangladesh in 2016.
In this era of brilliant bowlers operating in helpful conditions analysis of cricket needs to consider and appreciate the growing difficulty of batting. The game has changed in the last few years and analysis should change with it.
***
Although England's overall batting average places them as a mid-ranking team, their failures with the bat in the last few years appear to have attracted particular criticism. This can probably be explained by their stated approach to the game and the structure of their team - which has openly challenged accepted norms and conventions in Test cricket.
Under Bayliss and Root England have been open about their desire to bat positively and take the attack to the opposition bowlers. This was an approach that worked brilliantly in their 3-0 win in Sri Lanka where England attacked 31% of their deliveries, their highest attacking percentage of any series in the CricViz database. Ahead of their current series in the Caribbean Root doubled down on that approach in an interview with Sky Sports. "You don't win Test matches by batting for eight hours," he said "you win Test matches by scoring runs for eight hours." Embarrassingly, England have not managed to bat for eight hours in any innings in the series so far.
Inevitably when England's batting has capitulated across the last few years - which it has done on a number of occasions - England's aggression has been cited as reason for their downfall. However, shot-type data shows that while England may have talked up their aggressive batting they have in fact only been the fifth most attacking team in Test cricket during Bayliss' tenure, playing exactly the same proportion of attacking shots and losing exactly the same proportion of wickets to attacking shots as the global average.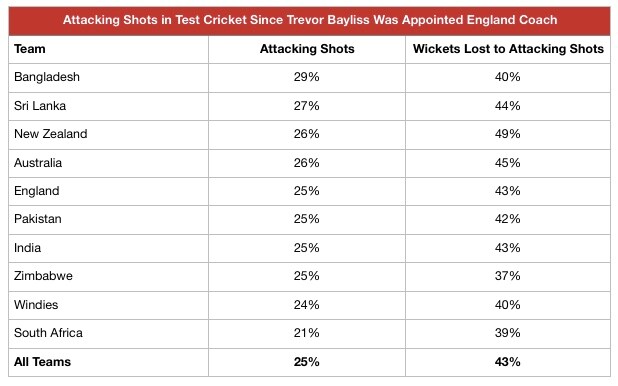 England's tendency to collapse spectacularly has reinforced the idea of England's happy-go-lucky approach. In the last two years they've been bowled out in a session on three occasions: in Dhaka against Bangladesh, in Auckland against New Zealand and in Nottingham against India. They very nearly added a fourth to the collection in the first Test of this series, losing nine in a session in Barbados before tea. But on all four occasions to blame excessive attacking batting would be disingenuous. Only in Auckland did England lose more wickets to attacking shots than the global average and in most cases they were beaten in defence.

Indeed, being beaten in defence appears to be as much of a problem for England than excessive or substandard attack. Analysis of England's batting under Bayliss, broken down by shot-type and compared to the three teams with a better average than England - India, New Zealand and Australia - shows that while they compare unfavourably in terms of attacking shots it is defensive shots that are costing them most significantly.

Of course it is never this straightforward. Whether a batsman should attack or defend is not simply defined by their relative performance with each shot-type, the most important thing is not how much a player attacks or defends but rather to which balls they attack or defend. If England were to bat more defensively, especially early on in their innings, they may well create scoring opportunities for themselves down the line against an older ball and a tiring attack. However, England's comparatively poor defensive record illustrates that the idea they should simply play more defensively - although not a bad one given their recent struggles to occupy the crease - is not the quick fix it is often presented as.
In an era where batting is exceptionally difficult and at a time when England's domestic system is not producing hoards of strong defensive batsmen - opting to play in an attacking manner - and looking to score runs while at the crease rather than just surviving, is an understandable - perhaps even sensible - decision.
Criticism of England's batting is compounded by the structure of their team. England's XI for the second Test in Antigua comprised three wicket-keepers (Ben Foakes, Jonny Bairstow and Jos Buttler), three all-rounders (Ben Stokes, Moeen Ali and Sam Curran) and only three specialist batsmen (Rory Burns, Joe Denly and Root) - one of whom was opening the batting despite not doing so in county cricket (Denly). But with very few specialist batsmen on the domestic circuit demanding selection, England's unusual team structure is as much a product of circumstance as design.
Since Bayliss was appointed head coach 13 specialist batsmen have come into the side and failed to hold onto a place (Adam Lyth, Gary Ballance, James Taylor, Alex Hales, Nick Compton, James Vince, Ben Duckett, Haseeb Hameed, Keaton Jennings, Tom Westley, Dawid Malan, Mark Stoneman and Ollie Pope - with Burns and Denly now fighting for theirs). Inevitably every England batting failure is followed by criticism of England's team structure but this is not a situation that has arisen through a lack of trying alternatives. Give or take perhaps one or two players these are the best batsmen available to England.
***
The fact that batting has become significantly more difficult cannot excuse England's second innings collapse against Roston Chase's off spin in Barbados. According to Expected Wickets Chase bowled well enough to take 1.38 wickets but finished with eight, a difference of +6.62 wickets - the second biggest single innings difference between Actual and Expected Wickets for any bowler in the CricViz database (Broad's +6.72 for his 8 for 16 in Trent Bridge is the biggest). This vast discrepancy points towards England's poor batting giving wickets away. Of England's four innings in the series so far it was the second innings in Barbados that was most disappointing.
England's batting performances in recent times and particularly in the Caribbean have been alarming but moving forward it is essential that England's management consider the broader context of their run-drought and aren't distracted by comparisons with previous eras and measurements of success. In the current climate 30 is the new 40 and 300 is the new 400.

England's batting is struggling in a big way but only by comparison to teams of five years ago, not by comparison to teams of today. In 2018 New Zealand were the only team to average more than 30 runs per wicket in Test cricket. These are strange times and navigating them effectively calls for calm and intelligent management.
(Freddie Wilde is an analyst at the cricket data analytics company CricViz. He tweets @fwildecricket)