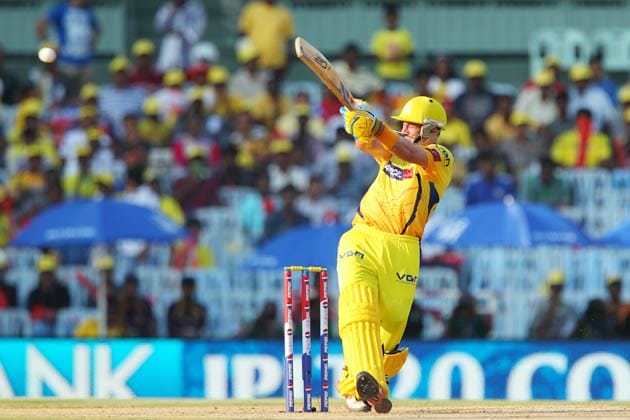 Chennai: Chennai Super Kings coach Stephen Fleming on Sunday praised his senior batsman Michael Hussey for his contribution to the team, describing the Australian as the pivot of CSK's batting in the IPL.
"It was great innings, isn't it? He has been consistent though there was some criticism in the manner in which he scored runs. The way he has played against different teams has been quite dynamic. I cannot speak more highly of Hussey on the influence he has and the way he conducts himself," Fleming said of Hussey whose 95 helped CSK beat Kolkata Knight Riders by 14 runs on Monday.
"His name is Mr Cricket, what he means to the side is phenomenal and he is halfway to our batting unit. He leads by example, not only runs that he scores but the way he trains and conducts himself," Fleming said.
Fleming said Hussey's influence in the team was such that his team-mates who batted with him lifted their performance. "By his performance, Hussey lifted Saha who played well. Vijay had played well in the past and Raina had played well with Hussey and Dhoni when he gets a chance plays well with Hussey.
He is an inspiration. He has got instincts to read the game situation. If you feel he was struggling for about 60 runs, it was because of the desire to convert good starts to winning score. He should have got a hundred today."
Asked if CSK were under pressure at some stage of the match, Fleming said, "We were under pressure, we got some catches in the second 20 overs but we fumbled under pressure. But you must admire the two teams playing such close games. It is quality cricket. Somehow we came on top at the end."
On the dropped catches and missed stumping chance his side had in the match, Fleming said, "In cricket, it always happens. Suresh Raina is one of the best fielders. Ashwin is not the most mobile. As I said we were under pressure. On the whole, it was a wonderful game. We did not respond well probably with the ball but the last over in particular was outstanding. We are still working for progress and it is nice to see some good bowling in the death overs," he said.
Pacers conceded runs against KKR batsmen and Fleming said that the team would want improvement in that front. "Seamers in a high scoring match were a lot more smarter today and that from a coaching point of view is pleasing. I am sure the captain would like to see quickly some improvements. I know he would. It was a tough start today as we gave 20 runs in the first over," he said.
Asked if his side's bowlers were complacent while defending a big score, Fleming said, "Impressions can be different. Sometimes one gets such impressions but on the flip side, the team chasing on a big ground have a lot of opportunities. We were not complacent."
Asked how his side came out unscathed on most occasions when they were in trouble, he said, "It might sound strange to say that we are a good battling side. But, we really fight for our win. We have some gifted and wonderful players in our ranks. We find our ways to be aggressive. Our attitude is good and we do at times manage to win."