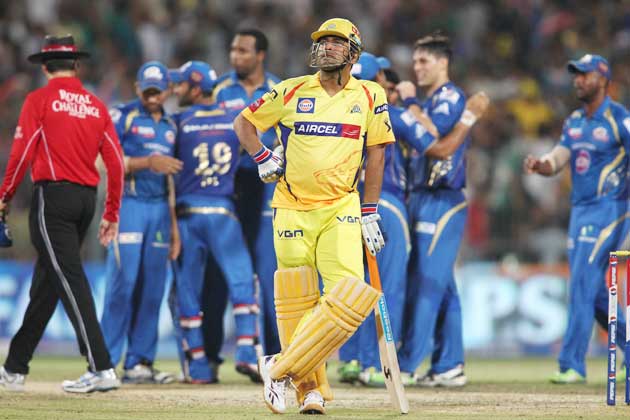 After reducing Mumbai Indians to 16 for 3 inside the first four overs of Sunday's final, and the having restricted them to 142 for 9, it was expected that the mighty Chennai Super Kings were just a step behind adding another trophy to their already inflated cabinet. But what transpired after that was nothing short of unusual. Their batsmen, somehow, looked jittery against Mumbai's attack as they went down meekly.
As mentioned by their coach Stephen Fleming at the pre-match conference, what happened off the pitch recently had dented their morale and confidence. The effect of which was so large that even the most consistent team like CSK buckled under pressure. Having won two out of four finals previously, CSK knew what it takes to play in big matches and how to conjure up victories. But the events followed the spot-fixing scandal not only dented their confidence, it also affected their morale.
But despite the loss in the final, no one can deny that CSK was still the most consistent team of IPL 6. They topped the league with 22 points from 16 matches and cantered their way to the final with a thumping win over Mumbai in the first Qualifier. With the highest run-getter in Mike Hussey (733 runs) and top wicket-taker in Dwayne Bravo (32 wickets) in their side, Chennai were expected to go all the way.
They are the only IPL franchise to have a settled squad over six seasons, with players who can tackle any situation. Their batting ran extremely deep, with five pure batsmen and five allrounders in their ranks. Their bowling might not be the best in the league, but MS Dhoni used it efficiently. To get early wickets, he started with pacers; to stem the flow of runs, he used spinners in the middle; and to stop the opposition for low scores, he used Bravo in the death overs.
CSK continued with their strategy of going run-a-ball in the first ten overs, while saving wickets for end-overs explosion. Hussey not only provided them good starts in almost every match, he batted through the innings in some of them, taking their scores to dizzying heights. His consistency at the top, six half-centuries with a best of 95 against Kolkata Knight Riders, always kept Chennai in the hunt for the play-offs.
Suresh Raina hasn't missed a single game for CSK in the past six years, and although he could gather just 136 runs in his first seven games, he roared back into form first with 63* against Pune Warriors and then an unbeaten 100 against Kings XI Punjab, finishing the tournament with 548 runs. He and Hussey remained the tour de force for CSK, scoring 1281 runs between them.
By now, we all know that it's hard to read Dhoni's mind and it's hard to understand some of his decisions. His strategy of keeping himself back for late finishes while chasing backfired on some occasions, including the final, but he persisted. Still, his strike-rate of over 162 was the best by any CSK batsmen and his 461 runs the third highest for the side. Ravindra Jadeja chipped in with a few match-winning contributions; his 38 off 20 against Royal Challengers Bangalore, and three wickets and 36 off 14 against Kolkata provided Chennai important victories. But knowing his capabilities, he would have hoped to have done more.
Dhoni's use of Bravo has been the feature of their play. He used the West Indian in the latter stages, so that he could use the old ball and try his variations. His slow balls tricked most of the batsmen, helping him take a bagful of wickets at the end.
In Mohit Sharma, CSK unearthed the find of the season. Dhoni had given him the new ball in almost every match, and the 24-year-old vindicated his captain's faith on most occasions, getting 20 wickets in 15 matches. Chris Morris is another player who did well for them. His performance although dipped a bit in the last few matches, he still ended the campaign with 15 wickets. With Albie Morkel playing only eight matches due to injury, CSK were forced to make changes to their bowling. They played West Indies young pacer Jason Holder in six matches, but he could take only two wickets.
We don't know whether the end result would be different had the franchisee not marred by the off-field controversies, but no one can take away the fact that Chennai once again ended the campaign as the side most other teams aspire to become.