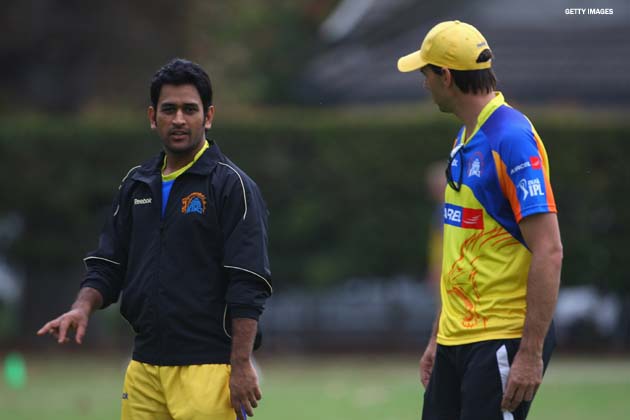 Chennai: Chennai Super Kings coach Stephen Fleming was optimistic of his team's chances ahead of their Indian Premier League match against Pune Warriors India here on Thursday despite losing the services of South African allrounder Albie Morkel, who has gone back home to attend the funeral of a close friend. "We rectified our mistakes while chasing 200 in the game against Royal Challengers Bangalore. The track here is different to that of the first game we played on [against Mumbai Indians]. We will certainly use the home advantage and hope the pitch behaves in the same way like in our match against RCB," said Fleming at a pre-match press conference.
Morkel has gone home to attend the funeral of South African-born cricketer Rip Louis Vorster, who was shot dead at a fuel station in Namibia. The 45-year-old, who made 95 first-class appearances between 1985 and 2009, had most recently been playing and coaching for Namibia.
Fleming also gave an update on captain MS Dhoni, who suffered a hamstring injury in Chennai's last match against Pune. "I think Dhoni is fine. He has been having treatment for the hamstring injury sustain in the last game. We expect him to play his full part tomorrow," he said.
Talking about opener Murali Vijay's indifferent form, the New Zealander said, "The discussion will certainly revolve around players who have not been doing what they are expected to do. We would like a player to be consistent with his performance. The coach's job is not easy one. It's up to me to take Vijay to his usual form."
Offspinner Ravichandran Ashwin, who has been the fourth highest wicket-taker for Chennai in IPL from 2008 to 2012 with 36 wickets, hasn't been very effective this season but Fleming backed the bowler to return to form soon. "His role is interesting. We want him to take wickets but unfortunately he is not doing that. He is going for big runs. What we need is one of the bowlers at the other end to apply some pressure and then Ashwin can get back to taking wickets. "At the moment, we are going to use Ashwin as a stock bowler and we would love to see him getting back into his wicket-taking role," he said.
Asked about the team's inconsistent performance in the league stages, the coach said, "We work very hard to get players back to the starts. It takes time to become consistent. There is no rhyme or reason for such situations. Team's unity is very important to us first and we are working hard. It seems the style and the way we play, I cannot give you one straight answer. We tune over everything and we do not leave anything for chances. It is little bit of everything. It is just confidence and giving everything and not dropping games."
"To be frank, we lack the edge of a champion team. We do not take comfort from such performances but this time the tournament is too close. Trust me, we are very determined to win tomorrow and try and strengthen our status in the league phase."
As for Abhinav Mukund's chances of getting a game on Thursday, Fleming said, "He is pretty much close to his hundred per cent. We have good cricketers in the team like Srikkanth [Anirudha] and Wriddhiman Saha and it is a matter of balancing act, which is good for us."