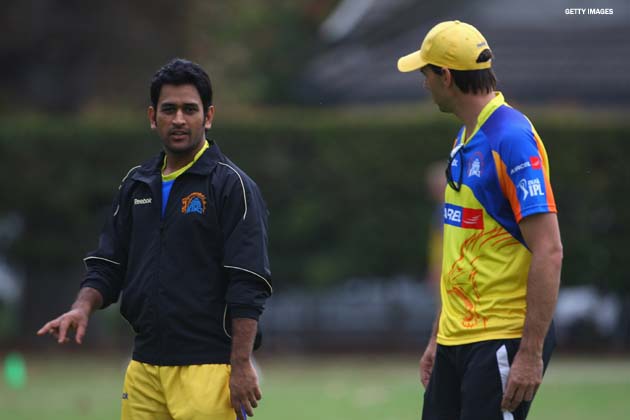 Chennai: While Kings XI Punjab skipper Adam Gilchrist ruled himself out of Saturday's Indian Premier League (IPL) game against Chennai Super Kings here, the hosts are on a much happier platform as they enjoy a lot of selection options as admitted by their coach Stephen Fleming.
Gilchrist, who looked to be in good touch in the initial stages of the tournament before pulling up short with a hamstring injury, said he would be out of action for an indefinite period.
"I am still not sure. I cannot put a date on it. Initially, it was said it will be three or four weeks for me to recover. Now I cannot pinpoint a date, but, certainly, I have been progressing very well. I am very happy with the last few days," he said at a pre-match Media interaction here on Friday.
In sharp contrast, Fleming admitted that it would be a tough call to pick the playing eleven given the fact that almost all the key players are in top form, but said the conditions would govern the selection. "You must take this rationale and pick the team based on the conditions and going by the form of a player. But the team is getting better as the tournament goes on," said Fleming when asked about the choice among three foreign players allrounders Albie Morkel and Dwanye Bravo and seamer Nuwan Kulasekara.
"Yes, strategy comes in for selection. Albie, who can turn a game is back. Kulasekara has had two fantastic games, but you have to think of form of a player and how it suits the conditions for a particular game," Fleming said. Looking ahead to the game, the former New Zealand skipper said that the team was intent on finishing on top of the league table.
"The team is happy about having won 50 per cent of the games they have played so far in the home and away format. We are aiming to finish at the top of the points table, but we have to keep improving," Fleming said. Meanwhile, Gilchrist admitted that it would be a tough game for his team against the champions Chennai.
"Every match is important to us. It is a challenge playing defending champions. In each match, we are trying to improve on our performance and moving towards a direction. So it is an important game for us. Last year, we did not play them in Chennai," Gilchrist said.
The veteran Aussie opined that the wicket would play true though the surface appeared dry and without any grass. "The wicket looks pretty dry and is without grass. It is not quite hot as of now. It is an afternoon match rather than an evening/ night match. For the first game of the tournament (Chennai vs Mumbai Indians), it was an odd wicket, but I feel the wicket will play true," Gilchrist said.