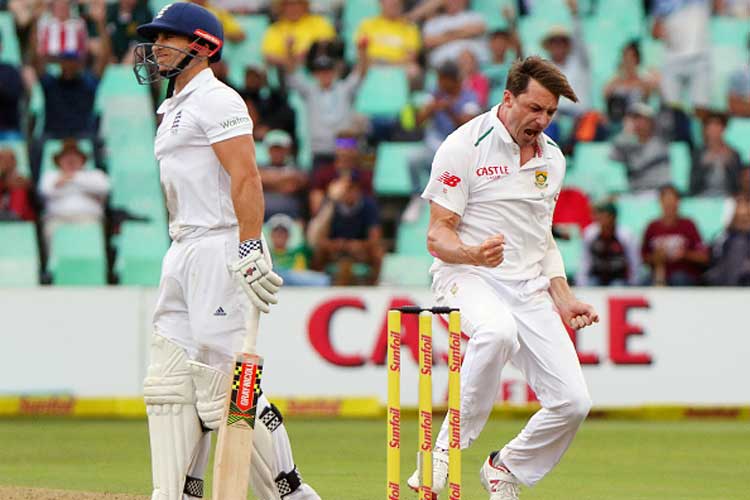 Durban: South Africa fast bowler Dale Steyn made a successful return to the Test arena on Saturday and warned that if the weather gets hotter, so will he.
"It's been frustrating sitting on the sidelines for the last six weeks but I've worked hard with a trainer, lost a few kilograms and it's been nice to get back on the field today and contribute," he told reporters after recording figures of three for 29 on the opening day of the Test series against England.
A groin injury kept Steyn out of South Africa's last three Tests in the recent heavy series defeat in India but he showed no ill-effects with a fiery spell that included the early wicket of England skipper Alastair Cook.
"(Captain) Hash (Hashim Amla) is always asking the leader of the attack to set the tone and when we won the toss and bowled I felt I did my job today," Steyn added.
"It was great to get the first wicket, especially the English captain. It gets the tone for the team."
The 32-year-old Steyn had Cook caught in the slips for a duck and dismissed fellow opener Alex Hales for 10 before snaring James Taylor for 70 late in the day.
Steyn, the world's top-ranked Test bowler, said conditions on a rain-disrupted day had been difficult for the attack on a slow track at Kingsmead.
"When you are coming on and off for rain, it's tough. This field holds the water a little bit, the ball is kind of damp all day and it made it tough to get it to swing and shape," he added.
"But hopefully tomorrow the sun comes out and it's nice and warm, then it will be better. We were just starting to reverse the ball towards the end of the day." England will resume on 179 for four and Steyn is in confident mood.
"Everything felt good," Steyn said. "I'm not too bothered whether it's coming out at 150, 135 or 130 (kilometres per hour). I always want to bowl fast. If I'm causing trouble for the batter at the other end then I feel I'm hitting my straps."