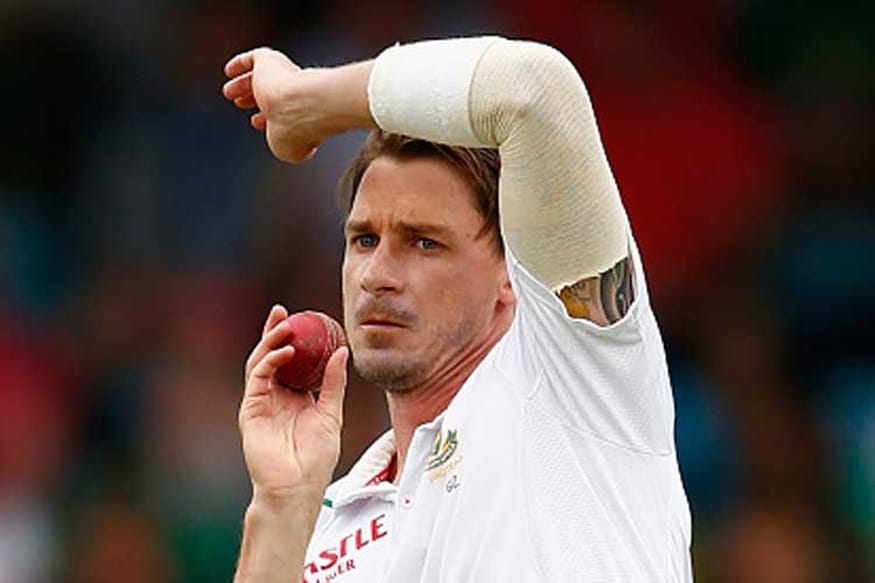 When one thinks about bowlers who made a batsman's heart skip a beat with their menacing pace and ability to move the red cherry in modern day cricket, the era that comes to mind is the 70s and the 80s. The legendary West Indian pace quartet of Michael Holding, Joel Garner, Andy Roberts and Malcolm Marshal top the list, along with the Aussie quicks Dennis Lillee and Jeff Thomson. Imran Khan, Kapil Dev, Richard Hadlee, Bob Willis were the other names who shone bright.
One man, who has kept that breed of fast bowling alive in the the 21st century is South African fast bowler Dale Steyn. Steyn's awe-inspiring Test record has earned him a place alongside South African greats like Allan Donald and Shaun Pollock and the 35-year old is raring to go again, after returning from another unfortunate injury.
Steyn is looking to make his international comeback for the Proteas in the two-match Test series against Sri Lanka next month. He is currently playing in the English County Championship for Hampshire. In a recent interview with Sky Sports, Steyn confirmed that he is feeling good post recovery and is getting in shape to represent the national team again.
"The body's fine, body feels good. I've got no problems. I'll have a look in the computer (his bowling footage) when I get back up. One thing is I've got overs under my belt, the rhythm seems to be coming back. I've got a good follow through going on which means there's good pace at the crease and I'm hitting the crease nice and hard. Yeah, everything seems to be ticking over nicely," the veteran of 86 Test matches said.
Steyn, who was sidelined for more than a year after fracturing his bowling arm in November 2016 during South Africa's tour of Australia, made his Test comeback against India earlier this year. But the paceman picked up an injury on his heel and was sidelined yet again.
"I love playing cricket," Steyn said. "I guess it's my job as well but I also love playing it. I've been out for two years now. I broke my shoulder and then really bad luck, rotten luck really, I came back and my first game back, I landed in a foothole and tore a little muscle in my heel. I've never had a foot injury in my life. So just rotten luck.
"I'm just chomping at the bit to get out and play. I went for 80 the other day but I absolutely loved it. It was great to be back out and playing again and I felt this is where I needed to be rather than petting my dogs and driving and getting stuck in traffic and doing the rehab thing. I need to be on a cricket field so I'll play for as long as this body can hold."
Steyn is just two wickets shy of equalling Shaun Pollock's record of 421 scalps, the most by a South African in Test history. While that is definitely on the agenda, Steyn also wants to represent South Africa in the shorter formats, specially with the World Cup round the corner in 2019.
"I'd love to play all formats. Like I said, I love playing cricket. I think Test cricket is the pinnacle. I'd love to try and play 100 Test matches, I don't know whether I'll get there. I'm at 86, so that's about 14 more, but being a World Cup year, there's a lot of white-ball emphasis right now. So I think we've only got five Tests until around this time next year.
"So if I'm going to look to play the 100 Test matches, I'm going to be around for the next three years. That's 38. I think I can do it. The body seems fine. I've always been fit. It's a mental thing. How long do you actually want to do it for. If you've got a family and if you've got kids - which I don't but I do have a girlfriend and two dogs that miss me - and how much are you willing to give up. I think AB [de Villiers] hit the nail on the head. He's got two young kids and he's looking at life after cricket right now. He's reached that point but I'm not there right now."
South Africa has a world class fast bowler in Kagiso Rabada and the emergence of young Lungi Ngidi has ensured that the Proteas won't run dry of quality pace bowlers, especially after Steyn's long time bowling partner Morne Morkel called time on his career. The veteran paceman has the zeal and desire to partner Rabada and Ngidi in the days to come.
"[Kagiso] Rabada is so special. [Lungi] Ngidi's coming through nicely. I just hope there's a spot there for me when we get to Sri Lanka. In those conditions you're always looking at playing possible two spinners. So good headache for the coach to have. When you get the opportunity to represent your country, you go and you make the most of it. I'm looking forward to going out there with some serious talent. The Proteas have someone to look forward to in Ngidi but Rabada's been special for about two years no already. We all know that."