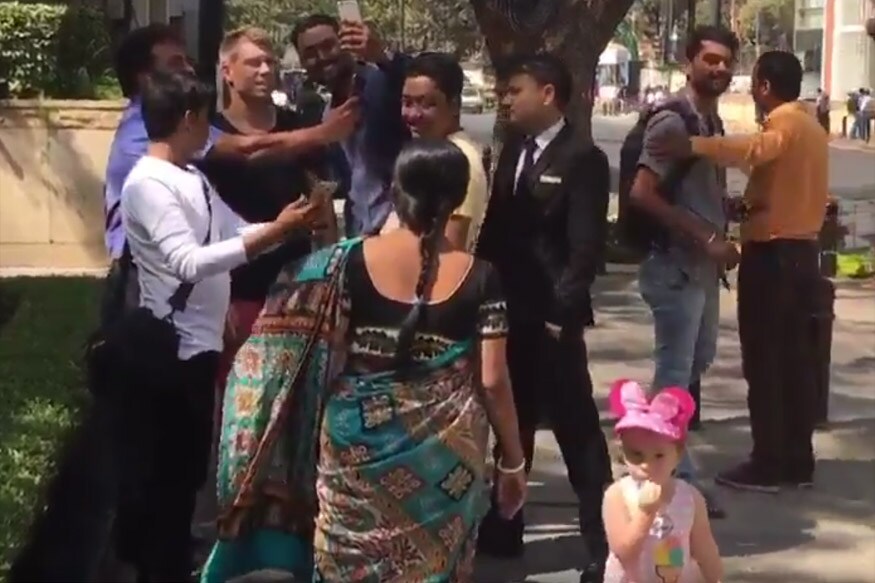 Australian vice-captain David Warner is known for his swashbuckling batting style that has won him fans all over the world and the cricket lovers in India are no different. Warner is also ever-present in the Indian Premier League (IPL) which has helped his stocks go up in the eyes of Indian fans.
It's only logical that the southpaw would be mobbed in a cricket frenzy nation like ours, whenever he decides to go out for a stroll. But Warner's daughter Ivy steals the show with her tantrums this time, when she was out with her dad on the streets of Bengaluru, the city that will play host to the second Test between India and Australia.
As soon as the family went out of the team hotel for a casual walk, fans mobbed Warner with their requests of clicking selfies. Ivy fist tried to stay by her dad's side but soon she became livid with so much attention being given to Warner and walked off. Ivy also threw away her cherished lollipop in anger.
The video was put on twitter by Warner's wife Candice and one could be forgiven for calling Ivy jealous.
When @davidwarner31 steps out of the hotel and tries to take Ivy for a walk, next minute. 😃🇮🇳 #FANLOVE #bangalore pic.twitter.com/L9LmoWtL1d

— Candice Warner (@CandyFalzon) March 3, 2017
David Warner too posted the message on his twitter handle adding - "Ivy not happy she was brushed haha. Threw her tic tac..."
Ivy not happy she was brushed haha. Threw her tic tac😂😂@CandyFalzon https://t.co/4HI02SqOhg

— David Warner (@davidwarner31) March 3, 2017
Warner's side may be leading 1-0 in the four-match series but that hasn't made him a villain in the eyes of the Indian supporters. But Indian fans are already on the wrong side of Ivy after snatching her dad away from her.
First Published: March 3, 2017, 2:06 PM IST