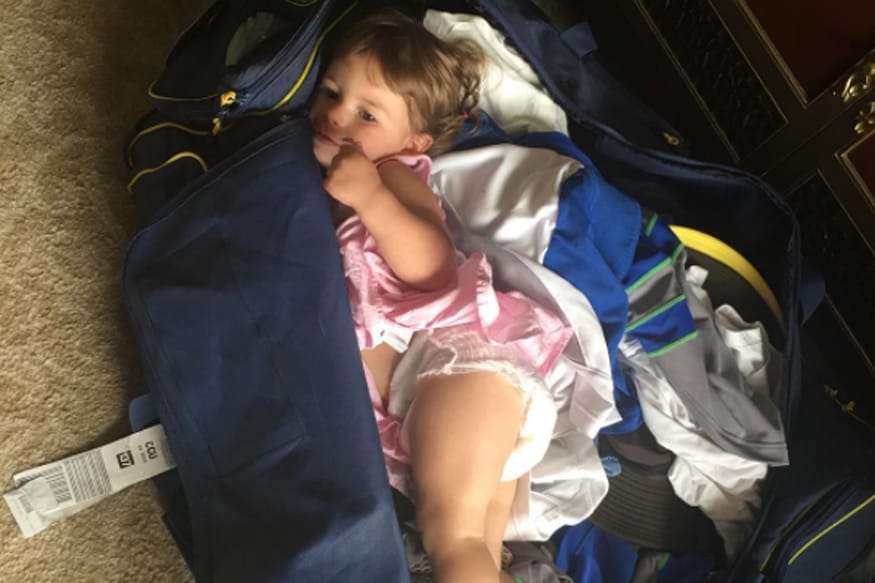 David Warner loves sharing moments from his day with his fans and followers on social media and with his daughters being around, it gets all the more interesting. And the latest post sees Warner's daughter lying inside the Australia vice-captain's kit bag as the team is in Kolkata for the second ODI of the five-match ODI series against Virat Kohli's boys.
Taking to Instagram, Warner posted the photo which read: "Mmm what to do when your daughter wants to rest in your bag?? Leave her there because she is quiet 😂😂😂. #kolkata."
Interestingly, this is the first time that the dashing opener is playing against India on Indian soil in the 50-over format. While he started well in the warm-up game, scoring 64 against the Board President's XI in Chennai, things didn't go according to play in the opening ODI as Kuldeep Yadav dismissed him.
In fact, Hardik Pandya was the undisputed star of India's 26-run win over Australia in the first ODI in Chennai on Sunday. Pandya produced a scintillating all-round show while Mahendra Singh Dhoni also slammed a patient half-century. With the comprehensive victory, Virat Kohli and his boys have taken a 1-0 lead in the 5-match ODI series. Australia were set a target of 164 runs in 21 overs via Duckworth and Lewis System after rain finally relented in Chennai.
Chasing the target, Australian openers didn't get into their groove early on as Jasprit Bumrah and Bhuvneshwar Kumar piled on the pressure on David Warner and Hilton Cartwright in particular. And that was it as the Australians finally crumbled under pressure.