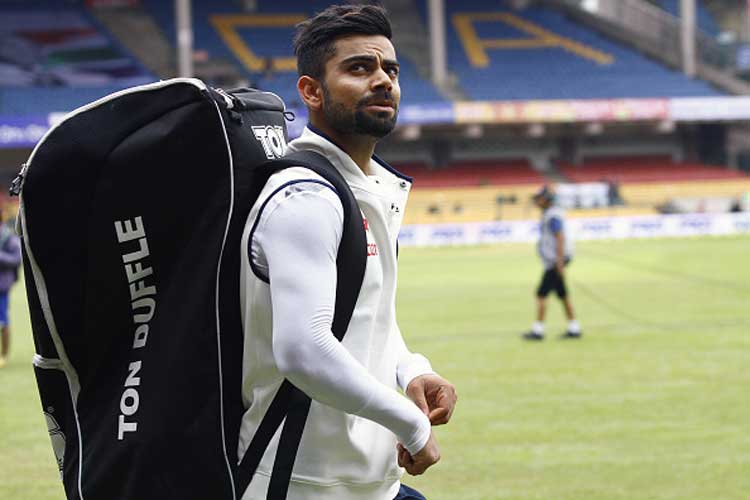 Nagpur: India's Test captain Virat Kohli has consciously stayed away from the debate surrounding the nature of the pitches prepared for the ongoing South Africa series as he feels that these discussions are "beyond his understanding".
"That wicket debate is out of my understanding. I don't know why there is so much (hue and) cry about the wickets in India. We absolutely have no problems in playing on this sort of a wicket. If both teams don't agree on playing on a particular wicket, then it is not suited for a game of cricket. But we have no problems," the skipper wasn't exactly amused while fielding queries on whether Jamtha track will be a spin-friendly one.
Kohli reiterated that his team does not discuss the condition of pitches.
"We haven't had any sort of talk about the track. Whoever wants to talk about the track is free to talk about it. As I said, we will decide a combination according to how the wicket will play over a span of five days and not how it looks for the first time," said Kohli.
The wicket, as per reports, is expected to assist the spinners and the ball is also expected to keep low, a big help for the spinners have run through the South African batting order in the three completed innings in the series so far.
Kohli indicated that the playing XI will be decided after assessing the condition.
"In a Test side, according to the conditions, I feel you should have a couple of all-rounders, one a spinning all-rounder and one a seaming all-rounder. It's just that one slot which brings balance to the team and must be decided according to the conditions we are playing in. Other than that anything could be a possibility," Kohli said.
"Assessing the nature of the wicket, we have got to make a few changes. Obviously, I won't disclose it here. We possibly might make a few changes according to the conditions," he added.
He said though there has not been much cricket in the two Tests, especially at Bengaluru, the team members were in good nick for the game ahead.
"Mohali was a positive result for us but that was a long time back. What happened in Bangalore is something that was not in our control. Remember one fine tour that India had to Sri Lanka, it was a 20 or 22-day tour and only one day of cricket was possible," Kohli said, referring to India's tour of 1993-94 to the island nation.